The 10 best over and under picks for Week 5 in college football
A look at the best over and under plays for Week 5 of the college football season.
• 5 min read
Week 4 was slightly better than the disaster of Week 3 in my over-under picks. A 4-6 Saturday didn't right the ship, but it also didn't sink it. Unders were hot, going 4-1, but overs made me just want to hide under the bed after going 0-5. 
I'm still plugging along here at 16-24 for the season, and you can check out SportsLine's picks and projections for these 10 games and the entire college football slate here. 
Here are my 10 over and under picks for Week 5, fade them as you will:
Arkansas at Tennessee UNDER 56: Arkansas' defense has been sneaky good the last few weeks and has kept the under safe against Texas A&M and Texas Tech, two of the top offenses in the country. The offense is going back to its normal running identity, which means they're controlling the clock better and keeping scoring down -- 43 and 42 carries the last two games after just 34 and 31 in the first two games. 
On the other side, Tennessee has been a great first-half defensive team with struggles late in the game against both Florida and Oklahoma. Even if that trend continues, I think this game will be pretty low-scoring early with maybe a flurry late. I'm confident on this total holding in regulation, with a minor concern that this one could go to overtime and bust the over. 
Ole Miss at Florida UNDER 51.5: Ole Miss had a little letdown against Vanderbilt at home following the Alabama game, but came out with a win. The Rebels' offense looked pedestrian against the Commodores -- which has a strong defense -- and I think Florida can frustrate them in similar ways, particularly in the passing game. 
While Florida's defense has a chance to slow down the Rebels, I don't see Florida being able to put up points on Ole Miss. They took advantage of an undisciplined Tennessee defense late on some fourth downs, but those chances won't be there against Ole Miss. The Landshark D keeps this one in the under column. 
Texas Tech vs Baylor UNDER 88.5: Oh yes, I'm taking the under here.The entire world is on the over here, which isn't surprising at all. The public loves overs and Texas Tech's defense is atrocious. Baylor's offense is awesome and Texas Tech's offense is almost equally as awesome. 
However, Baylor's defense is a good deal better than TCU's, which was missing six starters. Texas Tech's quarterback Pat Mahomes is also banged up with a left knee injury that has him listed day-to-day. This one's going to be high scoring, probably reaching 80, but I don't think this will be a repeat of TT-TCU. 
Also, this total is up from 85.5 at open and the public money is still HEAVILY on the over, so ride this one out for a few days and you might see it reach 90. Since 2003, there has not been a point total that has closed higher than 88 points (which happened once), so this is an historic point total -- by the way, that 88 point total finished under. 
FIU at UMass UNDER 56.5: I don't quite understand this total. Neither of these teams light up the scoreboard and UMass, in its one home game, played some pretty solid defense against Temple in a 25-23 loss.
I know UMass just watched Notre Dame hang a 62 spot on them, but FIU's offense is most certainly not the Irish. FIU scored 17 on Louisiana Tech last week which had previously given up scores of 39 and 41 in its last two games.
Minnesota at Northwestern UNDER 40: Do I really need to talk too much about this one? This is a matchup of the 93rd ranked (Northwestern) and 120th ranked (Minnesota) offenses in the country. Minnesota's offense has produced a grand total of eight touchdowns in three games, while Northwestern has put up a blistering nine offensive touchdowns. 
The Wildcats defense has only given up three offensive touchdowns this year, while Minnesota's allowed just seven. Under is the way to go here, even at such a low total -- Northwestern already hit the under on a 40 point total this year at home when Stanford came to town. 
Kansas at Iowa State UNDER 57: We went over this last week when Kansas played Rutgers. When two very bad teams play each other, the scoring tends to stay low. Last week, Rutgers and Kansas pillow-fought their way to a 27-14 final score -- in favor of the Scarlet Knights. 
This week, I expect a pretty similar result in Ames. Iowa State's offense has, at its best, posted 31 points against Northern Iowa. So, the Cyclones aren't exactly explosive. Kansas is actually worse than Iowa State and I think this one is another sloppy, poorly played game that lands in the mid-to-high 40s. 
Vanderbilt at Middle Tennessee State UNDER 52: Middle Tennessee State put up 70 points on Charlotte a few weeks back. They also posted only 10 at Alabama. Vanderbilt's defense is far closer to Alabama than it is to Charlotte, so I expect the Commodores to keep this one low-scoring.
Georgia Southern at Louisiana-Monroe OVER 50: Georgia Southern laid an egg at West Virginia in Week 1. Since then, the Eagles have posted 43 or more points in the last three games. I don't see the Warhawks stopping the Eagles, and all ULM has to do is find 10 points somewhere in this game against an average defense to push this over the number. 
Arizona State at UCLA OVER 59.5: I expect most of the scoring in this game to come from the Bruins, but I think they'll do a lot of it. Paul Perkins is going to run all over the Sun Devils and after sputtering for two weeks it looks like Josh Rosen is finding his way at quarterback. 
The Bruins are down three key players on defense, which may allow Sparky to find some much needed rhythm on offense. Arizona State gets over 20 points in this one, which is enough to tip this over the number. 
Kansas State at Oklahoma State OVER 50: I think this game looks a lot like the Oklahoma State-Texas game last week. It'll be a close game throughout with a good bit of offense and a very real possibility of going to overtime. 
Kansas State just gave up 33 points and got taken to overtime by Louisiana Tech two weeks ago, so points can be found against the Wildcats. Oklahoma State will be feeling good after escaping Austin with a win, and that offense has looked like a fairly confident group the last few weeks. 50 feels like it's about four points too low here, so I like the over in this one.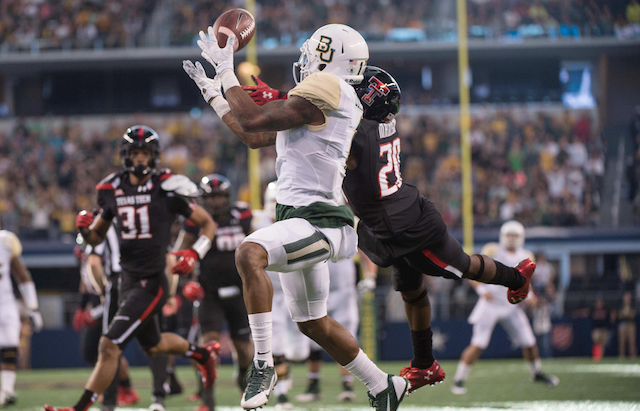 CBS Sports HQ Daily Newsletter
Get the best highlights and stories - yeah, just the good stuff handpicked by our team to start your day.
Please check the opt-in box to acknowledge that you would like to subscribe.
Thanks for signing up!
Keep an eye on your inbox for the latest sports news.
Sorry!
There was an error processing your subscription.
Lewis had previously been arrested in February on a domestic violence charge

Both of the SEC West's premier coaches are now aligned on their scheduling preferences

Venables' five-year deal will be worth $11.6 million total
Tua or Jalen? Jalen or Tua? The fight will go on, but it may not be that contentious

The North Carolina coach believes changing the game will impact the country

Saban did little to quell the interest in college football's most interesting offseason st...