The 25 most influential people in college sports
From head coaches, athletic directors and presidents to commissioners, lawyers and judges, there are plenty of power brokers throughout college sports. Here are the top 25 as voted on by a CBSSports.com panel.
Who are the most influential people in college sports? That's the question CBSSports.com sought to answer as the ground beneath the NCAA continues to shift.
But instead of creating our own highly speculative list, we asked 12 smart people inside college sports to make their own. Who moves the needle as the 25 most influential people?
The results follow in this story, including the number of points and ballots each person collected. A first-place vote was worth 25 points, a second-place vote was worth 24 points, and so on.
There were no right or wrong answers. Influence is in the eye of the beholder. Pick 12 different people to vote and you might get a decidedly different list.
Sometimes influence is directly tied to a person's skill set, ideas and personality, such as a prominent coach who gains a platform due to winning. Other times influence comes from a person's job title, such as a Power Five conference commissioner. In some cases, influence happens behind the scenes through relationships and politicking by people the public doesn't know much about. Increasingly, influence occurs from outside pressures brought by lawyers, players and politicians fighting for more athletes' rights and benefits.
Voting panel
Voter
Affiliation / experience
Sandy Barbour
Penn State athletic director; former Cal and Tulane athletic director; former Notre Dame deputy athletic director
Dan Beebe
College sports consultant at the Dan Beebe Group; former Big 12 and Ohio Valley commissioner; former NCAA director of enforcement
Charles Bloom
South Carolina senior associate athletic director; former SEC spokesman
John Currie
Kansas State athletic director; former Tennessee executive associate athletic director; former Wake Forest assistant athletic director
Gene Marsh
NCAA compliance lawyer at Jackson Lewis P.C.; former NCAA infractions committee chairman; former Alabama faculty athletics representative
Dave Revsine
Big Ten Network studio host; former ESPN anchor and play-by-play announcer; author of "The Opening Kickoff: The Tumultuous Birth of a Football Nation"
Greg Shaheen
Sports consultant and president of OSM Advisors, LLC; former NCAA senior vice president who oversaw NCAA men's basketball tournament
Ellen Staurowsky
Drexel professor of sport management; co-founder of the College Athletes Rights and Empowerment Faculty Coalition; testified for Ed O'Bannon plaintiffs in lawsuit against NCAA
Scott Stricklin
Mississippi State athletic director; former athletic department official at Auburn, Tulane, Baylor and Kentucky
Scott Woodward
Washington athletic director; former Washington vice president of external affairs; former LSU director of external affairs
Tom Yeager
Colonial Athletic Association commissioner (longest-tenured Division I commissioner); board member of NCAA's football and men's basketball officiating LLCs; former NCAA infractions committee chairman
Debbie Yow
NC State athletic director; former Saint Louis and Maryland athletic director
These 25 people may not have all of the answers to the NCAA's future, but collectively, they're playing a major role in shaping college sports as we know it. Members of media organizations were not eligible for voting.
25. Donald Remy, NCAA Chief Legal Officer
Points: 68 | Ballots: 6/12
Who is he? Remy has an influential voice in helping to make decisions on important NCAA lawsuits, such as the Ed O'Bannon, Jeffrey Kessler and Penn State cases. The NCAA's lawyers used to be silent publicly; that's not the case with Remy, who is often quoted on legal decisions. He was the NCAA's third highest-paid employee in 2013 with total compensation of $777,652, a 25-percent raise after a promotion.
T-22 Harris Pastides, South Carolina President
Points: 69 | Ballots: 6/12
Who is he? Pastides is chair of the NCAA Division I Board of Directors, meaning he also has a seat at the table on the powerful NCAA Board of Governors. Pastides recently told CBSSports.com he's not inclined to have the NCAA try to get the US Supreme Court to hear the Ed O'Bannon case if the NCAA loses its appeal. The NCAA quickly put out statements after Pastides veered off the playbook.
Voter comment: "Pastides is a solid institutional leader for sure. Try juggling the Ol' Ball Coach (Steve Spurrier) [and] issues like the Confederate Flag while financials in his state make higher ed[ucation] as complicated as anywhere in the country."
T-22 Jim Phillips, Northwestern Athletic Director
Points: 69 | Ballots: 6/12
Who is he? Phillips is on the fast track toward greater influence in college sports. He's the chairman of the NCAA Division I Council, a new legislative group that has given more power to athletic directors, and is the only Division I AD on the powerful NCAA Board of Governors. Phillips has had to navigate the ongoing unionization attempt by Northwestern football players. He was reportedly a candidate for Michigan's AD job last fall.
Voter comment: "One of the most active, young athletic administrators in the business, this appointment reflects Phillips' good work to date, and his willingness to stay in the batter's box until he gets a ball he can hit. Well-liked and deals well with complex issues. His is a name to watch, not just because of the roles he fills, but because there is plenty of time to see his ascension on this list."
T-22 Kevin Plank, Under Armour Founder/CEO
Points: 69 | Ballots: 8/12
Who is he? Plank challenged Nike's supremacy in athletic apparel and the results continue to pay off for Under Armour, which has gone from plucky underdog to $3 billion in sales. Last year, Under Armour signed Notre Dame away from Adidas in a 10-year deal worth about $90 million in cash and merchandise. Plank, a former Maryland football player, recently pledged $25 million to the Terrapins' project that will convert their former basketball arena into a $155 million indoor football practice facility and academic research complex.
Voter comment: "With the recent retirement announcement of (Nike chairman) Phil Knight, how Kevin Plank chooses to manage his continuing and rapid ascent as the czar of modern sportswear will impact all of sport. It will help his Terrapins for certain, but likely many others along the way. Whether or not he cares to address some of the broader ills brought on by the apparel business over the past generations remains to be fully seen, but if he cares to, Plank can impact the result readily."
21. Brian Hainline, NCAA Chief Medical Officer
Points: 72 | Ballots: 8/12
Who is he? Facing a concussion lawsuit and negative publicity in 2012, the NCAA hired Hainline as its first chief medical officer. Under Hainline, the NCAA launched a $30 million study with the Department of Defense to create what the White House called the most comprehensive concussion database ever. Hainline wants NCAA concussion guidelines to become rules, but that's a struggle within the membership. Just as importantly, Hainline has declared mental health as the NCAA's No. 1 safety concern.
Voter comment: "While the NFL has shouldered the lion's share of the discussion regarding concussions because of the high profile cases involved, Hainline may be the most relevant of all the voices to sort out the standards and practices to care for future generations of athletes. Though a newly created position over the last few years, Hainline has gained a reputation for being focused, pragmatic and thoughtful about navigating the waters of complex and very real health needs of student-athletes. The test will be for his patience with 'the system' and his ability to get schools to recognize that the highest possible level of discretion and care is simply not a choice."
20. Jack Swarbrick, Notre Dame Athletic Director
Points: 77 | Ballots: 8/12
Who is he? Swarbrick rose to national prominence as a lawyer, consultant and executive in the college and Olympic sports industries. He is a forward thinker and a rare high-ranking person in college sports who will publicly go against the grain with outside-the-box dialogue. Last December, Swarbrick told CBSSports.com that athletes need to be treated more like other students and should be allowed to be paid through group licensing deals.
Voter comment: "Ten minutes with Swarbrick helps one understand how, without ever having worked a day on a college campus, he reportedly came within a single vote of edging Myles Brand for the NCAA presidency in late 2002. The timing may have been off -- then -- but the benefits his alma mater has reaped from that single vote are significant. Swarbrick wields incredible power and respect among his peers, and rightfully so."
19. Michael Hausfeld, Ed O'Bannon Attorney
Points: 79 | Ballots: 6/12
Who is he? Hausfeld's victory in the Ed O'Bannon case -- pending appeal by the NCAA -- will be studied for decades. Jeffrey Kessler's case has greater consequences, but Hausfeld opened the door for players to be paid with numerous legal victories during an ongoing six-year battle with the NCAA. Hausfeld recently sued the NCAA and North Carolina over the university's academic scandal, a spin-off to the O'Bannon case that's trying to examine whether athletes are truly educated.
Voter comment: "The Hausfeld team achieved what many believed could never be done. The NCAA was found to have violated federal anti-trust law, leading to additional compensation for players. The president of the NCAA was placed on the stand in a federal court for the first time in history to be questioned about the manner in which the college sport industry is run."
18. Phil Knight, Nike Co-Founder/Chairman
Points: 85 | Ballots: 6/12
Who is he? Knight made Nike the king of athletic apparel. Nike money flows through athletic departments -- and often to coaches -- through lucrative endorsement contracts. Oregon would not have its sustained success in football without the millions of dollars in donations from Knight, who is listed by Forbes as the 35th richest person in the world and 21st richest person in the US. Knight recently announced he will retire in 2016 and wants Nike President and CEO Mark Parker to succeed him as the company's chairman.
17. Kirk Schulz, Kansas State President
Points: 89 | Ballots: 5/12
Who is he? Schulz represents the new face of the NCAA. As chairman of the NCAA Board of Governors, Schulz had an influential voice in changing the NCAA model to Power Five autonomy while the industry tries late in the game to outrace court cases and interest by Congress. Schulz embraces social media and has provided some more sunshine into NCAA decisions.
Voter comment: "He was a key presidential leader at the 2014 and 2015 conventions. He was part of a committee that hired (Big 12 commissioner) Bob Bowlsby. He was key in negotiating exit fee agreements with outgoing Big 12 members and then incoming members. Behind the scenes, he has provided strong leadership."
16. Nick Saban, Alabama Football Coach
Points: 94 | Ballots: 8/12
Who is he? Saban's "process" on and off the field has resulted in three national titles while heavily influencing other programs. Other coaches copied Saban by concentrating on the specific (and often expensive) steps designed to build a championship team. Adding more support staff and speaking with "one voice" can be traced to Saban. Off the field, Saban has spoken his mind on many topics -- such as slowing down up-tempo offense, ending satellite camps and playing nine SEC games -- but hasn't gotten his way.
Voter comment: "Saban has made his mark on the field as well as behind the scenes on a number of issues regarding the game he loves. Those in the business remark at his CEO-like talent and involvement in some of the more complicated issues (including playing rules). While doing so may not make him as unusual as many think (college football coaches are CEOs, no doubt), that he is able to do so with such impact and thought speaks to both his success and its continued longevity."
T-14 Jimmy Sexton, Agent
Points: 96 | Ballots: 7/12
Who is he? Sexton is the powerful agent who sets the market for college football coaching hirings and salaries. Sexton's clients include head coaches Nick Saban, Gus Malzahn, Jimbo Fisher, Jim McElwain, Hugh Freeze and Jim Mora Jr., as well as prominent coordinators Will Muschamp and Lane Kiffin. When Auburn played Florida State for the 2013 BCS championship, Sexton became the first agent to represent both coaches in college football's title game. He understands the pulse of what's going on in the coaching market and has the relationships to make that pay off for his clients.
T-14 Jeff Long, Arkansas Athletic Director
Points: 96 | Ballots: 7/12
Who is he? Long has as many votes as the other members of the College Football Playoff Selection Committee. But Long's voice each week in November and December becomes the one that the public hears to explain the committee's thinking. Long's explanations sometimes opened a can of worms, but the answers provided more transparency than the NCAA men's basketball committee often offered after the real selections. Long gained credibility in 2012 by firing Bobby Petrino for unfairly hiring his mistress and lying about numerous issues to Long.
Voter comment: "Long has ascended to a high profile role that no one could have seen coming only a few years ago. Though accompanied by more than a dozen colleagues (on the CFP Selection Committee), Long will again be this year's man on the hot seat. And coming from the most coveted football conference adds both pleasure and pressure to the role. For sure, however, his voice is more clearly seen in the leadership position of the game and the business as a result."
13. John Swofford, ACC Commissioner
Points: 98 | Ballots: 6/12
Who is he? For a man who started and finished the most chaotic realignment in major college sports history, Swofford may be underrated at No. 13. The ACC remains one of the five major conferences -- unlike the Big East -- because of Swofford's maneuvering even after the ACC lost charter member Maryland to the Big Ten. In recent years, Swofford added Syracuse and Pittsburgh as a course correction for basketball; signed up Notre Dame for all sports except football, in which the Irish play about five ACC teams a year; and kept Florida State board members happy by tying ACC schools' TV rights together so it's harder for anyone to leave.
T- 11 Urban Meyer, Ohio State Football Coach
Points: 104 | Ballots: 7/12
Who is he? Meyer guided Ohio State to the national championship last season despite losing his top two quarterbacks to season-ending injuries. Before Meyer won two national titles at Florida, many critics said his spread-option offense would never succeed in the SEC. Today, the SEC consists of many unique offenses that can be traced back to Meyer's success. His competitiveness in recruiting has changed the Big Ten and probably helped crystalize Michigan's need to hire Jim Harbaugh last fall to keep up. Off the field, Meyer used his platform at the post-game Sugar Bowl news conference to criticize the NCAA for not reimbursing families to see their sons play in the College Football Playoff. Two days later, the NCAA announced a pilot program to reimburse players' families.
Voter comment: "Though seemingly enigmatic at times, Meyer clearly has gone about his business in a way that assures he can call the shots in the sport he has mastered for as long as he wishes. Again. In another place (after winning national titles at Florida). And that in and of itself is remarkable."
T-11 Mike Krzyzewski, Duke Basketball Coach
Points: 104 | Ballots: 8/12
Who is he? We know all about Krzyzewski's success on the court. He has won five NCAA titles (second only to John Wooden) and restored USA Basketball. Off the court, he's a brand name. His vision of leadership undoubtedly influences people who watch his commercials, read his books, and hear him on his national talk radio show. No college coach has morphed into the business world quite like Krzyzewski, who by marketing his leadership to influence others helps himself and Duke in the process.
Voter comment: "It wasn't long ago that the state of basketball in the United States was in crisis level. Well, not anymore. What wasn't largely understood at the time was that Coach K was grappling with his own relevance (think he regrets going to the Lakers now?) and how to top off his career. With renewed focus and energy, an adjusted approach to recruiting more akin to the times, and opportunities rightfully afforded him through (USA Basketball's) Jerry Colangelo and others, Coach K seems like a teenager again at the ripe age of 68. He can get anything done that he wants -- he just needs to want it."
10. Bill Hancock, College Football Playoff Executive Director
Points: 121 | Ballots: 8/12
Who is he? After spending many years telling the public why a playoff would hurt football, Hancock oversaw the transition to … a playoff. Hancock's tune changed once enough of his bosses -- the presidents and commissioners -- finally wanted a better postseason. Still, Hancock and his staff pulled off an overwhelming success with the debut of the CFP, which was named by the Sports Business Journal as the Sports Event of the Year. The CFP drew record TV ratings and created more interest in college football late in the regular season.
Voter comment: "There is no more fitting role to close out a remarkable, distinguished career in college athletics than Hancock as the lead of the CFP. Cool, calm, smart yet simple in his approach, Hancock was what the FBS conferences needed."
Voter comment: "Power is not taken, but given because of ability to take a group and get them to where they want to go. Is anyone better at this than Bill?"
9. Oliver Luck, NCAA Executive Vice President
Points: 126 | Ballots: 10/12
Who is he? Luck was hired away from his post as West Virginia AD last December to help provide a bridge to the NCAA's uncertain future. He's one of the most pragmatic thinkers about the legal challenges facing college sports. Luck has said he finds it appropriate for universities to pay athletes for what he considers a "fundamental right" to their name, image and likeness. How many NCAA executives would reach out to Sonny Vaccaro, a key figure in the Ed O'Bannon case, as Luck did shortly after he was hired? Luck's new role offers the NCAA office a respected former AD to better communicate with current ADs. In the voting, Luck was tied for second for the number of ballot appearances.
Voter comment: "The smart, savvy, and likable Luck will need every component of his vast skill set to help college athletics wade through the many competing interests that challenge it from all directions. It may very well be up to Luck to save the NCAA from itself and to keep it as a viable force in the college sports world."
8. Mike Slive, Ex-SEC Commissioner
Points: 130 | Ballots: 7/12
Who is he? It's a testament to Slive's stature that he made the top 10 despite his recent retirement and going under the radar publicly for much of the past year due to cancer treatment. Three voters ranked Slive ahead of his successor, Greg Sankey, and two voters put Slive in the top five. Slive's influence will indirectly continue into the future. He campaigned for a football playoff when only John Swofford joined him. He added Texas A&M and Missouri to move his league to 14 teams, and he created the SEC Network, which will be a lucrative revenue source for SEC schools. And Slive put Sankey in great position to become the SEC's next commissioner -- a title that automatically gives major influence to whoever holds the job.
Voter comment: "Even in retirement, Slive is a respected voice, as one of the greatest conference commissioners in history. His opinion will help shape opinions."
7. Jeffrey Kessler, Martin Jenkins Attorney
Points: 137 | Ballots: 8/12
Who is he? Technically, the lawsuit everyone fears is called the Martin Jenkins case, named after a plaintiff who recently played football at Clemson. In reality, it's the Kessler case. The prominent sports labor attorney helped bring free agency to the NFL and is essentially seeking the same thing in college for football and men's basketball players. Kessler's case could be certified as a class action in the coming months, pending an appellate court's decision in the Ed O'Bannon case and other possible legal maneuverings. Rulings in O'Bannon opened the door for Kessler, who is now trying to kick the door down.
Voter comment: "As if the players associations didn't have enough to keep him busy in the country's professional sports, the fact that Jeffrey Kessler is engaging in what could be the most far-reaching test of the college sports model (enough to make the O'Bannon case seem like a small claims matter) should cause any remaining skeptics about needed changes to the business to sit up and get to it. Kessler is fiery, fierce and doesn't play to lose -- or tie. In ways, his work over the coming years may make him the single most influential person in the fate of the world of intercollegiate athletics. Standby and be aware."
6. Larry Scott, Pac-12 Commissioner
Points: 154 | Ballots: 10/12
Who is he? Scott jumped into college sports from tennis in 2010 with a near splash by aggressively trying to land Texas. After adding Utah and Colorado, Scott pooled together member schools' media rights to land a TV deal that has dramatically improved the Pac-12's money and exposure. Under Scott, the Pac-12 has tried to spread its brand into China and has been more aggressive than most leagues in providing new benefits to college players, such as guaranteed multi-year scholarships, looser transfer rules and post-college medical expenses. At $3.5 million, Scott remained the highest-paid conference commissioner in 2013-14.
Voter comment: "He's innovative, although the jury is still out on whether taking a more professional sports approach works in higher education."
5. Mark Emmert, NCAA President
Points: 161 | Ballots: 9/12
Who is he? Emmert represents an interesting case study on how to rank influence. He is the NCAA president, yet he possesses far less authority than commissioners in major professional sports. He has testified before Congress about the NCAA's slow bureaucracy despite efforts to streamline changes faster, yet he also had missteps that contributed to a slow reform process. He has been the face of the association when unprecedented penalties to Penn State later got reduced, when the Miami investigation was botched, and when the NCAA waited on whether to tackle academic fraud at North Carolina. Emmert described his role this way to CBSSports.com last December: "The role of the president is not to be the guy who makes decisions, but a guy who helps keep people focused on those decisions, help them move past the issue du jour to bigger, broader issues."
Voter comment: "There is no doubt Mark Emmert belongs on this list. But contemplate this: Has anyone ever held office for less than five years, had more curious lapses of judgement, exhibitions of ego and lost the confidence of nearly everyone who works for and with him -- and kept their job?! For sure, his low profile reflects the lashes imposed on many fronts for the first two-plus years of gaffes and neglect during his tenure. He's likely still in the role because those he reports to realize no one would yet want this job given the unrecognizable state of affairs Emmert took the organization toward when he got his hands on the wheel. Credit him with surviving multiple 10 counts and remaining in for the latter rounds."
4. Claudia Wilken, Federal Judge
Points: 188 | Ballots: 8/12
Who is she? A California judge who last summer said she has never heard of an "ESPY" is changing college sports from a courtroom. Wilken decided in the Ed O'Bannon case that the NCAA's rules preventing athletes from being paid for use of their names, images and likenesses violate antitrust law. The decision is under appeal by the NCAA. If Wilken's decision stands, starting Aug. 1, universities would be allowed to offer deferred payments to players for the 2016-17 year. Wilken shot down the NCAA's longstanding amateurism defense to justify not paying players, but determined the NCAA could provide some restrictions. She also ruled on cost of attendance and she's the judge in Jeffrey Kessler's lawsuit seeking a free market. Wilken, arguably more than anybody else, is causing the NCAA to change.
Voter comment: "She holds the future structure of college athletics in her hands."
3. Bob Bowlsby, Big 12 Commissioner
Points: 199 | Ballots: 10/12
Who is he? The Big 12 is not the easiest place to be a commissioner. Historically, competing interests -- namely, those aligned with Texas -- have divided the Big 12 and threatened its existence. Yes, there are times his messaging gets lost in translation (see the "One True Champion" fiasco and the flip-flop on whether the Big 12 needs a football championship game). Yes, the Big 12 is not winning championships in prominent sports lately. But Bowlsby's ability to provide thoughtful, frank and measured dialogue to problems has impressed many in the industry. Bowlsby is now chairman of the new Football Oversight Committee, the new influential group that will oversee the NCAA Football Rules Committee. If college football's rules evolve due to concerns over player safety and too much offense, he will likely play a major role. Bowlsby is the only Power Five commissioner who has publicly been open to finding a model to compensate athletes.
2. Greg Sankey, SEC Commissioner
Points: 212 | Ballots: 10/12
Who is he? Since Sankey became SEC commissioner on June 1, the most common advice he receives: "Don't mess up." Sankey inherits from Mike Slive a conference that is in good shape. As Slive's No. 2 man for many years, Sankey quietly was influential behind the scenes through his ideas, work on NCAA legislation and relationships around the country. Sankey is chairman of the NCAA infractions committee. He's the only Power Five commissioner who takes to Twitter to communicate with the public and help shape his message.
Voter comment: "He has unique and various experience of scale (former Commissioner of the Southland), governance (he seems to be able to recite the Division I Manual by heart), enforcement (as Chief Cop of the SEC for a dozen years and, at least for the moment, chair of the NCAA Committee on Infractions), strategy (impossible to not work with Slive and glean anything but the most thoughtful take on the business), humor (may be one of the funniest people you will ever meet), leadership (he commands a room in a way that makes clear he is there to stay), success (while those around him have largely gotten the credit, it will be nearly impossible for Greg not to get the credit he deserves in his new role). Expect him to ascend to No. 1 no later than Jim Delany's last day in office."
1. Jim Delany, Big Ten Commissioner
Points: 270 | Ballots: 12/12
Who he is: Delany was the only person named on every ballot of the CBSSports.com survey. His recent additions of Rutgers and Maryland put the Big Ten into new markets for recruiting and TV purposes. Long before conference TV networks became the rage, Delany created the Big Ten Network, which is printing money for its schools. The league's TV money will only soon increase. All eyes nationally are on the windfall Delany is sure to land when the Big Ten's media rights deals with ESPN/ABC and CBS expire after the 2016-17 academic year, especially given Ohio State's recent football national championship, Jim Harbaugh's hiring at Michigan, and an improved Big Ten basketball product. At the same time, Delany has pushed the idea of freshman ineligibility -- or "year of readiness," as he calls it -- to highlight college sports' legal concerns and the balance between academics and athletics for football and men's basketball players who are academically underprepared. You may agree or disagree with Delany. But you always pay attention to him -- and that's influence.
Voter comment: "The conference commissioners continue to be the biggest individual powerbrokers in the world of college athletics. Up until a few months ago, you could have had a decent debate as to whether Delany or Mike Slive was more powerful. But with Slive's retirement, Delany gets the top spot. He is an innovator. He is acutely aware of the power of the winds of change in the industry and isn't afraid to propose potentially unpopular solutions (see "year of readiness"). And, oh by the way, he's about to negotiate a break-the-bank TV deal."
Follow and read more from Jon Solomon on Facebook and Twitter.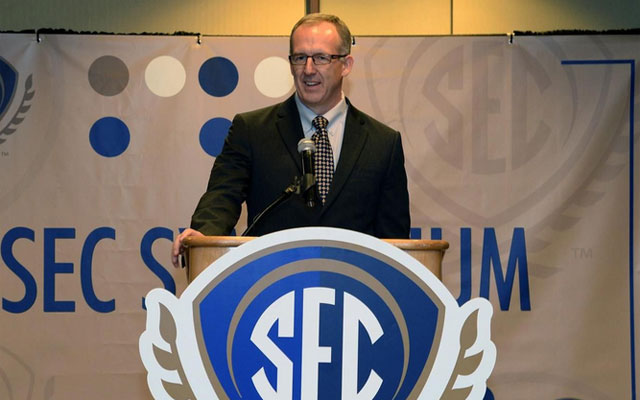 The first opening weekend lines for college football in 2018 have been posted

A year-end wrap-up of college football statistics you need to know from 2017

Stanford produces apps and Super Bowl participants
The Alabama QB has a new look after the Tide claimed another national title

Young was injured during Miami's Orange Bowl loss to Wisconsin

The movie will zero in on former Penn State coach Joe Paterno during the Jerry Sandusky sc...