The Ballot Bout: AP vs. Coaches, Week 2
In which we size up the Week 2 poll results and determine which set of voters did a better job ranking teams this week.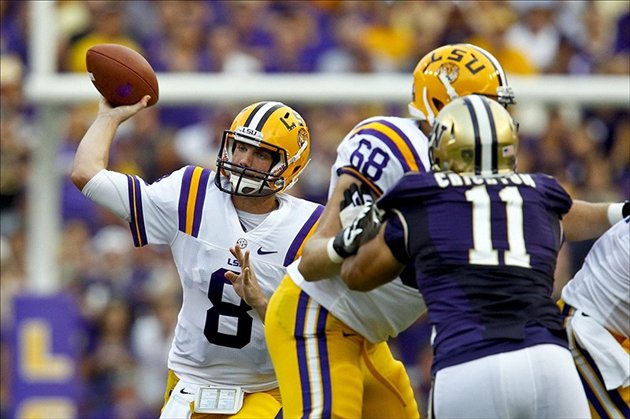 Zach Mettenberger

and LSU throttled Washington. Should that have been enough for the No. 2 spot? (Getty Images)
In which the minor differences in the two major college football polls -- the AP and the Coaches -- are broken down and a winner is declared. Ready? FIGHT!
Round 1: LSU Tigers vs. Southern California Trojans . The Coaches changed their minds on this head-to-head decision, vaulting the Tigers to No. 2 after the Trojans led Syracuse Orange  only 21-16 entering the fourth quarter while Les Miles's team destroyed Washington 41-3. The AP, meanwhile, refused to drop its preseason No. 1 and kept the Trojans behind consensus No. 1 Alabama Crimson Tide . USC fans would no doubt point out that the Trojans' Syracuse win came far, far away from home while LSU was hosting Washington, but the bottom line is that the Huskies and Orange seem like approximately equal teams at this stage (though with a lean to Washington, given their Week 1 win over San Diego State, itself a 42-7 Week 2 winner over Army West Point Black Knights ). LSU annihilated its middling BCS opponent; USC plainly did not. The Tigers should be ranked higher. Round 1 Winner: Coaches.
Round 2: South Carolina Gamecocks vs. West Virginia Mountaineers . The Mountaineers had the week off, but the Gamecocks bludgeoned visiting East Carolina Pirates  48-10. That was enough for the AP to break last week's tie at No. 9 between the two teams in favor of Carolina, moving it up to No. 8, while the Coaches (who already had Arkansas Razorbacks behind both teams at No. 10) held West Virginia steady at No. 8 and the Gamecocks in place at No. 9. This is an easy call in the Gamecocks' favor: Both teams have a blowout home victory over Conference USA competition, but Carolina's victim (ECU) is projected to be stronger than WVU's ( Marshall Thundering Herd ), and Carolina still has that Week 1 win at Vanderbilt Commodores . The AP has it right here. Round 2 Winner: AP.
Round 3: Texas Longhorns vs. Virginia Tech. Though both the Longhorns and Hokies took major steps forward in both polls thanks to chaos around them, voters on both ballots kept to their previous head-to-head order between the two teams: The AP has Tech No. 13 and Texas No. 14, while the Coaches have Texas 12th and Tech 13th. (Both teams are a slot higher because the Coaches don't rank probation-addled Ohio State Buckeyes , the AP No. 12). The call here should go in favor of the Hokies. The offense didn't set the world on fire vs. Georgia Tech in Week 1 (to say the least), but the Yellow Jackets still project as a much, much bigger scalp than either of Texas' conquests,  Wyoming Cowboys or New Mexico. Round 3 Winner: AP.
Round 4: Stanford Cardinal vs. Florida Gators , Louisville Cardinals , and Notre Dame Fighting Irish . The Coaches love them some Cardinal: Stanford's 50-13 win over Duke Blue Devils was enough to bump it up five spots from No. 21 to No. 16 and keep Stanford out in front of the Gators, Cardinals, and Irish. The AP, however, was already less impressed after Stanford's 20-17 opening-week home escape from San Jose State Spartans , and only moved it from No. 25 to No. 21. Florida, meanwhile, leaped six spots to No. 18 after ruining Texas A&M's SEC debut, Louisville placed 19th, and the Irish landed at No. 20. The Duke rout was nice, but especially alongside the highly disappointing effort vs. SJSU, is it nicer than beating the Texas A&M Aggies at Kyle Field, like Florida? Nicer than thumping Navy Midshipmen and defeating a BCS conference opponent like Purdue Boilermakers ? Voting Stanford over Louisville is defensible until or unless Kentucky Wildcats proves it's any better than Duke, but on the whole, the Coaches are still giving the Cardinal too much credit. Round 4 Winner: AP.
Round 5: Arkansas vs. many teams. The Razorbacks, as you know, lost to the Sun Belt's UL-Monroe in overtime late Saturday night. And though Tyler Wilson 's head injury had something to do with that, being outgained 550-377 by a team that's never been to a bowl game had a lot more. Given the non-flukiness of the Hogs' loss and their lengthy delay in putting away FCS Jacksonville State in Week 1, there's zero 2012 evidence the Razorbacks deserve to be ranked. The AP voters noticed, by and large -- the Hogs are outside the poll in the Also Receiving Votes' "No. 28" slot -- but not so the Coaches, who gave the Hogs a soft landing at No. 21. That's two places above a UCLA Bruins team that's just beaten  Nebraska Cornhuskers (a team the Coaches even have ranked) and four above an Arizona Wildcats team that just beat previous Coaches' No. 16 Oklahoma State Cowboys by 21 points. Even if voters feel the Hogs are capable of defeating the Huskers or Wildcats straight up, shouldn't they have to offer any indication of that on an actual football field before getting the benefit of the doubt? Round 5 Winner: AP.
WEEK 2 WINNER, by 4-1 decision:
But don't get cocky, media: There's no excuse for having No. 17 Michigan Wolverines ranked over No. 18 Florida at this stage, either. 
The 2021 Chick-fil-A Kickoff Game will feature Louisville and Ole Miss

The Fornelli 50 ranks teams based on nothing but their performance in 2017

Penn State better have its eyes wide open with a trip to Iowa City on deck this weekend
Ohio safety Javon Hagan has a rather unique personal tradition during games

Mississippi State has been good to Mullen, but he should be the next Bulldog to upgrade

Cowart was the No. 3 overall recruit in the 2015 class but has not panned out yet for the...