The Big Picture: Bama overcomes Manziel's spectacular show
Alabama couldn't contain Texas A&M QB Johnny Manziel, who is proving to be one of the greatest players in college football history and his performance against the gold standard of college football is quite the measuring stick.
It's Day Eight for me in College Station and I'm about to go home. I spent the week here at Texas A&M for an upcoming behind-the-scenes story on how the Aggies prepared for the showdown with top-ranked Alabama. (That story will go up Wednesday.) Some reaction to the wild Saturday afternoon at Kyle Field.
For as much as Nick Saban is known as a defensive guy, the strength of his team this year looks like it's his offense, where the Tide has an experienced, big-game QB (AJ McCarron); a great tailback (T.J. Yeldon) and a speedy athletic group of wideouts led by Amari Cooper. The defense is still talented, especially linebacker C.J. Mosley, but the D-line misses powerhouse nose guard Jesse Williams and the corners are very shaky. Of course, Kevin Sumlin's offense is going to make a lot of defenses look bad.
McCarron was 20-29 for 334 yards and four TDs while connecting with 10 different receivers.
As good as McCarron is--the guy doesn't make many mistakes--it's hard to make the case for him as a Heisman frontrunner when he wasn't the best quarterback on the field Saturday.
Johnny Manziel showed the country that he has made significant strides and is a lot better than he was in his Heisman Trophy-winning season in 2012. All of the talk about how Nick Saban and Alabama had months of getting ready to contain Manziel looked overblown and downright silly.
As one college coach texted me Saturday night: "The guru part of the game is way overrated."
Manziel shredded Saban's defense for 562 yards of total offense and sparked the Aggies to 628 yards--the most Alabama has ever surrendered in 119 years of football. He did throw two INTs. The first, came on a miscommunication with a freshman wideout in the end zone. The second was on a deflected pass. Regardless, I don't know how anyone can honestly have watched what he did Saturday and not be wowed.
I realize there's always a tendency to overreact to the moment, but look at these numbers in his two games against Saban and Alabama, which is the gold standard of the sport right now: 52-71 (73 percent) for 717 passing yards; seven TD passes, two INTs; 190 yards rushing and maybe most impressively he's led his offense to converting on a jaw-dropping 62 percent (16-26) on third downs. Last season in every game aside from the one where it faced Manziel, the Tide limited opponents to under 29 percent on third down conversions.
•Stat of the Day: Johnny Manziel all by himself has accounted for 21 percent of the offensive yardage Alabama has allowed in its last 16 games (907 yards of 4,340).
Obviously, Manziel isn't doing that all alone. He has a terrific O-line and a young, dynamic group of skill guys led by huge Mike Evans, but seeing just how much damage the 6-0, 201-pound QB continues to do off-script against Alabama is staggering.
"There's a reason he won the Heisman," Bama safety Vinnie Sunseri told reporters after the game. "He's an unbelievable player, I don't care what he does off the field. He has great receivers and everything. We knew it was going to go back and forth and we just had to try to slow him down."
The game, which many of my media colleagues agreed, looked more like an old Big 12 game than an SEC showdown, showed the DNA of college football in 2013. It's an offensive game, where teams don't seem to lose but rather just run out of time.
"You took 10 years off my life," Saban told Sumlin after the game.
The most impressive part of Bama's road win was how the Tide came into a hostile environment and faced a special player, fell down early 14-0 and still found a way to win. In their opener, the Tide won because of special teams. This week it was because of the offense. Soon, it'll be because of the D. That's why this is the best program in college football right now. Saban's team is now 13-2 against Top 10 opponents and averaging over 31 points per game, as noted by Jon Solomon.
Random Stuff
•Hats off to UCLA. The Bruins, in what has been a very emotional week, traveled to Nebraska and had an early kickoff (by L.A. standards) against No. 23 Nebraska. UCLA was down 21-3 but battled back and blew the Huskers off the field in the second half to win 41-21 just six days after wideout Nick Pasquale was killed after being struck by a vehicle while he was walking in his hometown of San Clemente. [The Bruins wore No. 36 patches on their jerseys in memory of Pasquale and in a classy move, the Huskers wore No. 36 decals on their helmets, and there was a moment of silence for Pasquale before the game.] Every time the Bruins broke a huddle, they'd break by shouting "Live like Paq." In the meeting rooms this week no one sat in his normal seat.
The Bruins managed just three points on their first six series of the day and seemed to be in trouble before settling down at halftime and taking over the game.
"Our kids were so emotional they were trying to make every play a touchdown or trying to get a sack on every play," UCLA offensive coordinator Noel Mazzone told me Saturday night. "Brett (Hundley) was so wound up in the first half. He was all over the place."
"Nick meant so many to all of us. He truly did. He reminded me of my two sons in the way he busted his ass every day. He was this undersized kid who was not fast enough but he was a key part of our program. Eric Kendricks and AB (Anthony Barr) were so close to him because of what he was about."
Barr responded with 11 tackles and three forced fumbles. Hundley and his teammates settled down to roll up 236 yards of offense and 28 points in the third quarter alone.
"It was tough, man," Barr told reporters after the game. "That's my guy. That's our guy. He had so much heart and so much soul, and we respect him so much. We kind of went out and just played with his spirit."
As for Nebraska, the UCLA loss is just the latest is a series of embarrassing defensive breakdowns for Bo Pelini's program. in the Huskers last five games, Nebraska has given up 70 points, 45 points, 34, points, 13 points and now 41 points. And that 13-point defensive effort was against a horrible Southern Miss team that has the longest losing streak in the country.
Nebraska great Tommie Frazier took to Twitter to call for drastic shake-up at NU:
"After letting it sink in for about 4 hours I [am] still struggling. It's time to get rid of the defensive play caller, the Dc, lb dl and db coaches. I hate saying this but this crap is getting old. How in the hell do you not make adjustments or put your players in the position to compete? If this is what is going to happen for the remainder of the season, count me out. I don't care if we lose a game but the way we are losing is just not what #Nebraska fans deserve. I have fought, bled, and cried over this program. I didn't do all that for the program to become what it has today. Time for change!"
I suspect many Nebraska fans agree with him. This program doesn't look like it's any closer to becoming a top 15 bunch any time soon. In fact, it seems to be back-sliding.
•Very nice day for the Pac-12, including a 3-1 mark against Big Ten opponents, highlighted by wins over No. 23 Nebraska and No. 20 Wisconsin. The lone blemish was a 52-34 loss to No. 4 Ohio State by a young Cal team. On the day, the Pac-12 went 8-1 in non-conference games, making a strong case to be the No. 2 league in college football. Who knows if Oregon or Stanford can take its' programs a step further, the league might be able to push past the SEC this year, which certainly doesn't look like it's got dominant defenses like it did in the past.
•Perhaps the only thing scarier than Marcus Mariota for rival coaches prepping for Oregon is the array of speed and weapons the Ducks display. This week the Ducks blasted Tennessee, scoring at least eight touchdowns for the third consecutive week and did so against the Vols with seven different Ducks scoring touchdowns. Oregon handed Tennessee its worst loss in 108 years. Expect more fireworks in the Ducks next game, Sept. 28 when Cal visits. The Bears are allowing 42 ppg.
•It's Sunday morning and I'm still trying to figure out what the heck was going through people's minds in the last five minutes of that Wisconsin-ASU debacle? The Sun Devils managed to win in spite of some horrific clock management by coach Todd Graham, the guy who's notorious in coaching circles for ripping his kids for "being selfish" after one of them has a bad play. ASU has plenty of talent, but it seemed like the mental mistakes that used to plague this program were coming from the sideline this time.
Joel Stave's move of placing the ball on the ground, rather than kneel down at the end of the game was even more of a head-scratcher.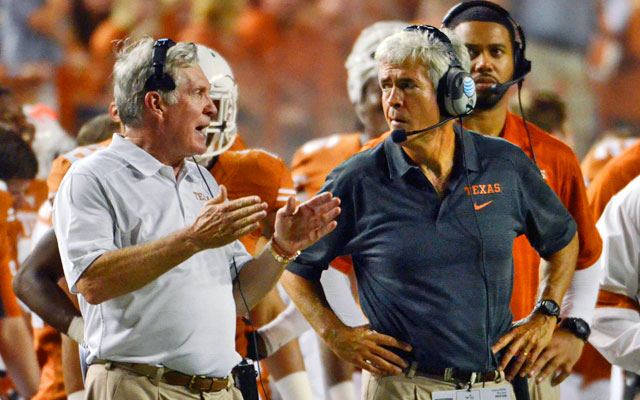 •A week after firing his defensive coordinator, Mack Brown's team didn't look any better, losing at home to an unranked Ole Miss team 44-23. I guess if you want to look at the glass as half-full (or more like an eighth-full given the free-fall the Horns program is in), you could point to a Greg Robinson team only allowed 44, points which is actually eight less than what his team surrendered the last time he was on the sidelines in a 52-14 loss in the 2011 Gator Bowl to Mississippi State. The rival DC that day: Manny Diaz, the guy he replaced at UT. Ole Miss speedster Jeff Scott ran for a career-high 163 yards against the Horns.
After the game, Ole Miss coach Hugh Freeze said the Longhorns ran virtually the same defense it had last week when they were shredded by BYU.
•Props to Akron, who had Michigan on the ropes in the big house and almost pulled a monumental upset before dropping its 28th consecutive road game. The Zips have a veteran staff with the Bowden boys and Chuck Amato, but keep an eye on 27-year-old OC A.J. Milwee, a former record-setting QB at North Alabama. He did a nice job against the Wolverines. His counterpart, Michigan's Greg Mattison had been a college coach for a decade by the time Milwee as born. The Zips were nine-of-18 on third downs and managed 418 total yards.
•Stat of the Day, Take II: Two the nation's top three rushers, Rutgers' Paul James (No. 1 in the country with 494 yards) and Iowa's Mark Weisman (No. 3 with 425 yards) came to their colleges as walk-ons.
James has upstaged a former five-star recruit, Savon Huggins and went for 192 yards and three rushing TDs in a win over Eastern Michigan. Weisman, once again, was the engine for the Hawkeyes offense going for 145 yards as Iowa got a nice win over arch-rival Iowa State. Weisman is vintage Big Ten football. In the past two weeks he's carried the ball 65 times for 324 yards.
•Stat of the Day, Take III: With Saturday's 23-14 loss to Rice, Charlie Weis has now lost 16 games in a row against FBS opponents. In half of those losses, Mr. Schematic Advantage has been held to 17 points or less.
•Stat of the Day, Take IV: So things aren't going as well as many of us thought they would for Bobby Petrino at WKU. His team got blown out at Tennessee last week and turned around and lost at South Alabama with another turnover-plagued clunker. WKU is last in the country in turnovers lost with 12, only eight less than Petrino's last squad, Arkansas had in all of 2011.
•FIU dropped to 0-3 under new coach Ron Turner with a dreadful loss to FCS Bethune-Cookman, 34-13. The Golden Panthers who have now lost to three unranked opponents by a combined score of 115-23, visit Louisville and Teddy Bridgewater Saturday.
•Tweet of the Day: From @WillieLyles, the Texas recruiting service guy at the center of Oregon's NCAA issues in recent years.
Another week another UT blowout. If your team, fans & alumni are ok with being losers it's cool. If you want to win again give me a call lol.
Yes, you read that right: The Bad Boy Mowers Gasparilla Bowl will be held in St. Petersbur...

James, who missed the 2016 season but has bounced back healthy, may be indestructible

Wakeyleaks appeared to be a one-off incident, but it goes down more often than you might t...
A look at the first conference power rankings of the 2017 college football season

A magic trick turned into a scholarship surprise for this Texas lineman

Michigan's notorious secrecy is getting called out again