The Big Picture: Heeeere's Johnny!
As much as the rest of the college football world would like to snicker 'Same old Aggies, especially many of A&M's old Big 12 rivals, things are much different now in College Station.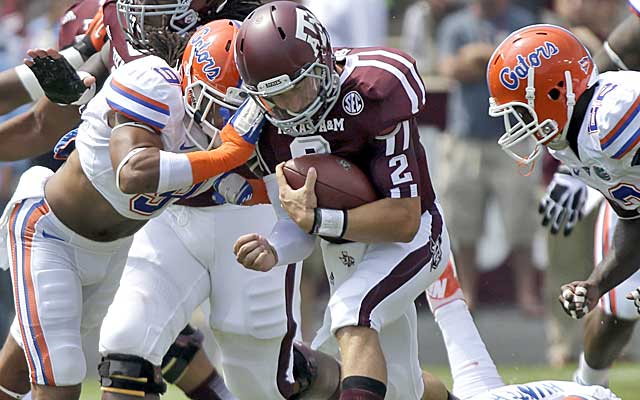 Johnny Manziel fights for yardage. The Aggies lost their SEC opener, but found a QB. (AP)
In 2011, Texas A&M blew five games where it had leads into the second half. On Saturday, in the Aggies' much-hyped SEC debut, they watched another team, the Florida Gators -- a team that had been in 0-5 in games where they trailed at halftime -- rallied to beat them. As much as the rest of the college football world would like to snicker "Same old Aggies," especially many of A&M's old Big 12 rivals, things are much different now in College Station.
The Aggies have a new head coach, a new staff, a new scheme and perhaps most interestingly, a new spark. His name is Johnny Manziel, and if you didn't get to watch him in his first college game, you need to tune in next time the Aggies hit the field. And every other time he trots out onto the field.
Manziel, a k a Johnny Football, is genuine Must-See TV in the same way few college players are. And, when was the last time anyone outside of the College Station area was buzzing about A&M? Sure, the Aggies have fielded more than their share of talent. Von Miller, Dat Nguyen and a bunch of other defensive standouts made the Aggies formidable, but Manziel could be special in this system. Just as the Aggies' sharp young offensive coordinator Kliff Kingsbury has been quietly telling his buddies.
More from Saturday
Analysis

Related content
I suspect that by midway through the first half, when the redshirt freshman QB's wheels and preternatural playmaking skills had the gifted Gator defense on its heels and the Kyle Field crowd roaring, you got intrigued too. At one point, thanks in large part to Manziel, A&M had almost as many first downs (15) as UF had run plays (18). The kid also proved to be more than just a dynamic running threat, going 16 of 20 for 141 yards on the first half. To their credit, the Gators made some adjustments in the second half. Manziel and the Aggies sputtered, managing just 65 total yards. The Gators won 20-17.
"I told 'em at halftime, 'I'm firing you if you run up the field again,' " UF coach Will Muschamp said of his message to his team. " 'Sit on the line of scrimmage, squeeze blocks and quit trying to run up the field. That's what they want you to do. Just sit on the line of scrimmage, get your hands on people and play thick on people. And if you'll do that, they won't have run lanes anymore.' They didn't have any run lanes in the second half."
The Aggies had some players open in the second half, "but we just didn't hit 'em," Kingsbury said, acknowledging that one of the hardest things for anyone, and certainly true for a college quarterback playing in his first SEC game, is being able to stay focused for 60 minutes. That's when, he says, "the reads can go out the window." And, at times, they did.
Often as the game went on, his young QB got too caught up in the moment -- like on many of his free-wheeling scrambles. Some led to would-be tacklers clutching at air or nifty little impromptu pitches for first downs. Another time, he took off, showed his speed and tossed a touchdown pass only for it to get called back because he went beyond the line of scrimmage. "It was like he was out there running around back in Kerrville [Manziel's hometown]," said a bemused Kingsbury. "We just gotta keep him locked in."
Said coach Kevin Sumlin, "Anyone who's watched him play knows he's not a normal freshman. That is a big job to start at home in front of that crowd, against a ranked team.
"You can watch his play and anyone who saw him knows he's not timid. He's very, very confident in his actions and I think as we review the video with him, I think he's going to be able to see, 'Alright, here's what I need experience and where I can get better.' The thing that created some more offense for us in the first half was his legs. In the second half, without looking at video, I don't think he felt comfortable doing that. There are fast guys in this league. You're not the fastest guy on the field anymore. That became evident in the second half."
But as Manziel adapts to this offense while Kingsbury adapts the Air-Raid to his playmaking, make-you-miss young QB, the vibe of this program is going to change. I think it's already changing. Also, keep in mind that this scheme isn't just new for the rookie QB, but it's new for everybody else at A&M too.
Next up will be that penchant for squandering second half leads, the thing that Sumlin referred to as the "elephant in the room."
Best way to remedy that the coach said is with execution. Adding in some attitude and confidence will help a lot too. So will the playmaking ability to frustrate an opponent and snatch back momentum.
Last winter, when I visited College Station, one of the things that stuck out was listening to Kingsbury talk about Manziel. Said he had some Doug Flutie, which is a comparison you just don't hear much about anyone these days. Said the kid had these huge hands and was an amazing dunker too. That he just had a knack. Said he was excited to see what he could do.
It's hard for any coach to feel good about any loss, but there certainly was a lot to be optimistic about in College Station. 
"I couldn't be prouder of the kid, the way he fought," Kingsbury said. "It wasn't perfect by any stretch, but he fought and he's going to win a lot of games here."
RANDOM STUFF
• Hats off to Louisiana-Monroe for upsetting Arkansas in OT Saturday night. It's efforts like this, in seemingly off-the-radar games that make this sport so special. I doubt even most diehard college fans knew the name Kolton Browning before about 11 p.m. ET Saturday. Bet they do now. Behind Browning, ULM ran 103 plays (compared to the Hogs' 66) and converted on 14 of 30 on third/fourth downs. For his performance, Browning deservedly was named the Walter Camp Offensive Player of the Week.
I know the Hogs were shorthanded after standout QB Tyler Wilson was knocked out of the game, but the ULM D also deserves respect. According to Robbie Neiswanger, Arkansas managed only 32 total yards on its final 18 plays in regulation.
With a visit from Alabama ahead, it'll be interesting to see if John L. Smith can get the Hogs back on track. This is a defense that has surrendered almost 900 yards in the first two weeks against Jacksonville State and ULM.
No question Smith is a quotable character and is very entertaining, but it's worth saying again, in his 12 previous seasons as a college head coach at the FBS level, his teams have only finished ranked one time.
*As dreadful a day as the Big Ten had, where a 6-6 mark seemed more like 3-9 with Wisconsin losing to unranked Oregon State; Nebraska falling to unranked UCLA; Iowa getting beat by archrival Iowa State, Penn State losing to Virginia and Illinois getting thumped by ASU, the Mountain West had even a worse weekend. The MWC went 1-7, low-lighted by losses to Northern Arizona, North Dakota State and Toledo. Only San Diego State, a 42-7 winner over Army, was in the good column.
• Granted this time the opponent wasn't Alabama, but Denard Robinson was at his best against Air Force. His stat line reminds me of that old Marvin Barnes "time machine" flight (Google it) anecdote: The Wolverines gained 422 total yards Saturday. Robinson was responsible for 426 (101 percent). The explanation for the quirk: how late-half kneel-downs are tabulated.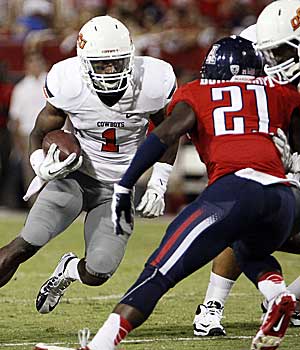 OK State's Joseph Randle has had a little trouble keeping the handle. (AP)
• Head-turning stat of the day: Oklahoma State's Joseph Randle came into the season as one of the best running backs in college football, but he has to do a much better job of taking care of the ball. As OSU beat writer Gina Mizell notes, Randle has now lost five fumbles in his past six games.
• I hope some of the folks who scoffed at how good a coach Rich Rodriguez is, have the Pac-12 Network and caught some of Arizona thumping Oklahoma State on Saturday night.
Unlike at Michigan, Rodriguez inherited a good triggerman for his scheme (Matt Scott) and also unlike in Ann Arbor, he has a DC (Jeff Casteel) who he can win with. I'm still sticking with my prediction that it won't be till 2014 before the Cats are a Top 15 team, but don't underestimate Rich Rod. He knows exactly what he's doing there and he'll get kids to play hard. They also seem to be playing smarter for him. In 2011, Zona was No. 111 in penalties. This season, No. 38.
• Jarvis Jones is living up to all the hype again. Big stage Saturday. Eight tackles, a sack, a forced fumble and an interception. Just another day at the office.
• Stat that you're going to hear a lot of this week, if you already haven't: In games with Cam Newton, Gene Chizik was 14-0. Without him at Auburn, Chizik is 16-12.
*For the second week in a row it looks like a Big Ten Heisman's hopes went up in smoke. Last week it was Denard Robinson, this time it's Wisconsin's Montee Ball, who was held to 61 yards on 15 carries by an unranked Oregon State team that kept the Badgers' star our of the endzone for the first time in 21 games. Not good, especially after failing to average 4 yards a carry a week earlier when Wisconsin struggled with FCS Northern Iowa.
*Tony Levine, Houston's first-year head coach, had as rough an opening week as anyone in college football. Not only did the Cougars get upset by a huge underdog (Texas State), but the program made national headlines when Levine also had to find a new offensive coordinator when Mike Nesbitt "resigned."
UH didn't have an easy follow-up with a talented La. Tech team coming to town and Sonny Dykes offense proved too much for the Cougars, winning a 56-49 shootout. But the Cougars at least looked more like what they did in recent years in terms of varying up their formations, using a lot of motion and revving up the tempo. In fact, UH set an NCAA record by running an astounding 115 plays Saturday night as it piled up 690 total yards. Better still, the Cougars, being directed by new acting OC Travis Bush, made a much more concerted effort to get the ball to their best player, RB Charles Sims, who had 32 touches, more than twice as many touches as Week 1.
The bad news: next up is a road trip to face a 2-0 UCLA team that is looking very good, meaning a program that went 13-1 last season likely is staring at a 0-3 start. But if you have a fantasy college football team, you might want to get UH QB David Piland, who went 53-77 for 580 yards and four TDs working with a very young crew of receivers.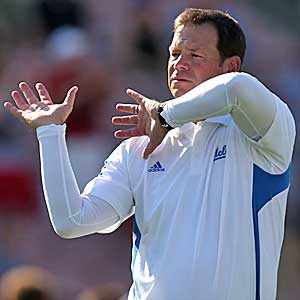 Houston gets Jim Mora Jr.'s hard-charging UCLA unit next. (Getty Images)
As I wrote on the eve of the season, Dykes' team is worth keeping an eye on. They have a lot of experience in this system and have some legit firepower. Tech really only had to replace running back Lennon Creer on offense and it sure looked like they're going to be fine there as they unveiled their version of "Thunder and Lightning" as the freshman running back duo Tevin King and Kenneth Dixon combined for over 200 yards and four TDs.
• I watched about five minutes of the K-State destruction of Miami from the press box at Kyle Field and was reminded of something former Oklahoma State standout DL Jamie Blatnick told me last February at the NFL Combine. I asked him of the elite college QBs he'd faced, Andrew Luck, Sam Bradford and Robert Griffin III, who was the toughest to deal with.
Blatnick's answer: Collin Klein. He's a beast.
Meanwhile, Miami's D has been a trainwreck so far. The Canes are allowing a wretched 10.5 yards per pass after having played two QBs who were ranked 77th (Klein) and 100th (Chase Rettig) nationally in passing efficiency last year. The only defense even close to that bad is Southern Miss and they've only played one game. In 2011, only one defense even allowed worse than nine yards per attempt, Ball State at 9.25.
*TCU has played 12 true freshmen, already the most in a single year under Gary Patterson, doubling the coach's previous high set in 2011.
• Another week and I suspect more people are boarding the Braxton Miller bandwagon. Four rushing TDs plus three passing touchdowns in a new system in the first two games is reason for Buckeyes fans to smile from ear-to-ear knowing about that this is just the beginning for him.
• I know one of my colleagues at CBSSports.com who follows Arizona State football pretty closely wasn't the biggest Noel Mazzone fan, but after two weeks, you have to be impressed with what he's done with a UCLA offense starting five freshmen, don't you Pete? Even a little? Three of those freshmen start on the O-line and yet the Bruins are averaging 650 total yards and 344 rushing yards per game, just 33 yards less than what they averaged overall in 2011. 
• Johnathan Franklin vaulting into the Heisman picture after another huge game? Yep.
*Best lookahead stat for Week Three: This week, USC visits Stanford. Matt Barkley is 0-3 against the Cardinal in his career.
Saban isn't going to win Alabama's special election, but the Crimson Tide coach got some l...

The Sooners' quarterback and Badgers' rusher stood out among their peers this season

Clark led UAB to an 8-4 overall record, 6-2 in conference this season
SportsLine simulated every bowl game 10,000 times for pick'em leagues and confidence pools

The Tigers are going worldwide for their next punter

Led by Heisman Trophy winner Baker Mayfield, the Big 12 finished with seven first-team sel...