The Big Picture: Stanford outmuscles USC again
The Trojans were the preseason No. 1, led by their golden boy quarterback, with their Unfinished Business mantra, and Stanford just took them down.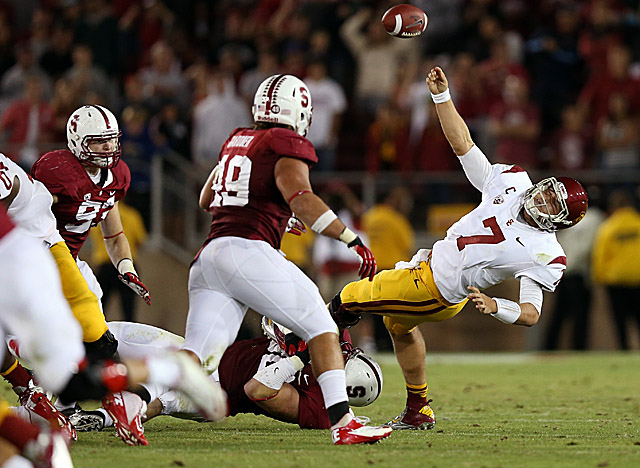 QB Matt Barkley gets worked over in the fourth quarter as Stanford topples USC. (Getty Images)
STANFORD, Calif. -- As the Trojans started to make their way off the field towards the tunnel, just seconds after Stanford's 21-14 upset of USC had become official Saturday night, hundreds of Cardinal fans poured out of the stands. It was a stampede as they sprinted towards midfield.
The euphoric scene looked more like something you'd expect from a school that hadn't beaten a powerhouse in decades. Not one for a program that just had beaten the other for the fourth consecutive time. Still, this time the Cardinal had no Andrew Luck. And this time it was USC that had been anointed as the team to beat by all of us so-called experts. The Trojans were the preseason No. 1, led by their golden-boy quarterback, with their "Unfinished Business" mantra, and Stanford just took them down.
One young girl in a red Stanford sweatshirt -- she couldn't have been more than 18 -- rushed up to Lane Kiffin and just started screaming, "[Bleep] you, Lane Kiffin! [Bleep] you, you [bleepin'] loser!"
The Trojans coach, now 3-6 all-time against ranked teams, just lowered his head and kept walking while more and more Stanford fans darted past him and his players en route to the raucous celebration unfolding at midfield. Around the country, no doubt, many college fans also were enjoying this one.
Stanford proved once again to be the more physical team. The Cardinal held USC -- with Barkley, two 1,000-yard backs and the country's best receiving combo --  to 280 yards on the night. More impressively, Stanford shut the Trojans out in the second half, limiting them to just 91 yards. Barkley was sacked four times -- half as many times as he was in the entire 2011 season. What's more, Barkley, the Heisman Trophy favorite, was held without a touchdown pass for the first time since November 2010. Harassed more and more as the evening wore on, the senior QB finished 20-of-41 with two interceptions. You'd have to go all the way back to the middle of his freshman year to find a game in which he failed to connect on less than 50 percent of his passes.
"Our defensive backs played as well tonight as they ever have since I've been here," Cardinal coach David Shaw said. "Those are the two best receivers in the nation and we held 'em to 254 yards."
Asked for his reaction as he watched his team's fans run wild celebrating on the field, the second-year coach told me, "I love the energy and the enthusiasm. The only problem I have with it is, I would like for everyone in the stadium to not be surprised by [the win]."
USC, for all of its firepower on offense, got overwhelmed up front. This game was going to be the Trojans first real test in the trenches and USC simply was not up to the test.
Things had gotten dicier for the Trojans on Saturday night when it became clear they'd be without preseason All-American center Khaled Holmes, the leader of their line. Holmes, a fifth-year senior who had never missed a game due to injury, was sidelined by a high ankle sprain, suffered in the Week Two win over Syracuse. His replacement? Redshirt freshman Cyrus Hobbi.
"If there was one game on the schedule you'd pick that you wouldn't want to be missing your senior center, this is it," said Kiffin from inside a cramped media tent outside the Trojans locker room. "I don't care who the backup was. You're going to miss [him] when you play this team.
It was obvious how much USC looked lost without Holmes. They were unable to average even one yard rushing Saturday night. The pressure on Barkley ramped up with every subsequent Trojans play. "We just weren't communicating," said USC guard John Martinez, adding that Holmes' ability to recognize blitzing packages and call out fronts is vital to the Trojans. "Our heads weren't right."
Barkley, a guy who had become the voice of the USC program from the day it hit its rock bottom over two years ago when the Trojans learned they'd been hammered by hefty NCAA sanctions, looked devastated sitting at the makeshift media tent some 20 minutes after his team failed to convert on a fourth-and-forever in the game's final seconds. He never raised his head. He answers were short. He looked like he'd just experienced the worst night of his life.
The Trojans, many of whom like Barkley, had endured two seasons of an NCAA bowl ban, weren't just an overwhelmed O-line and a rattled QB; it was star receivers dropping passes; it was seasoned defenders missing tackles and getting knocked back.
"All around, we probably weren't prepared as we should've been for this team," conceded USC tight end Randall Telfer. "They're a really good team."
The comment goes against the "prep, not hype" motto Kiffin had preached this off-season. His team, despite its veteran leadership on both sides of the ball, looked and played tight, especially as Stanford mounted more and more pressure on the Trojans.
In truth, the biggest question mark about this team going into 2012 wasn't whether they could thrive in spite of playing with 10 less scholarship players, it was whether Kiffin could keep things on track. Sure, the 37-year-old coach had quieted some skeptics after USC went up to Oregon last winter and snapped the Ducks long home winning streak, but there is a lot more piled up at the center of the table this year for this program.
Earlier in the week, Kiffin made headlines when he banned a local reporter from practice because the guy had reported the team's kicker was slated to undergo surgery. Kiffin claimed the reporter violated the coach's new media policy forbidding writing about injuries sustained at practice. Problem was, the injury didn't occur during a practice. After the dust-up became national news, USC dropped its ban. In reality, the whole mess was more trouble than it was worth and things like that -- unnecessary distractions -- certainly don't help a program in the spotlight win games.
"I was shocked," Kiffin said about Saturday night's outcome. "A lot of things had not gone our way because of things we had done, and so I thought we'd come out and start rolling."
Kiffin went on to say, "This isn't the end of the world. We'll get back on the plane, go back to work and get better."
One of his players, tailback Curtis McNeal, pointed out losing one game doesn't mean you can't win a national title.
"'Bama lost a game last season and still won the national championship," he said. "It's a long season."
It is, but coping with the fallout from a national-championship-or-bust vibe that has been building around this program from that day last December when Barkley told a packed room in Heritage Hall he was holding off on going to the NFL for another season because he and this program had "unfinished business" isn't going to be easy to combat.
Almost a decade ago, USC did lose a road game here in the Bay Area, over at Cal, in the first half of the season. The Trojans still battled back to win a national title. We'll see how Kiffin and this group respond. That USC 2003 team didn't have the same level of expectations hanging over it that this bunch has.
As for Stanford, Shaw and his staff deserve a ton of credit. Those who said that this program would backslide off the national radar now that Jim Harbaugh and Andrew Luck have moved onto the NFL should have some pause. Shaw's guys have bought in. They've embraced the persona of being a tough, physical, old-style football squad. Recruiting, by all accounts, is going great. Obviously, beating USC, again, is only going to help it that much more.
The closest thing Stanford has to a "star," the underrated Stepfan Taylor, was the best player on the field Saturday night -- even if he did only come into this game probably as the fourth-biggest Heisman candidate in the stadium. And while the place may have been going wild, the 40-year-old Shaw said, "We've accomplished nothing."
The rest of the football world would disagree, but yeah, we're certainly very curious just what else Shaw and Stanford are capable of.
RANDOM STUFF
-Last week, Will Muschamp took the first significant step in building Florida back into a powerhouse when the Gators rallied in the second half to win at Texas A&M. On Saturday, Muschamp and his guys took a much bigger stride forward, this time rallying to win convincingly at Tennessee, 37-20. This performance was even more impressive.
The Vols had a lot more experienced QB than the Aggies, but it was young Jeff Driskel who shined. The big sophomore who was often too deliberate against A&M, was sharper against the Vols. He was eight-of-10 in the second half with two TD passes as Florida piled up 555 yards of offense and had three scoring drives in the second half of 70-plus yards while putting up more points than they had in over 25 years at Neyland Stadium. Driskel, who is a much, much better athlete than many out there thought, also ran for over 80 yards. Best of all, UF, once again, didn't commit any turnovers. For a team with a young QB on the road in the SEC to do that is huge.
-It now seems like a very long shot Derek Dooley can get the Vols back on course. No question, there is talent on the team in Knoxville, and there's a lot of experience, particularly on offense, but something is missing with this program. Dooley's record against ranked teams at UT now drops to 0-11, and he's 0-18 all-time. Those kinds of numbers are catastrophic when you're at a place with as proud a history as Tennessee has. He still could get the Vols to eight wins this year, but you have to wonder, will even that be good enough now? This is no longer a young team. Florida's younger. And if the Vols can't beat UF now, when will they? Short of his team knocking off Georgia or South Carolina on the road or Alabama this fall, I don't see him convincing enough people there that he's the right guy to lead UT into 2013.
-Notre Dame, which dominated the college sports news at mid-week, is going to remain a hot topic this week after dominating Michigan State on the road to go to 3-0. So, like it or not, braces yourselves for the "Notre Dame is back" talk.
Led by Manti Te'o, and an impressive collection of imposing D-linemen, the Irish have a big-time front seven now. And, the reality is, we haven't been able to say that for a long time. Perhaps two decades.
ND has had some good players up front in the recent past, but it just didn't seem like they had anywhere near as many of them as they do right now. Te'o is a bona fide star and the younger guys really feed off him.
They notched four sacks Saturday night against an MSU team that hadn't given up any in the previous two weeks of the season. (Imagine how scary this bunch would be if they still had DE Aaron Lynch, who transferred out to USF last spring.) The bad news: the already questionable ND secondary just lost senior safety Jamoris Slaughter for the year with an Achilles heel injury.
Just how good are the Irish? They look like a legit Top 20 team. Are they a true Top 10 kinda team? Or a team that can win a BCS bowl? We're going to pump the brakes for now. The biggest question marks are, how will they how up against a team with a more developed passing game and how quickly can young Everett Golson develop? The Irish were just 1-of-14 on third downs as the redshirt freshman QB went 14-of-32 passing while MSU contained the ND ground game. Still, it should be noted that the Spartans do have one of the best defenses in the country.
-The disastrous first month for the Big Ten obviously continued with Michigan State being held to three points and getting thumped at home by Notre Dame. It proved the Spartans didn't have enough offense to be a BCS title contender, meaning no one in the Big Ten is primed to be considered among the nation's elite. On top of that, Wisconsin continues to disappoint. The Badgers barely survived Utah State, 16-14. It's ridiculous that the Badgers who have had three dismal showings in the first three weeks of the season against three unranked opponents are still, somehow, ranked (No. 24) in the Coaches Poll. And, remember, the Coaches Poll is the one that matters.
-Speaking of train wrecks, John L. Smith's team at Arkansas is reeling. They couldn't even manage 50 yards of total offense in the first half as Alabama continues to maul people. It shouldn't have been a shock to see Bama win at Arkansas, or even win convincingly but to see the Hogs completely melt down is another story. Then, in the post-game, Arkansas QB Tyler Wilson railed against his team's performance:
"It wasn't pretty to sit on the sideline and watch as a player, it sucks I can't do anything about it," the QB said. "Do I feel that we, at times, gave up out there? Absolutely. As a leader it sucks to see people not do their jobs and to see things go wrong, there has been a lot of things go that way. As a leader, at this point you have to look forward. There has been a lot of people jump off of the bandwagon and it is my job to keep everyone in this organization and this team in that locker room together."
Give Wilson credit for trying to show some leadership of a train that has gotten way off the tracks. The Hogs, a preseason Top 15 team, look like a squad that'll be fortunate to now win eight games this year as a nightmarish off-season has carried over to the fall. The upshot: Arkansas can't announce its new head coach fast enough.
-Danny Sheridan, the handicapper for the USA Today, tells me that if they met in Miami for the BCS title game, Alabama would be -2 against LSU; -4 vs. Oregon; -7 vs. OU and -8 vs. FSU.
-Willie Taggart, a Jim Harbaugh disciple, is doing wonders at Western Kentucky. WKU knocked off Kentucky of the SEC, 32-31 in overtime and has now won nine of its last 11 games. And, as Kyle Tucker notes, their only losses were against No. 1 Alabama and No. 1 LSU.
-Bandwagon starting to fill up on the Noles? I suspect it is now, and will really get crowded if they can follow up a dominant performance against Wake by handling Clemson's explosive offense. The Noles are the country's seventh-fewest penalized team. Last year, only one team piled up more penalty yards than FSU. We'll see if that trend continues as the schedule gets tougher.
-Only two teams that are more than a Plus-1 in Turnover Margin have losing records. Coincidentally enough, both are coached by former New Endland Patriots offensive coordinators. Kansas and Penn State are both 1-2 and ranked No. 11 in the nation in Turnover Margin. 
-West Virginia hasn't faced anyone close to a Top 25 team thus far, but you still have to do a double-take at what QB Geno Smith has been doing so far. Through two games, Smith has accounted for more TDs than he's thrown incompletions (10-9): 66-75 (88%) for 734 passing yards to go with his nine TD passes and one rushing TD. Also: 0 INTs.
-The Big 12's two newest members have brought with them the country's top two passers in Smith (rating of 242.37) and TCU's Casey Pachall (rating of 209.81). True, neither has played a tough defense or anything close to it yet. TCU, as the school pointed out, has now won 25 consecutive conference games, the nation's longest streak.
Stat of the Day: Boston College's team may be hobbling with Frank Spaziani as the head coach, but the Eagles have another very ultra productive linebacker who is piling up the tackles. Nick Clancy who had 19 tackles last year for a D dominated by Luke Kuechly, already has 43 in three games to lead the nation with 14.3 per game.
Most head-turning score of the weekend: noticing that Fresno State had over 500 yards of total offense with more than two minutes remaining in the half while leading Colorado 55-7. The 0-3 Buffs are 105th in scoring D and 112th in scoring.
-Larry Coker hasn't forgotten how to win games. The soft-spoken guy who won a BCS title at Miami, is off to a 3-0 start at Texas-San Antonio. Granted, it's not like the Roadrunners have beaten Oregon or Alabama, but wins are wins for young programs and two of the three Ws were on the road against fellow FBS newbies, South Alabama and Georgia State.
-Time to ease up on all the talk about Logan Thomas as a potential franchise NFL QB. No question the 6-6, 255-pound Thomas has great size and good wheels, but he simply hasn't shown that he can be consistently accurate enough to be a elite pro QB prospect. Against a Pitt D that came into the game, No. 92 in scoring defense, Thomas went 14-of-31 and was picked off three times. Worse still, Bud Foster's defense gave up 537 total yards. The Hokies are now unranked for the first time since October 2010, according to the AP's Ralph Russo.
-Congrats to UConn on beating former coach Randy Edsall who left for Maryland, his "Dream Job."
-Welcome back to college football, Bob Davie! The former TV announcer's New Mexico team fell to 1-2 and surrendered 702 total yards against Texas Tech.
Florida's roster got a boost on Tuesday with the return of several key members of the prog...

Tom Hutton joins the ranks of former Aussie rules footballers joining the college football...

The freshman is already on Heisman lists after throwing the walk-off score in the national...
These seven teams should make the most noise down the homestretch towards signing day

Air Force was forced to cancel 11 athletic events because of the 69-hour government shutdo...

Olson has a lot of the tools offensive coordinators want in a quarterback