The big time reaches Baylor at the house that RG3 built
There's the statue of Robert Griffin III. There's the gleaming new McLane Stadium to go with the Big 12 championship trophy. And there's swagger and optimism like there's never been before at Baylor.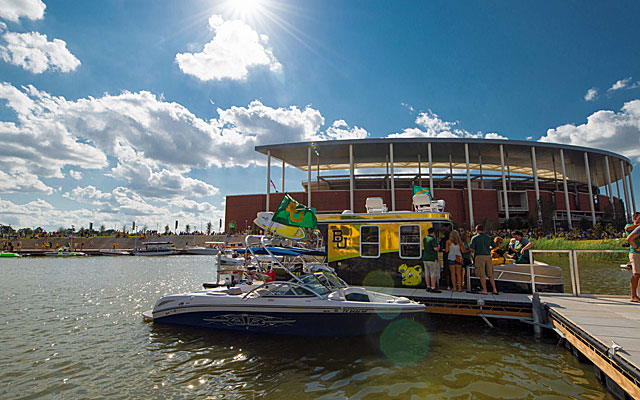 WACO, Texas -- The enormity of it all hit Robert Griffin III, NFL quarterback, Heisman winner, gentleman, commercial endorser and brand. At 24, he had been immortalized a 9½-foot bronze sculpture on campus less than three years after leaving school.
"I'm a faith-based guy," an obviously humbled RG3 said Sunday. "I don't want to be viewed as an idol god."
But he had to admit the obvious. Griffin is an idol, a minor god, to millions. That's the dichotomy of what happened Sunday here at Baylor, a small, private Christian university. The bronze RG3 signals the past. The real RG3 assessed the present before the gates even opened on new McLane Stadium.
"I feel like Baylor is a powerhouse in Texas now. I don't know about anybody else," he said. "I don't know if anyone wants to admit that. Baylor has owned Texas for a while now."
While the Longhorns break in a new coach, while the Johnny Manziel era passes at Texas A&M, while Texas Tech tries to recreate Mike Leach's success, Baylor is here, now, relevant. Not quite dominant, not yet.
But who would ever have considered anything like Sunday ever at Baylor. Football made it that way. And it's OK to admit it. While the school has a long academic and research reputation, McLane debuted Sunday as a raucous Autzen-by-the-Brazos.
The reigning Big 12 champions opened a new $266 million stadium with both rave reviews and the requisite signs of excess. Party boats and at least one bikinied woman cavorting in a new lagoon dug out from the Brazos River. How many stadiums have to post this sign: "No Lifeguard On Duty"?
Party boater, child psychiatrist and fourth-generation Bear Gary Tharp towed his boat 425 miles from Little Rock, Ark., just to be part of the action.
"It's really almost unbelievable," he said, Willie Nelson-type ponytail draped over one shoulder.
All of it was the newest, brightest, latest, perhaps most tasteful evidence of college athletics' arms race. Once you got past all of it -- the in-stadium app that shows replays from four different angles on your phone, the "sailgating" in that lagoon, George W. Bush out for the coin toss -- you had to admit something else.
It was the House That RG3 Built.
Well, him and coach Art Briles, architect of what AD Ian McCaw calls "the greatest transformation in college football."
"I don't think I've ever coached in a bigger game," Briles said after an easy 45-0 season-opening win over SMU, "where I felt like I was indebted to so many people and a cause."
You have to include visionary president Kenneth Starr. Don't forget the scores of donors who lined up behind the McLane project after Griffin won that Heisman in December 2011.
"We love you Father God," Griffin said delivering the invocation before the game, "and once again say,'Wow, this is amazing.' "
Yes, it is. The Bears moved from crumbling Floyd Casey, a 64-year old junkyard that was famous for what it didn't have -- sellouts until Briles arrived.
The place deserves to be razed. Bad memories live there. Fifteen years ago, UNLV came here and returned a fumble 100 yards in the final seconds while Baylor was running out the clock to win 27-24. There was the horrific murder of basketball player Patrick Dennehy and basketball scandal 11 years ago. Briles arrived from Houston in 2008 and brought Griffin and his Cougar commitment with him.
"I remember 10 years ago when we had 8,000 season-ticket holders," McCaw said. "I remember three and four years ago when we were fighting for survival in the Big 12."
Back then, McCaw was giving his reporters his cell number, hoping -- almost begging -- they would write about his school's plight. In the realignment merry-go-round Baylor was about to be left out. The Mountain West, or Conference USA -- out of the big time -- were real possibilities if the Big 12 had broken up.
"On a scale of 1 to 10, it was probably about 12 where we were concerned," McCaw said. "The importance of the Big 12 and being together was essential for Baylor."
So, yeah, a nine-figure football monument accompanied by a 9½-foot player monument was fairly important to everyone here.
By 2010, the once-moribund Bears were above .500. The next year, they won 10 in Griffin's last season. Having landed respect and a Heisman, Baylor arrived as a football power last year in winning the Big 12.
"The future is bright," Griffin said. "This is only the beginning.
"There's the Statue of Liberty and all that other stuff but you don't dream of having your own statue honored in your name."
Not unless you're Tim Tebow or Cam Newton. They're in their 20s and have Heisman statues on campus, too. And, yes, maybe it's all too much. These guys have their whole lives to live.
But when is the right time to step up to the big time and stay there?
Griffin flew in for an unveiling, a prelude to a new stadium and a new era. The man who dwarfed anything that had been accomplished before him at Baylor, was dwarfed by the moment.
"There's no limit," Griffin said. "Anything God puts his hands on has no limit. The sky is the limit for this team, this program, and this university. It's only going to get bigger.
"I hope you guys are ready for the run."
Let's pay some respect to a couple of overlooked teams in this week's college football ran...

Jones has been with the program since its inception for the 2009 season

SportsLine's computer model simulated every Week 13 rivalry weekend game 10,000 times with...
Mayfield grabbed his crotch and shouted expletives at Kansas on Saturday

The statue will go up in 2019 after Illinois completes its new football performance center

The junior injured his finger diving for the pylon late in the first quarter of the loss to...