The Bottom 25 -- Who takes the final crown: Kansas or UCF?
Anybody can put together a ranking of the 25 best teams in the country, but it takes a true college football fan to compile a list of the 25 worst. Every Tuesday during the regular season, CBS Sports' Tom Fornelli does just that.
Anybody can put together a ranking of the 25 best teams in the country, but it takes a true college football fan to compile a list of the 25 worst. Every Tuesday during the regular season, CBS Sports' Tom Fornelli does just that.
The Bottom 25 season has officially come to an end, and rather than take this space to go over what happened during the season, I'm going to use this forum to talk to some of the people in power. The people that can possibly make things happen.
This is for the athletic departments at both Kansas and UCF. This is for all those who run their own bowl games. If you don't fit into any of these categories, don't worry, you should read it, too (and if you can, pass it along to those people -- make sure they see it).
But there is no reason why we can't put together a game between UCF and Kansas to decide this thing once and for all.
Just look at what happened this year with the bowl games. We have 40 of them now, and we'll have more next season. There weren't enough bowl eligible teams to fill the 80 slots this year, and we now have 5-7 teams -- teams with no hope of a winning record -- playing in bowls.
So why can't we put winless teams in a bowl game? Hell, why not just create a bowl specifically for them?
As I've written here before, I may write a column in which I rank the worst teams in the FBS, but even if it doesn't seem like it, I want every team to have a chance to win at least one game. I want every player in the country who works his ass off at practice during the week and yet still finds the time to go to class to feel the euphoria that comes with victory. They all deserve at least that much.
I want that for both UCF and Kansas. I want both to have one more shot at success.
So, I ask you first, bowl games: invite them. Are you reading this, Arizona Bowl? It's your first year of existence, and you have two teams from the Mountain West. You're a glorified conference game at this point, and you aren't even being broadcast on a national network.
But I bet you would be if your game was between UCF and Kansas in The Bottom 25 Championship. Hell, I could probably pull some strings and get you on CBS Sports Network. All you have to do is give me the chance to do it.
Or what about you, Cure Bowl. How many people do you think are going to tune into your game between 6-6 Georgia State and 5-7 San Jose State? I bet more would want to see 0-12 UCF play 0-12 Kansas.
I write this to you fully understanding that it may be impossible at this point to achieve this. The invites have been extended, and accepted. To back out of your agreements with these schools would not look good on your behalf, but I ask this of you today so that maybe you'll consider it in the future.
But that doesn't mean we should give up hope on a game this year.
I'm talking directly to you now, UCF and Kansas. We don't need an official bowl game. We can figure this out on our own. Hell, you can both come here to Chicago where I live and play at the high school a couple of blocks down the street from my house. They have a turf soccer field behind the school, and while I'm not entirely sure it's a regulation sized football field, it's big enough.
The point is, the game can be played anywhere if you two schools agree to do it, and we get in contact with venues to play it in.
Give the players on your teams another shot at victory. With everything they've done for you, it's the least you can do for them.
Let's do this. Let's give the players and the people what they want.
Let's give them The Bottom 25 Championship Game.
Thank you for reading.
Now, before we get to the final Bottom 25 rankings of the 2015 season, we first present the 2015 Bottom 25 Championship Trophy to the UCF Knights.
Congratulations, Knights.
Finally, the rankings: 
1. UCF: 0-12 (Last week -- 1)
2. Kansas: 0-12 (2)
3. North Texas: 1-11 (3)
4. Charlotte: 2-10 (5)
5. Eastern Michigan: 1-11 (7)
6. SMU: 2-10 (6)
7. Louisiana-Monroe: 2-11 (4)
8. Oregon State: 2-10 (8)
9. Wyoming: 2-10 (10)
10. Fresno State: 3-9 (9)
11. Tulane: 3-9 (11)
12. Texas State: 3-9 (16)
13. Purdue: 2-10 (13)
14. Ball State: 3-9 (12)
15. Hawaii: 3-10 (14)
16. Miami (Ohio): 3-9 (15)
17. UNLV: 3-9 (17)
18. Army: 2-9 (18)
19. UTSA: 3-9 (19)
20. Idaho: 4-8 (20)
21. UTEP: 5-7 (21)
22. Kent State: 3-9 (22)
23. New Mexico State: 3-9 (23)
24. South Alabama: 5-7 (Unranked)
25. Wake Forest: 3-9 (24)
No Longer Ranked: South Carolina (25)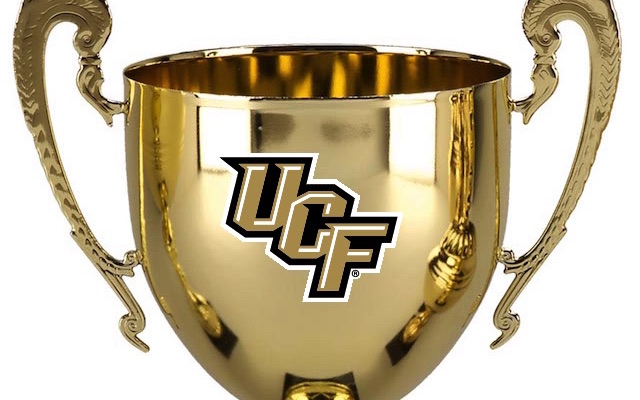 An early-season Big 12 game already has major conference and national implications

Top-ranked Alabama hits the road to take on upstart Vanderbilt in Nashville on Saturday

The battle of the Bulldogs will take place Saturday night between the hedges
Penn State hits the road to take on Iowa under the lights in both teams' Big Ten opener.

Penalties include a two-year probation and a show-cause for former coach Kyle Flood

Dig below the surface and you'll find a lot of intriguing matchups on the slate this Satur...