The crass, thoughtless reorganization of college sports
The former commissioner of the Big East got out four years ago because, "I knew the world was going to explode."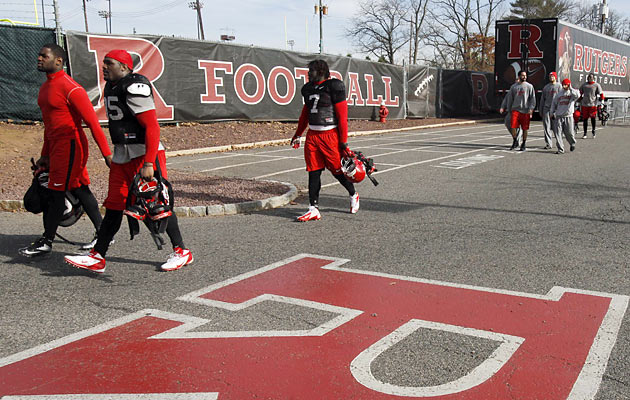 Rutgers, a longtime Big East member, is the latest program to leave for greener pastures. (US Presswire)
Mike Tranghese sat down Saturday and wrote a thank you note to Roy Kramer. Without the BCS, one former commissioner wrote to another, we wouldn't have been able to enjoy the rash of upsets that made the day -- and the game -- greater in the BCS era.
Kramer, the 82-old patriarch invented the BCS while still SEC commissioner in 1998. The system gave life not only to Tranghese's conference, the Big East, but all of college football.
As Stanford beat Oregon and Baylor finished drilling Kansas State, "I wrote him a note," Tranghese said of Kramer, "telling him how I appreciated what he'd done for the game."
A couple of days later, Tranghese was reminded why he stepped down as Big East commissioner in 2008.
"I knew," he said, "the world was going to explode."
It might have taken some of us until this week to realize the magnitude of the blast. Welcome to a new day in college athletics where there is no loyalty. We live in an age when former Boston College AD Gene DeFilippo says, "ESPN told us what to do."
The last few days have indicated there soon might be fewer conferences. Almost certainly, there will be superconferences of at least 16 teams each in the future. The Big Ten wants to be the biggest, baddest, richest kid on the block after adding Maryland and Rutgers.
Anybody else out there wonder when Big Ten football is going to catch up with its ever-growing footprint?
It doesn't matter, really. In a way, Kramer's BCS created this environment as conferences chased the best lineup to present to networks. Nebraska hasn't won a conference title since 1999 but turns on televisions from Los Angeles to New York.
The BCS drew that not-so-artificial line between the haves and the have nots. Television natural selection did the rest.
We live in an age where players are student-athletes, games are "inventory" and even Rutgers can gain entrance into the cool kids club. Kramer fears for the day when even attendance at college football games doesn't matter.
"I worry we're going to see these games played in 40,000- and 50,000-seat stadiums instead of 90,000- or 100,000-seat stadiums," he said.
Studio football, here we come?
You want to know how quickly things have changed this week? We awoke this morning with the Mountain West having better long-term prospects than the ACC.
The MWC was formed in 1999. There is a vibe that the 61-year-old ACC is slowly being torn apart. Follow the logic as well as the Delany and Sons bulldozers.
"I think the ACC is vulnerable. I'm worried about our conference."
That was one Mike Krzyzewski.
There are others. The Big East has essentially become a tribute band -- trying to reclaim past glory with a new lineup. The Big 12 went from shaky to solid back to … ? At least one powerful Big 12 AD favors the addition of a couple of teams in order to add (again) a conference championship game.
"What's the Big 12 going to do?" Kramer said. "They're a little bit on the outside right now. They have no presence in a conference championship game. If you had a championship game, Kansas State might get back into the national championship picture."
A source told CBSSports.com Tuesday that the ACC is already evaluating the worth of Louisville and UConn to take Maryland's spot. The Mountain West stands to profit if the Big East implodes.
"The Pac-12 will be nervous," one college football official said, "as a cat on a hot tin roof. Look at the past. They look at the Big Ten. They are highly influenced by what the Big Ten does. I think you'll see them cast around."
You may remember Larry Scott's Pac-12 attempted to aggressively unburden the Big-12 of Texas and Oklahoma -- twice.
What we're going to be left with is Walmart -- conference shopping in bulk. Tranghese still feels the scars from 2003 when the ACC swooped in and took Boston College, Miami and Virginia Tech. It wasn't so much the raid, it was how it was handled.
To this day, Tranghese says he was "lied to and misled." ACC officials maintain they contacted Tranghese as a courtesy. Tranghese says he is still waiting for that call.
"You don't realize the magnitude of it," he said. "Conference business is almost like dealing with Wall Street with expansions and mergers."
The sense of contraction should be obvious. As rivalries, tradition and conferences die, so will the need for those actual butts in seats. Big picture, college football doesn't need 'em. Sure, there will be exceptions. Nebraska makes north of $4 million per game filling its stadium to capacity for the umpteenth time in a row. The Big House is, well, big.
But as for fans, the stewards of the game have shown clearly they'd rather have you watching than attending. All those prime-time games aren't being staged as a courtesy to the fan; it's to get more TV eyeballs on them. Eight of the top 10 teams in percentage of capacity were down in attendance this season, if only slightly.
"As an old traditionalist, one of the strengths of the SEC is that it had a geographical presence for fans to take a pride in the conference," said Kramer, the former SEC commissioner.
"Whoever was in the Final Four or the championship game, you heard that 'SEC' chant. It's not our team, but it's our next door neighbor."
West Virginia's next-door neighbor in the Big 12 is Iowa State. Only 1,000 miles separates the Mountaineers and their closest conference rival. The Big East's future footprint -- if it has a future -- is … America. The Mountain West -- scattered among seven Western states including Hawaii -- looks practically homogenous.
"You lose what I think made conferences strong in the past," Kramer said. "I also realize we're in a different world. TV dominates, to a great degree the seats in the stadium. Based on that, you see these decisions being made."
The presidents had a chance to guide college athletics but have failed miserably. They were basically handed the keys to car a quarter century ago with a series of NCAA policy changes. Since then, we have endured unprecedented scandal, sky-rocketing coaching salaries and a facilities' arms race. Those are all things university CEOs could have controlled. They didn't.
Now their only choice is to sign off on expansion, realignment, the all-out conference raids that pit brother against brother. Their excuse? Balancing books that they put in the red themselves with their inattention.
"Television," Kramer said. "has changed everything."
Oliver's star has already been born, but 2018 is when it will truly be recognized

Craig Kuligowski is reportedly leaving Miami to take the same job with Alabama

BT Potter is about to be very popular in the Clemson locker room
McElwain will coach receivers and help coordinate the offense for the Wolverines

Nathaniel Watson Jr. was involved in a car accident that injured a passenger in early Febr...

The honorable Tom Fornelli presides over the ASU vs. UM case