The Internet's reaction to Alabama 42, Notre Dame 14
Twitter and other Internet reactions to the BCS Championship Game.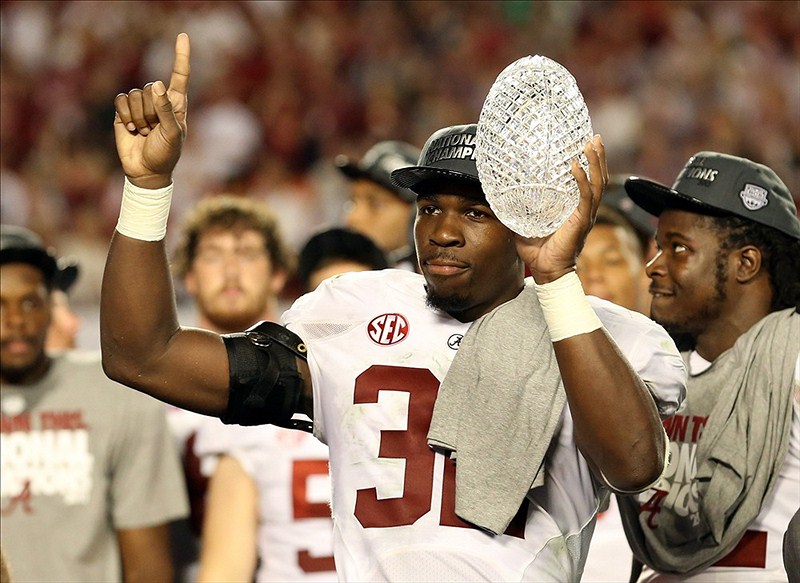 C.J. Mosley and the Tide sparked plenty of discussion. (US Presswire)
The BCS Championship was -- no surprise -- the biggest game of the college football season on social media, and elsewhere on the Internet. Here's some of the reaction:
The real shocker for much of America tonight will be how well Notre Dame matches up with Alabama on each side of the line. SEC-caliber.

— Rob Rang (@RobRang) January 8, 2013
(Oops, though Notre Dame's defensive line wasn't actually that bad.)
Notre Dame is in here. Crowd bigger than Chance Warmack's arm pudge

— Jeremy Fowler (@JFowlerCBS) January 8, 2013
Then the game starts, and things doen't go well for the Irish ...
Notre Dame trying to play a lot of quarter-quarter-half coverage. Corners are not making tackles, safeties not filling, DL getting creased

— Smart Football (@smartfootball) January 8, 2013
I really, sincerely believe that Alabama could beat the Bobcats. #BCS

— Brian Phillips (@runofplay) January 8, 2013
When did Auburn get gold pants and helmets?

— Marty Rantzen (@makeoutmonster) January 8, 2013
Notre Dame has negative dollars headed into Double Jeopardy

— Bobby Big Wheel (@BobbyBigWheel) January 8, 2013
I can see why Kansas State fans thought they were worthy of this game.

— Fake Dan Beebe (@DanBeebe) January 8, 2013
Turn out the lights the party is over for ND.The Fat Lady is starting to sing. The SEC is the real deal.

— Rich Brooks (@UKcoachbrooks) January 8, 2013
Each person gets to go home with 1 Notre Dame missed tackle. RT @ndatrivals: Title game attendance: 80,120.

— Tom Fornelli (@TomFornelli) January 8, 2013
This game is an embarrassment to Notre Dame. Would've been better off for Pittsburgh to make that FG.

— Gregg Doyel (@GreggDoyelCBS) January 8, 2013
The scariest stat of all: Alabama led the nation in yards from scrimmage by true freshmen (2,573)

— Brad Edwards (@JBradEdwards) January 8, 2013

Alabama started the season beating the winningest program of all-time 41-14. They ended it beating the second-winningest program 42-14.

— Michael (@BravesAndBirds) January 8, 2013
Nick Saban has now won 27% of all BCS titles.

— Bryan Fischer (@BryanDFischer) January 8, 2013
Written reaction from around the web, starting with CBSSports.com's Gregg Doyel:
[T]he rest of us should be quiet, if we're inclined to question the SEC's dominance. It's not smoke and mirrors. It's not scheduling or officiating. It's not a conspiracy by the TV networks.
The gap between the SEC and everyone else isn't getting ridiculous; it is ridiculous. The SEC is so clearly superior to the rest of college football that the SEC's conference title game in Atlanta deserves to be one of the two national semifinals in 2014 when college football does away with the SEC BCS national championship brought to you by Nick Saban -- and ushers in the four-team playoff.
CBSSports.com's Chip Patterson's Quick Hits analysis:
The anticipated matchup between Alabama's offense and Notre Dame 's defense was no contest, as Barrett Jones, Chance Warmack and the rest of the Tide offensive line blasted downfield all night to open space for Lacy and Yeldon. As a team the Tide averaged 5.9 yards per carry, and almost all of that is a credit to winning that battle in the trenches. Once the space was opened in Notre Dame's defense, the Irish were unable to bring down the bruising backs in the open field. Some of the credit goes to Alabama's backs, but it was also due to some uncharacteristically poor tackling by Notre Dame.
CBSSports.com's Dennis Dodd:
There are 32 NFL teams that, at least secretly, covet Alabama's coach. That's the league where Saban said last week he has no unfinished business. That comment left the door ajar just enough to cover himself in case of, you know, boredom with the whole college thing.
That's about the only thing that would take him away from this nirvana with a drawl, this Million Dollar Band and program. Alabama won again leaving the whole SEC BCS streak in its way. Sure the Strength Everywhere Conference has won seven titles in a row. But Alabama has given it some definition, some identity.
"In the NFL you can't even predict who's going to the Super Bowl," receiver Amari Cooper said. "In college it's predictable."
At Alabama, it's a certainty.
Yahoo!'s Dan Wetzel:
Monday was perhaps Saban's most perfect show of force, a complete and utter domination of the previously top-ranked, undefeated Fighting Irish. Alabama mauled the Irish at the line, outraced them in open field, out-thought them in the coaching box and essentially did whatever it wanted.
It's not just that Alabama again stood on top of the college football world. It's that their opponent didn't even pose a threat.
Yes, SEC fans can be obnoxious like that. But guess what? They have every right to be. Monday's 42-14 Alabama win gave the league its seventh consecutive national title. And the scariest part is that no other league even seems remotely close. I'm sorry, folks outside of SEC country, but a few facts are incontrovertible. They smoke better barbecue than you. Their women are prettier than your women. They play football better than your schools play football.
Some might argue that Oregon would have provided a better foil for the Tide on Monday. But the Ducks didn't win the Pac-12. The Ducks didn't even win their division. As SEC haters whined last year when Alabama was selected for the BCS title game over Oklahoma State, getting a ticket to the big game without winning your division is the worst thing in the history of ever. But seriously, Oregon would have provided a better challenge. Maybe in two years, when the four-team playoff begins, the semifinals will produce a challenger more capable of besting an SEC team.
The Chicago Sun-Times' Herb Gould:
Notre Dame put on its tuxedo Monday expecting to be South Beach prom king. And got splattered with mud when it stepped out of the limo, before it even got to the big dance.

Showing ND how the game is played, the Crimson Tide rolled to a 14-0 lead before the Irish knew what hit them. Midway through the first quarter, after Notre Dame had run exactly three plays from scrimmage, it trailed by two touchdowns ...

But 118 other major-college teams would have loved to be in ND's cleats. And when the Irish dust themselves off from this single-game disaster, they'll realize what they did accomplish this season.

The Irish table is set. And Monday night doesn't change that.
The Birmingham News's Kevin Scarbinsky:
"I think it's pretty special what we've accomplished," Saban said. "I think it's really special. And one of these days when I'm sitting on the side of a hill watching the stream go by, I'll probably figure it out even more.

"But what about next year's team?"

That was so Saban, turning his attention to the next task before the sweat dried on this one, and that sound you just heard was the rest of college football gasping at this thought. Saban's fourth national championship team in his last eight years as a college coach may have been his least talented and least experienced. It may have overcome the most adversity in terms of season-ending and season-threatening injuries. This was supposed to be a rebuilding year on defense.

If Alabama could win a national title with this team, and become the first team since Nebraska in 1994 and 1995 to repeat, and become the first team since the Cornhuskers in '94, '95 and '97 to go 3 for 4, what's not possible?
The 21-year-old quarterback was expected to start for the Cougars in 2018

The Fighting Irish will be without some playmakers in 2018

It may have been impossible for Sumlin to meet the expectations set for him in College Sta...
Some players are more easily replaced than others

The 2017 season is in the books, and several big-name stars are jumping early to the NFL

Love was second in the nation in rushing with 2,118 yards in 2017