The moment that defined Ken Stabler's historic Alabama career
Kenny Stabler died at the age of 69 on Thursday. He was remembered not only as an All-Pro Oakland Raider but as a national champion for Bear Bryant at Alabama.
• 1 min read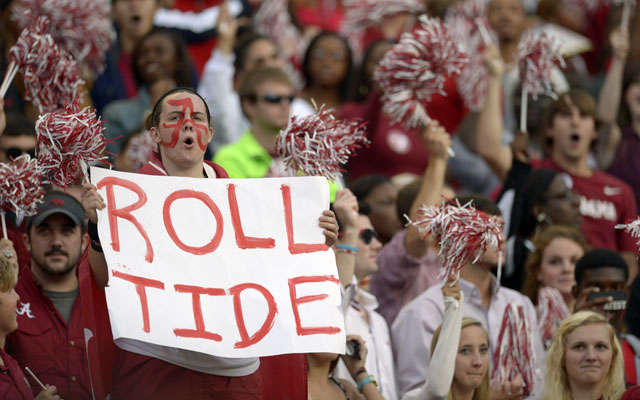 Kenny Stabler died at the age of 69 on Thursday. He is remembered in the football community not only for his time as an All-Pro with the Oakland Raiders but as a national champion and star quarterback for Paul "Bear" Bryant at Alabama.
Stabler was a back-up in 1965 with limited playing time in the Tide's second straight national title run. Alabama actually finished undefeated in 1966, with Stabler as the starter, but finished third in the final polls.
Despite all the success during his early seasons in Tuscaloosa, the moment that defined his time with the Tide was scoring the game's only touchdown in the 1967 Iron Bowl. The 53-yard "Run in the Mud" was the longest run of the year for any Alabama player and sealed the 7-3 win against hated rival Auburn.
"With the run in the mud, I was a redshirt sophomore standing on the sidelines with a clipboard," Scott Hunter, a former teammate, told AL.com. "He came around that right end and started running, and I thought someone surely on the Auburn team would catch him but in that mud, everyone was the same speed.
"He just kept running and running. I stepped out on the field about two or three paces, then a big guy stepped out in front of me. Of course, it was Coach Bryant. He blocked my view and I finally looked around him and Kenny kept running. He might score. And he did."
Stabler would go on to have a very successful pro career, most notably with the  Raiders. After retiring, Stabler deepened his connection to the Alabama fan base as a color commentator, alongside Eli Gold, for Crimson Tide football games. 
For much more on Stabler, including his career as a pro, check out the Eye on Football's coverage.
Here are the early lines for big Week 5 games from Vegas

Georgia jumped four spots to No. 8, while Florida State dropped 14 spots to No. 25

Louisville and TCU get big-time bumps after conference rivals fell on Saturday
The Bulldogs jumped up to No. 7 after an emphatic win over Mississippi State

The Penn State running back made a case that he's a legit Heisman Trophy contender

The Nittany Lions came up huge when they needed to against Iowa