The new playoff: Careful what you ask for
Fans asked for a playoff and were given one in the worst possible way.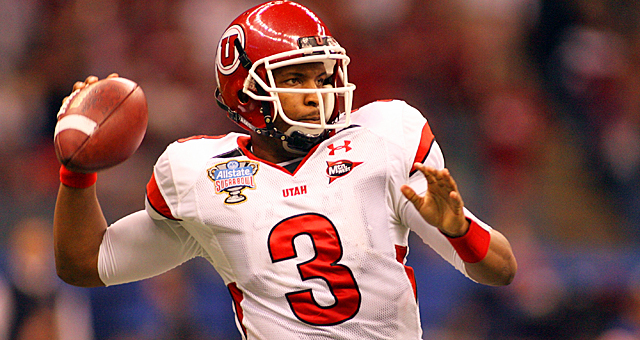 Brian Johnson's 2008 Utes wouldn't have had a shot at making this new four-team playoff setup.
(US Presswire)
After years of fans' weeping and gnashing of teeth about the BCS not being enough, and after years of begging and pleading for a real playoff in Division I-A college football, the conference commissioners and presidents have responded ... with the lamest, sorriest excuse of a playoff you can imagine -- one that is sure to satisfy nobody by the time it actually gets here.
The reason this will satisfy nobody is simple.  The four-team playoff doesn't fix a single problem present in the old system.
More on BCS playoffs
Stories
Think an undefeated season guarantees you a spot in this playoff?  Think again.  Sure, the 2004 Auburn team would have had a chance, but No. 6 and undefeated Utah?  Not likely.  And even if the Utes got in, undefeated ninth-ranked Boise St had no chance.
The Broncos would have been left out again in 2009, despite an unblemished year.  In both 2004 and 2009, there were more than four undefeated teams.
But it wouldn't take just that circumstance to leave out the flawless.   Both No. 6 Utah and No. 9 Boise St would have likely been left out in 2008, even though they were the only two undefeated teams that year.  The Broncos were also one of two unbeatens in 2006, but were again ranked too low to be considered even for a four-team playoff.  The only undefeated team in 2007 was No. 10 Hawaii.  The Warriors wouldn't have had a prayer.  Seven teams ranked ahead of them had two losses, including eventual champion LSU.
Tulane in 1998 or Marhsall in 1999?  Fuhgeddaboudit.
That makes seven of the fourteen seasons of the BCS era where an undefeated team would likely have been left out of a four-team playoff if one existed.
But it's not just about a playoff not being inclusive enough for an undefeated team to get a spot, but just being inclusive enough to make sure everyone who could realistically have a chance at winning getting a shot to do so.
We go from leaving out the No. 3 team to leaving out the No. 5 team, but because of the arbitrary nature of rankings, most years, the fifth-ranked team is just as good, if not better, than the third-ranked team.
2007 would have been a nightmare.  I've already noted how the only undefeated team that year wouldn't have made it, but behind top-rated Ohio St, which was 11-1, were seven two-loss teams and 11-1 Kansas.  Most people felt going into the bowls, the two teams you wouldn't have wanted to face in a playoff if there had been one were Georgia and USC.  In the four-team playoff, you probably still wouldn't have to face them.  Georgia was ranked fifth and USC was seventh.  I'm not sure an eight-team playoff would have been enough that year.
The funny thing is, in the years when four teams isn't enough, it's too many. Did we need an extra round of playoffs in 2005?  Wasn't it great to just have USC-Texas?  An extra round of playoffs could have robbed us of that. Speaking of robbed, that could have happened in 2002 also, with Miami and Ohio State. Still, better to have too many teams in a playoff than too few, which will be the case with the new playoff much more often than not.
The other comical aspect of this is the creation of a selection committee to pick the teams.  It has been rumored it might even be bigger than the basketball committee, which has ten members.
This should be a rule: a selection committee should have no more members than the number of teams it selects.
You like a selection committee over computers?  Fine, I guess.  Having a committee introduces the possiblity of biased decisions.  Computers apply a standard evenly to everyone.  A committee, though, can take into account things like injuries, etc, that are more difficult for comptuers to measure. Whatever.  Whether it's committee, or computer, or both, it doesn't matter how you pick the teams when you aren't picking enough.  People are going to be frustrated.  
The BCS gave us something we didn't have before -- a chance to put the top two teams in the country into the same bowl game.  Once the BCS poobahs stopped overthinking their ratings formula, it put an end to split national titles.  It had a honeymoon period, so it took a few years to figure out this wasn't enough (the 2000 season, to be exact).  This new playoff gives us nothing.  Fixes nothing.  And we already know -- right now -- it isn't enough.  The poobahs could have gotten this right the first time, but they chose not to.  Because of that, it won't take long, if it hasn't happened already, for the fans to resume weeping and gnashing their teeth.  It will take long however, at least twelve years, to get relief.
Rutgers' offensive line challenged a local curling club to a match

These five teams have the best chance of being the Group of Five darling this coming year

Drevno had been running the Michigan offense for three seasons
Aaron was reportedly shot while trying to protect his girlfriend when a fight broke out at...

An assistant-by-assistant look at changes Saban made to the Tide's staff ahead of 2018

Find out when Nick Saban, Kirby Smart and the rest of the coaches will speak ahead of the...