The NFL Today: Williams' reinstatement a growing issue in bounty hearings
The NFL's unprecedented situation with the Saints bounty scandal has another wrinkle, as Gregg Williams wants his reinstatement hearing moved up from February. Jason La Canfora has the details, as well as news on quarterback situations and Plaxico Burress.
• 4 min read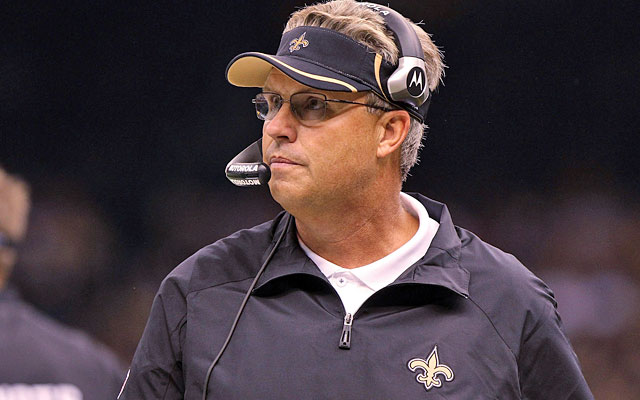 Gregg Williams was suspended indefinitely after leaving the Saints to become Rams defensive coordinator. (Getty Images)
Former NFL commissioner Paul Tagliabue has been asked to consider a suggestion that suspended coach Gregg Williams have his reinstatement hearing conducted in December rather than February, according to league sources, while the NFL continues its assertion that Williams should participate in an upcoming bounty hearing.
Tagliabue is overseeing the upcoming hearings, expected to begin Nov. 30 in Washington, D.C., and the league is aiming to have Williams cooperate, though he has resisted their requests to testify and be cross-examined there.
Williams, who like former Saints coach Sean Payton was suspended for the 2012 season, would prefer his reinstatement be decided next month, sources said; it is currently scheduled for February after the Super Bowl, but given how many coaching vacancies are expected and considering virtually all coordinator and assistant positions are filled well before then, Williams' opportunities would be significantly limited by that timetable.
To this point no formal request has been filed with the NFL for an early reinstatement, according to league spokesmen. And, given how unprecedented this situation is, it is unclear how much sway Tagliabue might have in regards to the parts of this process that pertain to this process. Payton has not asked for any reinstatement hearing -- to Tagliabue or to commissioner Roger Goodell -- but sources said it is not out of the question such a request could be made at some point.
Williams does not intend to participate in the upcoming hearing, sources said, though at some point the league could tie his participation to his ability to get reinstated, sources said. Again, this is a new process for all involved and the league has never suspended coaches in this manner before.
Payton's situation is clouded by his murky contract situation.
Conceivably, there could be potentially some trade-off between Williams' participation in the hearing and an early reinstatement meeting, though nothing of that sort has been initiated at this point, sources said.
Quarterback updates
Both Jay Cutler and Jason Campbell are beat up for the Bears and will be limited in practice Thursday, sources said. Chicago expects Cutler to start, while Steelers quarterback Ben Roethlisberger is expected back for Week 13 against Baltimore. Colin Kaepernick is scheduled start for the 49ers, according to sources, while Michael Vick continues to make progress in his return from a concussion.
At this point, the Bears anticipate Cutler will start, as he has met concussion protocol to this point, and, assuming he continues on that track, he would face the Vikings on Sunday. Campbell was savaged by the 49ers on Monday night behind a leaky offensive line and he too is dealing with various ailments coming from that game (the Bears signs Josh McCown recently to address depth at the position).
Just-signed Brian Hoyer will back up Charlie Batch on Sunday for the Steelers as of now, sources said, though it is not out of the question that Roethlisberger dresses in an emergency role for the game against the Browns. Roethlisberger is making progress in his recovery from rib and shoulder injuries, sources said, and he is not in his sling as much as last week, and he remains week-to-week.
Rookie Ryan Lindley will start for Arizona with John Skeleton benched, while former starter Kevin Kolb remains weeks away with shoulder and rib injuries that are tied to one another; the injuries work in tandem and are fairly significant, sources said. Kolb is not finished for the season but certainly will be out a few more weeks.
San Francisco coach Jim Harbaugh has yet to announce a starter but the longer that process plays out, the more league sources expect upstart Kaepernick to take over for Alex Smith.
Vick continues to progress for the Eagles, sources said, as he, like Smith and Cutler, works his way back from a concussion. Vick is feeling much better than he did a week ago, and rookie Nick Foles was awful in his first career start last week.
Quarterback issues are gripping the league these days, through injuries or otherwise, and Jacksonville has announced Chad Henne will start, while Kansas City is going with Brady Quinn.
Burress will play this weekend
Plaxico Burress was very impressive in his meetings with Steelers officials this week, sources said, and was also in excellent shape, which led to him resigning with the club. The receiver, who had his share of skeptics in the building before his visit, sources said, will be active Sunday after a strong showing in his audition.
Burress had been out of the league all season, but will feature in the team's red-zone sets with receivers Antonio Brown and Jericho Cotchery both expected to miss this game. The team quickly concluded Burress could be active after his workout and he was also impressive and contrite in his meetings with team officials, some of whom were originally against this signing given the player's baggage and past history.
Earlier this year Burress' contract demands turned off some potential suitors, but he ended up signing a 1-year, prorated, veteran-minimum contract.
Everything you need to know to watch and pick the Boca Raton Bowl on Tuesday

College football recruiting begins earlier than normal with a National Signing Day in Dece...

Getting Leavitt back was obviously high on Cristobal's list of priorities
Cristobal's first game at Oregon ended the same way Chip Kelly's did

Conner Manning and the Panthers dominated the Hilltoppers in the Cure Bowl

You can only go to the well so often before it dries up