The nightmarish scourge of a few extra bowl games must be stopped!
Hardworking college kids enjoying an exciting additional game at the season's end will be the ruin of college football!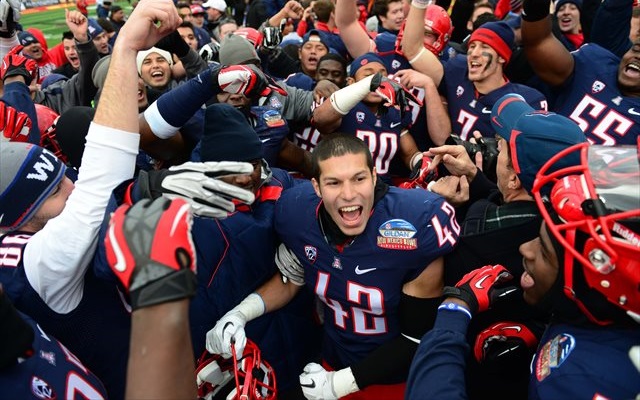 The 2015-2016 college football bowl schedule was officially released recently, with no fewer than 40 bowls and -- thanks to the College Football Playoff championship game -- 41 different games to be played in a single postseason. And if you're a red-blooded American who hates seeing the fine and completely unsullied tradition of the college football bowl game reduced to a participation ribbon, well, I hardly have to explain to you why this is an affront to everything this sport should hold dear. 
But some things are too important not to overexplain, and the way the New Mexico Bowl is eroding the fabric of our game -- and, indeed, our nation -- is one of them. Here's why the sooner college football returns to the good old glorious days of seven or maybe eight bowls (don't get uppity with us, Independence), the much, much better:
Not even the players and coaches involved care. Just ask South Alabama coach Joey Jones, whose Jaguars suffered the indignity of appearing in last year's inaugural Camellia Bowl:
"It's the biggest thing that's ever happened to this football program,'' he said. "I don't know what I would have done if we didn't get in this year, because we were so close last year. I couldn't have stood it another year. We thank the Raycom Media Camellia Bowl for inviting us. This is a big day for South Alabama and South Alabama football.

"I think it's going to be great."
A fledgling program's first-ever bowl berth ought to be an occasion for raucous celebration, but the experience has been so cheapened that Jones' apathy and disillusionment are palpable. Remember when Brett Baer's last-second 50-yard field goal won the 2011 New Orleans Bowl for UL-Lafayette in front of tens of thousands of Ragin' Cajun fans? That was that program's first-ever bowl victory, and watching this video, you can just feel how little it truly means to the players and Cajun supporters:
It's a shame, really, that the Cajuns were ever forced to go through that meaningless charade that certainly wasn't one of the defining moments of the school's athletics history. If only the New Orleans Bowl had never existed.
The games are always terrible and boring and unmemorable. Sure, playing a Christmas Eve bowl game in the Bahamas between Central Michigan and Western Kentucky may sound like a great idea, but in reality, when this is all it offers the TV viewer, what's the point?
It's not like this came at the end of a furious Chippewas second-half comeback from five touchdowns back or anything, either. Wake me up when it's over, guys.
There aren't any stars worth watching in any of these games. It's understandable if you've forgotten about receiver/returner T.Y. Hilton, who hasn't amounted to much in the pros after an decent -- if highlight-shy -- career at FIU. His Panthers played in the 2010 Little Caesars Pizza Bowl, and it's a measure of the lack of high-wattage star power that he was named game MVP after merely scoring two touchdowns (one on an 89-yard kickoff return) to lead a 17-point comeback over Toledo and converting this game-saving fourth-quarter first down on a hook-and-ladder play: 
Yawn. (This was another game to end on a game-winning field goal, and again, just watch how little the victory matters for these players.)
All college football fans are required to watch these boring, star-less games. I've heard a lot of people justify the existence of these games by saying "You know no one's forcing you to watch them, right?" And that's a question that always tells me the person asking has forgotten about a little thing called the Mandatory Bowl TV Viewership Act of 1992, which makes it a crime for anyone identifying as a college football fan to engage in any other activities during a bowl broadcast other than viewing the game in question. It's an absolutely real thing that totally exists, so don't tell me I shouldn't care if other people enjoy watching a game that I'm not interested in. 
These players haven't earned the reward of a bowl game. A bowl game is a privilege, not a right -- and in a just world, it would be a privilege earned only by teams who have genuinely achieved something with their seasons, not merely gone 6-6 in the Mountain West. After all, what have the players on a .500 or 7-5 team done to truly justify giving them a handful of days off over the holidays, low-key out-of-town trip, and rare national television appearance? Sure, they've spent countless hours in grueling offseason workouts, worked even harder during fall camp and in-season practices both on the practice field and in the film room, joined their teammates in putting it pretty much all on the line in their dangerous chosen sport on Saturdays, and done all of that while fulfilling -- and frequently exceeding -- their substantial academic obligations. But if they haven't wound up on the right side of the scoreboard a few more times, what have they really accomplished?
You may say it's no skin off my nose if some hardworking kids get to have a little bit of fun and exposure at the end of a long season. But that's forgetting that college football's nose was built with the tangible, not-at-all-arbitrary sense that bowl games were reserved for only the sport's best teams -- and every time a Pinstripe Bowl or Heart of Dallas Bowl is played by teams with 10 or more combined losses, another layer of college football's skin flakes off. Navy went only 7-5 during the regular season, but got to go to last year's Ponsettia Bowl anyway, and visited nearby Sea World during the week:
Joe Worth #NavyFootball @PoinsettiaBowl pic.twitter.com/EAv2TJi9Hd

— Scott Strasemeier (@ScottStras) December 21, 2014
#NavyFootball fullback Noah Copeland gets kissed by a whale @PoinsettiaBowl pic.twitter.com/RnYp1MPld2

— Scott Strasemeier (@ScottStras) December 21, 2014
Parrish Gaines with the handshake #NavyFootball @PoinsettiaBowl @SeaWorld pic.twitter.com/c5u5r3z3RS

— Scott Strasemeier (@ScottStras) December 21, 2014
Think about how much poorer college football is made for photos like these. Think about how much the sport is hurt by these kinds of opportunities. Think about it.
In conclusion, maybe you find 55-48 double-overtime games in which the winner needs an insane touchdown on 4th-and-6 with under a minute to play to force OT and a 55-yard field goal to force double-OT exciting ... 
...and maybe you think those games are capable of generating actual emotion between the teams involved ... 
...and if so, well, you're part of the problem -- a problem I hope this column has shown has many real-world, verifiable, not-at-all-indefinably abstract consequences with no concrete benefits. And just to prove the point to myself, I'm going to watch that CMU Hail Mary lateral play again, and maybe again, because who wants a college football world where we let that kind of thing happen?
The former Oregon coach is one of the hottest commodities on the coaching market

The CFP Selection Committee got Miami right, but there are some decisions that make you go...

The newest college football rankings are out, but did your favorite team make it in?
Sumlin is 51-25 overall and 25-22 in the SEC over six seasons in College Station

This is precisely what you'd think would happen between Kiffin and Saban

Anybody can rank the best 25 teams, only the Bottom 25 ranks the worst