The Opening: top performers on defense
The Opening has wrapped up for 2012 and 150 of the top recruits in the country turned in a terrific couple of days of work at Nike headquarters. With hours of competition in the books, CBSSports.com is taking a look at the top performers at each position, this time looking at those recruits playing defense.
BEAVERTON, Ore. -- The Opening has wrapped up for 2012 and 150 of the top recruits in the country turned in a terrific couple of days of work at Nike headquarters. With hours of competition in the books, CBSSports.com is taking a look at the top performers at each position, this time looking at those recruits playing defense.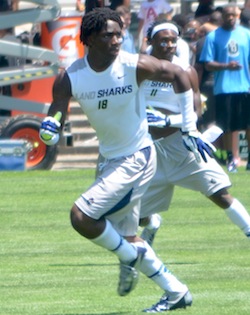 Jaylon Smith was the top linebacker at The Opening after several strong days at The Opening.
Some things are a perfect marriage of skills, the right event and elite talent -- which was certainly the case regarding Smith at The Opening. Physically he looks a tad bigger than he did when he won the MVP award at the Adidas Invitational but he definitely hasn't lost a step, moving more like a defensive back than an outside linebacker. He was able to cover just about everybody from big tight ends to speedy wide receivers and you can't help but think about the impact he can have at Notre Dame down the road. One other thing about Smith is that while he's good natured and a bit of a joker off the field, he's got a passionate intensity on the field of play while still having fun playing football.
There was no surprise from anybody at The Opening that Thomas was named to the 7ON All-Tournament team after three really terrific days of work. He was clearly one of the rangiest players at the position at the event and at one point picked off quarterback Brice Ramsey three times in one game. With his frame and speed he's an ideal playmaker at the next level and flashed his coverage skills by taking away everything across the middle of the field. Thomas is pretty instinctual as well and that was one reason he was able to jump so many crossing routes and use his long wingspan to knock balls down or pick them off.
Bryant is right there neck-and-neck with Smith and Thomas for most impressive linebacker at The Opening thanks in large part to his consistency. He's perfectly suited for a linebacker at 7-on-7 with his smaller size, great hip movement and speed. Although he didn't take away as much of the field as others he closed extremely quick on the ball and had solid anticipation. Additionally, he had the defensive play of the entire weekend when he picked off a pass in the end zone and returned for six -- and then kept running another 50 yards onto the adjacent field.
Kendall Fuller was one of the top performers at The Opening and also helped capture the Nike 7ON Championship.
One of the top defensive players on eventual champion team 'Super Bad,' Fuller was in lockdown mode all weekend and was especially tough to throw on during the final day. The biggest thing we noticed with him is how savvy he is, dropping off his man just the right amount in order to let the quarterback and receiver think they're open when they're really still well within Fuller's coverage range. This was best exemplified in the championship game when he dared Max Browne to throw to his guy but the future Virginia Tech/Clemson corner cut right across and picked it off.
Ramsey may have taken the award for best looking corner at The Opening with his impressive athleticism he showed off during the SPARQ challenge and the savvy coverage skills he displayed during 7-on-7. He's one of the bigger corners out there and used his size to his advantage when getting close to receivers in addition to his long arms wrapping around to knock the ball away. He picked off at least three passes and more than anything showed he's in the conversation for top corner in the South.
Another guy who simply took away half the field, quarterbacks stopped looking his way before too long and if they did they usually paid for it. His defense helped others on his team and he had a great knack for being able to play just in the right spot to where he could cover two guys at times. He kept just about everything in front of him and if he did allow a catch, broke quickly and made the tag without letting anybody by.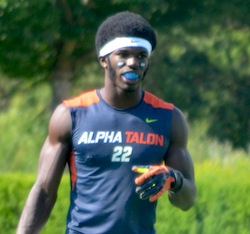 Leon McQuay III was all over the field at his safety position.
McQuay was a first round pick during the 7-on-7 team 'draft' and it was one well spent based on watching him play over the weekend. He simply glides around the field and always seemed to be in the right spot at the right time to make a play. He didn't have the greatest team around him but still made his fellow players better by helping them out when needed and was certainly a recruit that enjoyed the competition as much as he did the off the field things in terms of having fun. He's just as good, if not better, in pads and has three or four year starter written all over him based on his cover skills as a safety.
One of three 2014 recruits at the event, Blanding looked like a seasoned veteran on the fields at The Opening. This was the second week in a row the safety stood out for his coverage skills and that is mostly due to the amount of ground he can cover. The most impressive thing about him at this age is how he reads the quarterback and adjusts accordingly. He's got long arms and can jump to the moon making him dangerous pretty much every time you throw anywhere close.
The lineman drills and challenge seemed to be dominated by the interior guys but Daniels left a lasting impression at end. He has a super quick first step that really gave guys problems and was also able to show off some power moves when he got engaged with an opponent. He's not the biggest guy out there but showed plenty of attributes that earned him a spot on this list.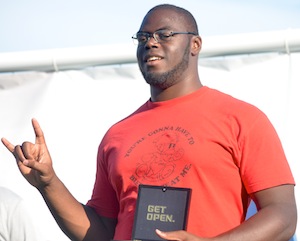 Texas commit A'Shawn Robinson was dominaiting at defensive tackle to earn MVP honors.
He won an MVP award and it was well deserved because if anybody could be termed a 'beast' at The Opening along the defensive line, it was Robinson. He was pretty much flat out unblockable and made it look easy while doing so. Whether it be a bull rush or power move through a guard or a nice rip to get around a center, he had the fewest losses out of any defensive tackle during one-on-ones. What is most impressive is at 300+ pounds how agile he was in close space. He may have been the quietest recruit walking around the fields at Nike's campus but once he strapped the helmet on he was a flat out monster to handle.
The NorCal tackle also took home an MVP award that he more than earned against impressive competition. He dominated weaker offensive linemen at the Oregon Nike camp last month but everybody wanted to see what he could do in pads against better guys. Turns out, pretty well. He keeps his pad level low most of the time and uses his strength to overpower guys if they're not careful yet it is his lateral quickness that stood out in several reps. He got pancaked one time but he was much more boom than bust.
He took a few reps at end but mostly made noise as a nearly unblockable tackle that gave power guards and even more athletic players issues. He looks like he can play a 3-4 defensive end or 4-3 tackle at this point and change between the two depending on the situation. He's fast enough to get outside of his man and then get to the quarterback but also strong enough to go right through if need be. He's performed well in big settings and The Opening was no exception.
Many NFL-eligible juniors ignore advice provided by the league and risk going undrafted each...

Snyder died in Manhattan, Kansas, on Wednesday

Locksley joined Alabama's staff in 2016
Saban reportedly wants to hire Freeze, but there may be things keeping that from happening

Florida State-Miami will be on Oct. 6, and the Seminoles will play Clemson on Oct. 27

Weis Jr. was an offensive assistant for the Atlanta Falcons in 2017