The Poll Attacks: Ripping apart ballots after Week 8
The latest college football polls are out following Week 8, and now it's time to rip them to shreds.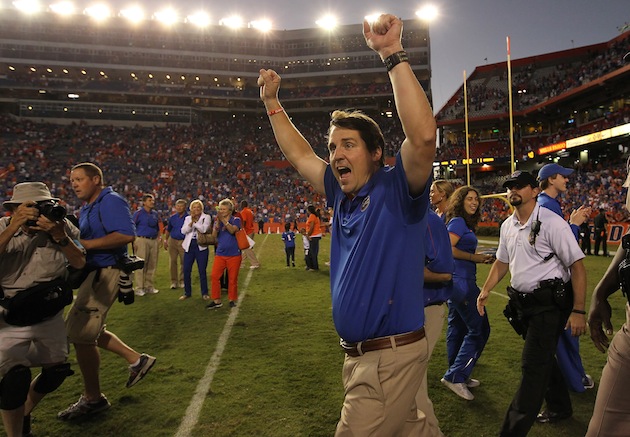 Will Muschamp got a big win on Saturday and a No. 1 vote on Sunday. (US Presswire)
The latest college football polls are out following Week 8, and now it's time to rip them to shreds. Senior college basketball writer Gary Parrish has been calling out voters in the major hoops polls for thinking a little bit too far outside of the box when it comes to their AP ballots every week. Now it's my turn to do the same on the football side.
It's time to take the baton on the idea from my colleague and keep all of the voters honest. I've come to know a good number of these people over time and through Twitter, but relationships do not matter; bad votes do.

AP Poll           Coaches Poll

(Details of AP ballots courtesy of PollSpeak.com)
Rodney Dangerfield 'No respect' team(s) of the week: Rutgers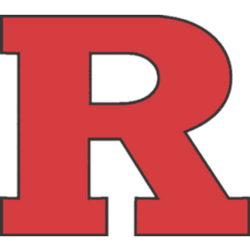 What's a team from the Big East have to do to get some respect around here? The Scarlet Knights are, at this point in the year, one of the biggest surprises of the college football season. Greg Schiano departed to the NFL and many thought the program would take an immediate step back but they have not done so under Kyle Flood thanks to a strong defense and improving offense.
Rutgers has landed in this spot before and is back again after being undefeated yet ranked only No. 18 in the AP poll (and a more respectable No. 15 in the coaches). Louisville, which has struggled two of the past three weeks, is ahead of the Scarlet Knights in both polls and it's hard to claim the Cardinals have a better resume than their fellow unbeaten conference brethren. Rutgers quarterback Gary Nova has been sharp (15-3 touchdown-interception ratio) and running back Jawan Jamison is one of the best-kept secrets on the East Coast. With a schedule that doesn't feature another challenge until the end of the season, people might dismiss this squad but they shouldn't with the No. 3 scoring defense in the country.

Overrated: West Virginia, Texas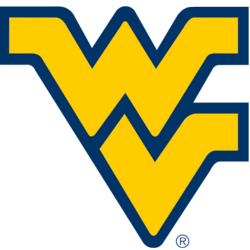 On Saturday, the Longhorns and Mountaineers gave up a combined 1,086 yards and 105 points. Both teams are 5-2, in the 100s in most defensive categories, and neither looks to have any answers to what is happening to them fundamentally. Yet, both are ranked -- West Virginia No. 25 in the AP and, remarkably, No. 22 by the coaches while Texas is No. 24 in the latter.
Twelve AP voters put the Longhorns on their ballots, one as high as No. 20. Obviously, a lot more coaches/SIDs did in theirs. There were plenty of folks who bought into Dana Holgorsen's high-flying offense with Geno Smith to simply score more than their opponents. Now that the points and yards have dried up, West Virginia is being exposed and yet it's still the No. 18 team in the country according to one AP voter. Both squads could wind up with solid seasons and a nice bowl game at the end of the year but for right now, neither should be hovering around the top 25.
California Craziness

A trio of voters from California (CSN Bay Area's Ray Ratto, San Jose Mercury News' Jon Wilner, LA Daily News' Scott Wolf) are an interesting bloc. Some would call the group progressive; others would say extreme; and just about everybody else will call them crazy given the fluctuations in their weekly ballots. All three are consistently in Pollspeak's group of "extreme voters," so we'll highlight the most baffling decision(s) from each.

Ratto almost made it back to this section with Notre Dame lower than anybody at No. 8, Mississippi State in the top 10 and Ohio State behind Clemson (yes, the Buckeyes nearly lost on Saturday but the defense isn't as bad as the Tigers -- and the Buckeyes were without quarterback Braxton Miller). But he also put Toledo, Ohio, Northern Illinois and Louisiana Tech in the top 25, so that outweighs the bad.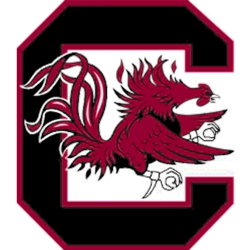 Instead, we turn our attention to Wilner. Among the top 10, having South Carolina higher than anybody at No. 8 in the country after two (albeit tough) losses is hard to figure out. Yes, the Gamecocks have a great defense and usually can run the ball well. But they got shellacked at the Swamp to a team that was statistically terrible on Saturday. Also concerning when looking at his ballot is the fact that Texas Tech is behind Clemson, Stanford and Michigan. As you can guess from the above section, having Rutgers at No. 25 is unacceptable and what possible justification is there for having Nebraska in the top 25 (No. 22 for Wilner) after narrowly beating Northwestern thanks to a touchdown?
What were you thinking? Florida No. 1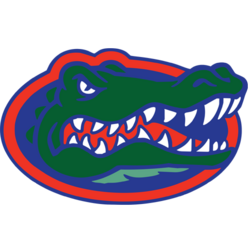 There was not a consensus for Alabama this week at the No. 1 spot in both polls thanks to Cleveland Plain Dealer and Ohio State beat writer Doug Lesmerises, who put Florida in the top spot. One can somewhat understand his thinking at first glance, coming off a throttling of South Carolina and big wins over Texas A&M, Tennessee and LSU already on the wall. Yet we at Poll Attacks have to give a kudos to Doug for explaining, in detail, exactly why he made the choice to put the Gators ahead of the Tide this week. After a game where the offense averaged just 2.8 yards per play however, it's still going to be quite the debate given what Alabama has accomplished against a lesser resume. A.J. McCarron has put himself in Heisman contention, and Nick Saban's defense is leading the country in all four major statistical categories -- impressive no matter who you've played. Still, for this week, it's good to have some reasoning behind the vote.
Memphis outscored Houston 42-21 in a wild second half win on the road

Scott leads the Spartans with 408 rushing yards

One of the finest restaurants in Columbia has a unique partnership with University of South...
While Mother Nature has wreaked havoc, some teams have been just plain bad so far this sea...

Bryce Love's video game season and early-season turnarounds lead our group

Trust the Process as Tom Fornelli leads you toward his best bets for Week 8 of the season