The SEC's Chaos Saturday: Where do we stand?
With the dust settled on the wildest day of SEC action in years, what do we know about where the league stands?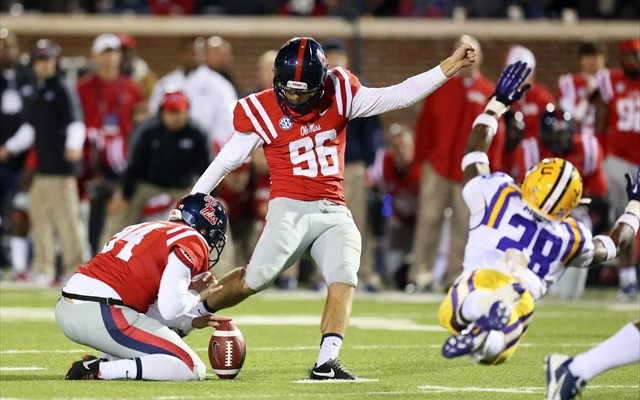 Saturday was the wildest day in recent memory for the SEC, as four teams who entered the day as combined underdogs of 37 points -- Auburn , Vanderbilt , Tennessee and Ole Miss  all took home upset victories, turning the league's conventional wisdom on its ear and -- ironically -- clarifying its two divisional races.
Here's what we know, or think we know after the league's Chaos Saturday:
Missouri is a week away from booking its ticket to Atlanta. Thanks to Georgia going down in Nashville and South Carolina in Knoxville, Gary Pinkel's undefeated Tigers are at least two games up in the loss column on every team in the SEC East. Mizzou's lead is also an effective three games over two of the three teams that would be taken seriously as challengers, boasting head-to-head tiebreakers over both Georgia and Florida .
So the Tigers are in the catbird seat regardless, but beating South Carolina at home this coming Saturday would all but make it official -- it would give the Tigers a four-game lead on the Gamecocks to go with their edges on the Bulldogs and Gators. (At that point, Tennessee -- who comes to Columbia the following week -- would be the Tigers' biggest threat.) Given where Pinkel's program was last season, it's unthinkable it could find its way to Atlanta this soon ... but the rest of the league had better get ready regardless.  
The new boss is the same as the old boss. With LSU going down, Alabama can now lose to the Tigers in their annual grudge match and still control its own destiny for the SEC title. But that loss looks much less likely these days anyway, what with Alabama coming off of a five-game stretch in which they've allowed a total of 16 points and Zach Mettenberger suddenly looking mortal in Oxford. After starting whispers of a longshot run at the Heisman, the senior threw for under 7 yards an attempt, tossed three first-half interceptions, and generally looked like the typical erratic LSU quarterback of the Les Miles era -- a major reason the Tigers finished with just 24 points against an injury-gutted defense that gave up 41 the week before to Texas A&M.
Perhaps the even better news for Alabama: if they do reach the SEC Championship Game only a win away from another BCS championship, that hurdle looks easier to clear than ever. The Georgia team that terrified it last season looks like a shell of itself. South Carolina's defensive line could give the Tide's still-jelling offensive line trouble, but Connor Shaw's injured. Florida's offense is a train wreck. And that leaves Mizzou, whose offensive scheme and excellent receivers could bother the Tide secondary ... but which simply doesn't feature the top-to-bottom talent you'd expect to be necessary to take down the reigning national champions.
Auburn actually controls its own destiny, too. The Tigers still have a tricky road date at Tennessee in a few weeks, but a win there (and at Arkansas) would give Gus Malzahn's team a home game against Georgia that could, in turn, set up a winner-take-all match for the SEC West against the Tide. That's a lot of steps for a still-young team to climb ... but none of them seem any more daunting than taking down the Aggies in College Station. 
Hugh Freeze can still coach. The Rebels were written off after their three-game losing streak to Alabama, Auburn and Texas A&M, but with Freeze's signature win over the Rebels' old rivals from the bayou, Ole Miss is still poised for a possible 8- or even 9-win season all the same; of their final five games, three are at home to Idaho, Troy and flailing Arkansas ; one is at Mississippi State, not easy but winnable; and one is a home date against Missouri. Given how well the Rebels have played at home the past two weeks, it's possible they'll be favored in all five. Win even four, and it'll be a huge step forward for a program that was 0-8 in the SEC just two years ago.
Actually, everyone can coach. Probably. This point could be its entire own column, but on the evidence of Saturday, coaching in the SEC has never been better top-to-bottom. Pinkel, Freeze, and Malzahn have already been discussed, but then there's Franklin, who has Vandy back on schedule for a third consecutive bowl, an accomplishment many would have called impossible before he arrived. There's also Butch Jones, whose team shrugged off the devastation of the loss to Georgia two weeks ago and finally got the long-suffering program the big upset it's craved for years; the Vols are showing more week-in-week-out life than they have since the Phillip Fulmer era.
Then there's Bret Bielema, whose Razorbacks have been obliterated 56-7 and 52-0 the last two weeks -- the first of those two defeats coming against a South Carolina team that the Vols exposed as hardly the juggernaut they appeared to be in Fayetteville. Bielema was widely hailed as a hiring coup for the Hogs -- and he was -- but no one in Auburn or Knoxville is going to ask Jeff Long for a trade at this point. 
It's a lost season for Georgia. Will Muschamp can overhaul the offense and hope for better health next season. Steve Spurrier, as much as he wanted this to be his SEC championship season, can still post the 10- or 11-win season that's well beyond the Gamecocks' historical norms. Johnny Manziel or no Johnny Manziel, Kevin Sumlin's just getting started. And Les Miles knows one upset of the Tide can make his program's season.
But for Mark Richt, the final victim of Saturday's wheel of chaos, there's not much silver lining. The combination of Aaron Murray, that backfield, that receiving corps, and an offensive line that veteran doesn't come around often, and even after the defeat at Clemson, the dramatic wins over South Carolina and LSU had the Bulldogs right where they wanted to be in the SEC. Two weeks later, Georgia sits at 4-3 overall, all-but-eliminated from the SEC East race, and with the best-case scenario for Murray's senior season a berth in another Capital One Bowl -- all thanks to the brutal wave of injuries and a series of special teams breakdowns arguably even more brutal.
LSU at Florida has been picked as the SEC on CBS Game of the Week

The Michigan coach had quite a few things to say on Monday after their visit to West Lafay...

Injuries are ravaging an LSU team that is searching for an identity
Jones started answering an injury question and then went off about 'fake news'

The full ranking of all 130 college football teams includes TCU up and a major drop for Florida...

The charges all stem from an investigation into improper debit card charges