The story behind Southern Miss and the suits for graduating seniors
Southern Miss won one game this season but finished the year strong after Monken bought 17 departing seniors a suit for a team banquet.
• 3 min read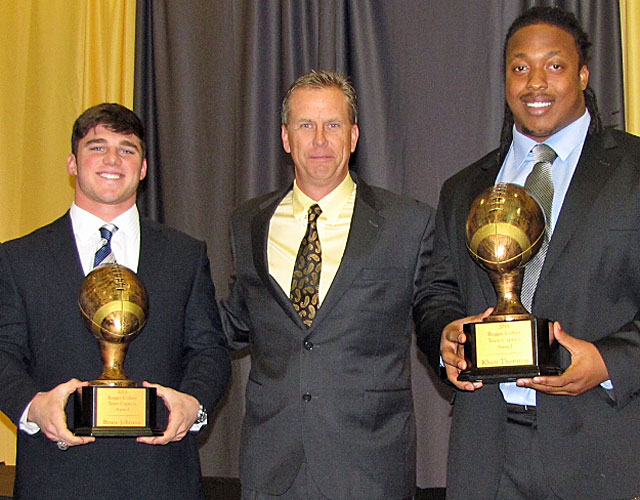 Don't let the 1-23 record the last two years deceive. Southern Miss finished stronger than any other team this season.
They can thank fundraising, a team banquet, NCAA loopholes, a coach's idea and a local tailor for that.
A once-proud Southen Miss program is experiencing such a deflating, curious run on the field that Todd Monken got a Gatorade bath for beating a two-win UAB team in the season finale. Monken, a first-year head coach and former Oklahoma State coordinator, can explain the reasons for the struggles, and there are many.
But he'd rather tell you about his plans to rebuild the program, which won't come solely from third-down play calls or zone defense.
Look no further than the picture below, the 17 seniors dressed up in suits next to Monken. Then consider the $14,000 Monken raised from a local touchdown club to pay for those suits, and the payback of the team's spirit that filled the postseason banquet because of the gesture.
Snapshots like these are part of rebuilding, too, when what happens off the field can unite a team on it.
"You're just trying to start something," Monken said. "We wanted to give them a little something to take with them, to say thanks."
The story of the USM senior class in this picture, with Monken in the middle, surfaced on social media in early December thanks to a Facebook post by professor Bret Becton.
"We all would have liked to have seen more wins and better stats, but you have to agree that Coach Monken is a man of character who is concerned about the young men he coaches," Becton wrote. "He bought every graduating senior player a suit so they would be prepared for job interviews. Brighter days ahead."
The idea started when Monken evaluated the program a few months back. He wondered why the team didn't have an end-of-year banquet.
Apparently it's just something Southern Miss hadn't done. After 22 straight winning seasons from 1990-2011, perhaps the Eagles didn't need one. The bowl game was the celebration.
But despite the 0-12 performance in 2012 that led to Ellis Johnson's firing and Monken's 1-11 debut, Monken thought his team – any team -- should have a banquet. Bad seasons need closure, too.
Players need suits and ties for a banquet. Southern Miss became aware of the NCAA rule that, according to Monken's interpretation, allows a school to purchase a gift for a student-athlete if that gift is mandatory for an event. Pitt, for example, provided a suit and tux for defensive end Aaron Donald as he attended postseasons awards shows for his outstanding play.
See, doing good is allowed by the NCAA on occasion.
Monken promised a local touchdown club that he'd use the club's donations to strengthen the program and its players.
Spending nearly $14,000 on suits for his departing players was the best way Monken could stay true to his promise. Players could use the suits for the banquet and for future job interviews.
"You try to do things that the NCAA allows you to do to help your players," Monken said. "I think there's something to when you get dressed up. It makes you feel better. It makes you feel more professional. Some of these guys hadn't gotten suits fitted before."
Director of football operations John Carr called local men's fashion stores and settled on Randy Price and Company in Hattiesburg, Miss. The players showed up to the store in shorts and left "dressed head to toe," Carr said.
The final bill ran about $800 per player, Carr said, and that covered more than the suit.
"They were in kind of like a buffet line -- pair of socks, belt, slacks, fabric, color scheme, type of shirt, tie, the whole bit," Carr said.
Carr remembers players describing that the pants were too big, not knowing they would be hemmed. When Carr asked defensive lineman Khyri Thornton his measurements, he said  'extra large.'
Monken admits recruiting played a small part in the suit purchases. Future players want to know their coach cares about his players.
But, mostly, he wanted to say thanks. And he wanted to capture the spirit of Southern Miss, a place that cares deeply about its football. When Southern Miss returned from the UAB game via bus, about 500 people waited outside the football complex to congratulate the team.
"I've never tired to forget I've had a job for our players," Monken said.
SportsLine's computer model simulated every Week 12 game 10,000 times with surprising resu...

Though a marriage between the Vols and Gruden has been rumored for a while, it seems unlik...

Barrett Sallee is cashing on 67 percent of his best bets and gives 3 strong picks for Week...
The No. 16 Bulldogs will travel to Arkansas Saturday afternoon on CBS

The Owls are 7-3 overall and 6-0 in the Conference USA East division

Wisconsin has a chance to impress the College Football Playoff Selection Committee