The top 10 impact recruits from the class of 2013
Which recruits will shine soonest?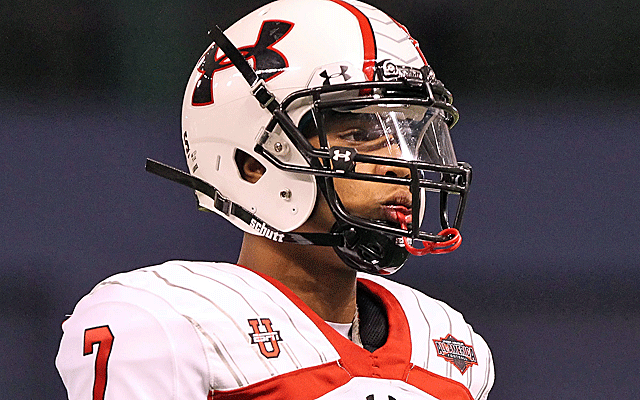 Jalin Marshall could be Urban Meyer's new Percy Harvin.
(US Presswire)
National signing day has come and gone so we know where the top recruits are going. Now, the question to ask is: Which recruit will make the biggest impact come fall?
Sometimes talent isn't the single determining factor for how quickly a player contributes to his team. Other factors such as the depth chart, or academics, or the complexity of the playbook can also play a role.
So making a list of the top recruits carries with it a caveat: We just don't know how well they'll adjust to their new campus environment or, in some cases, if they'll even qualify for enrollment.
Keeping all of that in mind, here are the 10 recruits from the class of 2013 who should make the biggest impact (in no particular order):
Thomas Tyner, RB, Oregon -- The Ducks have been getting along fine with undersized running backs who can squirt in and out of traffic, but in Tyner they have a physical specimen who can destroy angles in the open field. Tyner's 10.43 100-meter time (10.35 wind-aided) as a sophomore in high school makes him the fastest back in this class while his size/speed combination puts him in rare company. Imagine a back like Kenjon Barner running in the wide-open Oregon scheme. Now imagine him 20 pounds bigger, two inches taller and about two steps faster. That's Tyner.
Keith Ford, RB, Oklahoma -- The Sooners have struggled to find a premier running back since the departure of DeMarco Murray, but Ford has a chance to make a splash right away. He's a patient runner with good forward lean and he runs withs some power at 5-foot-11, 200 pounds. Look for Ford to have the best freshman season by a Sooners back since Murray.
James Quick, WR, Louisville -- What better way to start your college career than by catching passes from a burgeoning Heisman Trophy candidate? The spindly, aptly-named Quick is a playmaker with the ball in his hands and should make Teddy Bridgewater's job even easier this fall. He already showed his talent and opened a few eyes by being named the MVP of the Army All-American All-Star game last month. Look for him to open some more eyes starting in September.
Robbie Rhodes, WR, Baylor -- The Bears are starting to churn out elite wide receivers and Rhodes looks like the next in line. There's a reason Alabama wanted him -- he's got the ability to catch an inside screen and take it the distance at any time. Inserting an explosive receiver of his ability into the Baylor offense should result in a productive first year.
Laremy Tunsil, OT, Mississippi -- It's rare that a lineman makes an impact as a true freshman, but Tunsil didn't sign with the Rebels just so he could redshirt and hang around Oxford. He'll be handed the starting job at one of the tackle spots and, after an adjustment period, he'll settle in as one of the SEC's rising stars.
Jonathan Allen, DE, Alabama -- There are plenty of talented freshmen in Alabama's No. 1-ranked recruiting class who could make an instant impact, but we're picking Allen because we think he's more gifted than the players he'll be competing against for playing time. He's a disruptive force off the edge with elite change of direction and burst for his size.
Jalin Marshall, Athlete, Ohio State -- Urban Meyer has been looking for a player who can perform the old role that Percy Harvin played in his offenses at Florida. The versatile Marshall can be that player. While not as explosive as Harvin, he is electric in the open field and skilled with the ball in his hands. He'll get a chance to touch the ball early and often.
Johnathan Ford, RB, Auburn -- Gus Malzahn's offenses are running back-friendly and, since depth is a bit of a concern, Ford should get a chance to shine in the early going. He's a little in the Michael Dyer mode physically, but with better long speed.
Jermaine Kelly, CB, Washington -- Kelly is an explosive playmaker who should immediately step in at Desmond Trufant's starting cornerback spot. At 6-foot-2, he's that rare cover corner with size and when he gets the ball in his hands, he makes stuff happen.
Jaelen Strong, WR, Arizona State -- Recruiters are always looking for big receivers who can run. Look no further than Strong, a 6-foot-4 junior college transfer with downtown speed. Assuming he qualifies, he should terrorize Pac-12 secondaries during his time in Tempe.
Locksley joined Alabama's staff in 2016

Saban reportedly wants to hire Freeze, but there may be things keeping that from happening

Florida State-Miami will be on Oct. 6, and the Seminoles will play Clemson on Oct. 27
Weis Jr. was an offensive assistant for the Atlanta Falcons in 2017

Lott is joined by three current athletic directors and will serve a three-year term

These are the top guys every school is still chasing