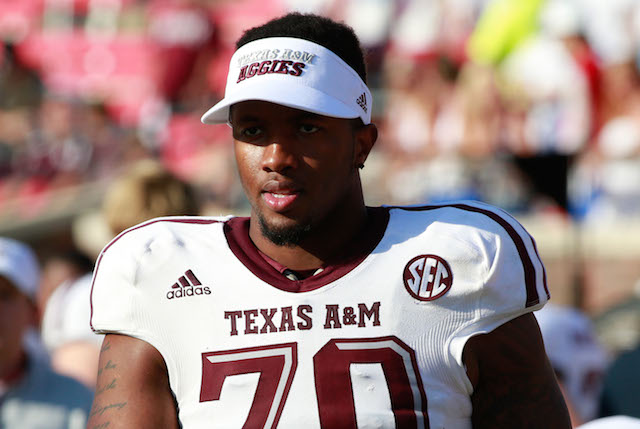 Every Monday, Eye on College Football's Tom Fornelli looks back at 10 things that stood out to him over the college football weekend -- everything from the awesome to the just plain stupid. Mostly stupid.
Before I get in to the 10 things from this weekend that stood out to me, I want to take a moment to talk about offensive line play. It's hard to be an offensive lineman, both because the job is difficult, and because you really don't get any credit for it. Generally the only time an offensive lineman's name is mentioned is when he screwed up and got his quarterback killed, or drew a flag for holding.
The biggest reason for this is because most football fans don't really understand offensive line play. Every week when watching a college football game you hear analysts break down what a quarterback is doing correctly, how well a receiver ran his route or what a good job finding the holes a running back has done. This happens because these are the easiest things for the common fan to understand.
The fact is that, unless you played on an offensive line, or are an actual football coach, you really don't know what an offensive lineman is doing. You just know that he should be blocking somebody, though you don't always know who he was supposed to block, who he wasn't supposed to block, or what he was supposed to do with that block. 
Having played the position in high school, I have a cursory knowledge of the position, yet that still puts me ahead of so many other fans. Now, I sucked at the position. I like to think my distaste for playing it led to me being so bad at it, but it's probably more the fact I just wasn't good. Because it's a hard position to excel at. It's a hard job.
Now why am I telling you all this? That's a good question, and the answer is simple.
I'm about to make fun of some offensive linemen. Again. 
1. Every offensive linemen just wants to hit the quarterback.
I already mentioned how little I enjoyed playing on the offensive line, and that's because I always preferred playing defense. I wanted to hit the guy with the ball, and every offensive linemen feels the same way inside.
On Saturday night, LSU tackle Jerald Hawkins got to live the dream. 
If you can't protect your quarterback, sack him yourself!
2. But then there are the offensive linemen who are on offense for a reason.
Hey, just because you want to play defense doesn't mean you get to. After all, it takes a certain set of skills to play on defense, and not everybody has them. Take Texas A&M's Cedric Ogbuehi for example. 
Ogbuehi is one of the best offensive linemen in the country. According to our rankings here at CBSSports.com, he's the third-best NFL prospect in college football right now, and will almost certainly continue the trend of Aggies linemen being taken in the first round of the NFL Draft. And he should be. 
As I watch teams week in and week out, Ogbuehi always stands out as one of the best linemen in the country. He consistently wins battles against some of the best defensive linemen in the country.
But he showed me something Saturday night that told me he's meant to be on offense, not defense.
During the second quarter of A&M's loss to Ole Miss, Kenny Hill was picked off by Cody Prewitt, who returned the interception 75 yards for the touchdown. Ogbuehi was a big-time factor in allowing Prewitt to reach the end zone as well.
Look at this:
There's Ogbuehi looking like he's trying to block Kenny Hill from making the tackle. Now, maybe this isn't what it looks like. Maybe Ogbuehi isn't running away from the guy with the ball. What if Ogbuehi's intentions are to keep Kenny Hill from making the tackle simply to make sure Hill doesn't get hurt?
It's an offensive lineman's job to protect the quarterback! Ogbuehi is just doing his job!
There's also a chance Ogbuehi realizes he's going to get a lot of money in the NFL, and doesn't want to risk an injury on this play. I can respect that too.
Of course, it's also possible he just doesn't know what he's doing at the moment. 
3. You have to dress for success, Bret.
This is how Bret Bielema dressed for his appearance on the SEC Network's pregame show. Seriously. Look at him.
Caption contest time! pic.twitter.com/Nh6hAfGZ2c

— Will Thompson (@thrillis4) October 11, 2014
That's not how you win, Bret. Do you think Nick Saban is showing up for television appearances in a track suit and flip flops? Hell no he isn't. Nick Saban is putting on a suit and tie, damn it. The suit and tie is part of The Process. 
Winners don't wear flip flops. Winners wear wingtips.
Had you been wearing a suit, Bret, your kicker wouldn't have missed that extra point.
4. I could watch Dennis Norfleet dance forever.
Michigan finally ended its losing streak Saturday night against Penn State, and it's not hard to figure out why. It wasn't the alternate uniforms, nor was it all those fans showing up and supporting their beleaguered Wolverines.
It was Dennis Norfleet dancing.
Dennis Norfleet before his kick returns
Forget the fireworks and all the other gimmicks, Dave Brandon. Just let Dennis dance.
Oh, and keep having referees call offsides when nobody appears to be offside. That helps too.
Who was offside? pic.twitter.com/ggJaUyyi7h

— Tom Fornelli (@TomFornelli) October 12, 2014
5. Tim Beckman really enjoys missed field goals.
There's a very good chance that Tim Beckman is going to be fired at the end of the season, if not before. He's in his third season at Illinois and is now 1-18 in Big Ten conference games after the Illini lost to Wisconsin this weekend.
But even when dark clouds are forming overhead, it's important to find those moments in life that can still bring you joy. Like when your opponent misses a field goal.
He's not nearly as excited when Illinois misses tackles, I promise.
6. The most relevant keys to the game you've ever seen.
Do you watch Hawaii games that start at midnight Eastern? You should. When they start at that time they're locally produced, and when Hawaii games are locally produced, this is the broadcast booth you get.
October 12, 2014
These guys are fantastic. Hawaii broadcasts are the most homer-riffic productions in college football. They make SEC radio calls seem impartial, and I love it.
I also love the analysis they provide.
The kind of Pregame analysis you can ONLY find on OC Sports pic.twitter.com/wxH58elp7W

— Pod Katt (@valleyshook) October 12, 2014
And not having a bye week really paid off for Hawaii, as it beat Wyoming 38-28.
7. "False start, offense. Everybody but the center."
While I feel bad piling on offensive linemen, I have no remorse for mocking officials. It's a scientific fact that every referee in college football is terrible. Seriously, ask Neil DeGrasse Tyson, he'll tell you Isaac Newton proved it hundreds of years ago.
But sometimes refs provide us with a nice moment. Like when everybody on an offense false starts except for the guy with the ball.
Ten guys just got flagged on one play in the Kansas-Oklahoma State game. https://t.co/cY6ZfurBV5

— Ramzy Nasrallahween (@ramzy) October 11, 2014
8. Michigan State's defense is still awesome.
Listen, this week something unexpected happened. Ole Miss' defense officially surpassed Michigan State in the Fornelli Defensive Power Rankings. That's right, the Rebels are now my favorite defense to watch. The truth is that, while it's still better than most defenses in the country, the Spartans' defense just isn't as dominant as it was last season.
It's a concern.
But there is still one area of playing defense that Michigan State leads the entire universe in: suplexing opponents.
Yes. This should be how they teach tackling at the junior levels. Is it somewhat dangerous? Yes, but it's awesome too, so it more than balances out.
We'll all look back on this one day when Shilique Calhoun is holding up the WWE title belt at Wrestlemania.
9. Your Fan of the Week.
Is this just part of another Rich Rod trick play or pic.twitter.com/w7QbLNyxYN

— Dane Carbaugh (@danecarbaugh) October 12, 2014
We all need a hobby, I guess.
10. The ACC Coastal in a nutshell.
So who is going to win the ACC Coastal? I have no idea and neither do you. For the sake of your own mind, if not humanity itself, it's best not to think about it. Just know that somebody will win it, and they'll win it via some strange five-team tie-breaker.
That's just the kind of division the ACC Coastal is, but there are no words I can write to better explain it than this Vine.
#goacc
Until next week!