Think bigger, Big Ten ... Michigan State (not Ohio State) still best
Ohio State and Michigan have the panache and tradition in the Big Ten, but Michigan State provides hope for more stability in a down era for the league.
• 3 min read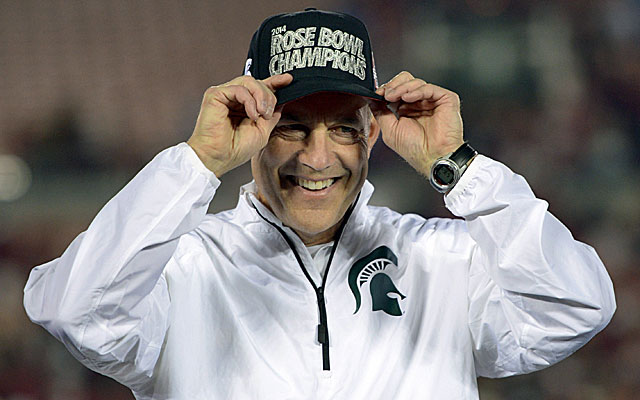 More college football: Dennis Dodd | Jeremy Fowler | Jon Solomon | Latest news
CHICAGO -- Is there a conference that leans too heavily on tradition more than the Big Ten?
So your best team from last year -- you know, the team that won a Rose Bowl and would have been in a four-team playoff -- could actually be better this year. Or at least "deeper," Michigan State coach Mark Dantonio says. It finally has an offense Dantonio's arm-punting Big Ten peers could be proud of. The Spartans' three toughest conference games are all in East Lansing.
Yet, somehow, Michigan State is picked to finish second in the league by about three touchdowns to Ohio State, which visits Spartan Stadium on Nov. 8.
No knock on Ohio State, which has shown no signs of regression. Braxton Miller is poised for a huge year. If Urban Meyer finds a Percy Harvin clone out of his stable of playmakers, it's over.
But assuming the Buckeyes are clear-cut conference winners is just predictable.
Instead, meet Michigan State, your likely 2014 overall Big Ten champion, and understatedly so.
That's what Spartans quarterback Connor Cook should have heard when he entered Michigan State's room at Big Ten Media Days at the Chicago Hilton.
He knew better.
"Every single year we have a permanent chip because we never get the respect we deserve," Cook said. "Ohio State's always a favorite. Michigan's always a favorite. We could win a Rose Bowl and we could win a Big Ten championship and we still don't get the respect."
And don't get Cook started on Michigan's Little Brother concept.
Remember when Ohio State was rolling to 24 straight and everyone knocked its Big Ten schedule more than the accomplishment of winning two full regular seasons worth of games?
Well, Michigan State's 13-1 season sort of cripples that notion, bolstering conference strength at a sorely needed time.
Then why do I get the sense the Spartans are seen as more of a hindrance to the Ohio State/Michigan panache than an actual, deserving power?
Maybe that's because college football fandom doesn't hate them enough. It doesn't feel the same way as it does about Ohio State, which elicits hatred and love and not much else.
Even Michigan State's biggest in-state rival hates someone else more.
Maybe Michigan State isn't sexy enough. Arguably last season's sexiest moment was Spartans linebacker Kyler Elsworth soaring over the Stanford pile on 4th-and-1 in the Rose Bowl, but Dantonio describes that precious snapshot as if it's a morning commute to work.
"They still had to go 60 (yards)," Dantonio said stoicly.
Want to know why Cook is so passionate about MSU's disrespect? Maybe because his name was misspelled on the banner from the post-game Rose Bowl podium. Nice treatment for the guy who threw for 332 yards in that game and might be the Big Ten's best passer.
The Spartans just went 13-1 and their media day sessions were mildly attended, far less crowded than proverbial power brand Ohio State, Michigan and Penn State.
But what do we know? Dantonio knows his team is not any more a preseason favorite as last year. "Raise your hand" if you had us winning it, he joked.
"It's only important what we think of ourselves," Dantonio said "We have to deal with who we are."
Saying Michigan State is the Big Ten's No. 2 usually comes with a qualifier: Spartans lose a ton on defense.
Here's the thing about that: Michigan State topped the Big Ten in defense in each of the last three years. You don't just magically fall to eighth after Dantonio spent eight years building that thing up. The Spartans always play good defense. They still have three really good players on the Bednarik Watch List. Shilique Calhoun is take-over-a-game good.
Ohio State doesn't get the same treatment for losing four starting offensive linemen.
Couple with an offense that returns nearly all of its impact offensive playmakers, and the Spartans might have more than a budding rivalry with Ohio State.
It can give the Big Ten a new way of thinking, instead of clinging to its old-reliable brands for help.
Maybe that's a bit too big picture for Dantonio's locker-room messages.
"We're not entitled to anything," Dantonio said. "It starts here. You can go backward just as fast."
Bidding for Salaam's trophy, which the auction house says was obtained legally, ends Satur...

Locksley has been the offensive coordinator at Illinois and Maryland during his coaching c...

Many NFL-eligible juniors ignore advice provided by the league and risk going undrafted each...
Snyder died in Manhattan, Kansas, on Wednesday

Locksley joined Alabama's staff in 2016

Saban reportedly wants to hire Freeze, but there may be things keeping that from happening