Think Miami case should be over by now? NCAA history says otherwise
Dodd: With Florida visiting Saturday, Al Golden says Miami's recruiting is hurt by its NCAA case. Keep waiting, as cases like Miami take way longer than the 82 days this one has gone.
At the end of every NCAA infractions hearing, an official in the room reads from a script saying a decision on the case could come within eight to 12 weeks.
Supposedly, no one hacks up one of those sarcastic "bullspit" coughs.
While the NCAA is justifiably proud that it has cut down the length of the average infractions case, Al Golden is upset that it has taken this long to end the investigative madness at Miami.
"We can say we're frustrated that it's not over, but we can't control it," Miami's football coach said.
It has now been 82 days since the NCAA infractions committee concluded Miami's hearing, roughly 2½ months. If Golden and Canes everywhere are peeved the case has dragged on this long, get ready to wait a while longer. That's the conclusion of a handful of experts surveyed by CBSSports.com.
The research backs it up. Examination of the NCAA's major infractions legislative database  shows that 12 of the 14 major infractions cases at BCS schools since the beginning of 2010 in all sports took at least 2½ months to be resolved after being heard by the infractions committee. Five of those cases took at least four months between the hearing and release of the public infractions report.
The average wait following a hearing during that time period was slightly less than 3.4 months.
As much as it seems this case has dragged on -- 2½ years since the NCAA first started sniffing around -- once it goes to the infractions committee that's a whole new level. Infractions is separate from enforcement. Think of it as a tribunal. It hears the evidence then renders a decision. The standard of proof to make a finding of guilt by the committee is lower than a court of law.
Once infractions has the case it takes time to deliberate, to type up a long and exhausting report. In high-profile cases, the 8- to 12-week thing is more of a guideline. The committee members are volunteers. They have summer vacations to take too. They have day jobs at places like the SEC, Oregon, Missouri and Notre Dame.
Oh yeah, and this is one of the most complicated cases in NCAA history.
As if a monumental meeting with Florida this week needs any more distractions for Miami. Golden will have recruits in for Saturday's game accompanied by what he considers a cloud hanging over them. The coach now says the unresolved case has impacted four recruiting classes, the latest being 2015.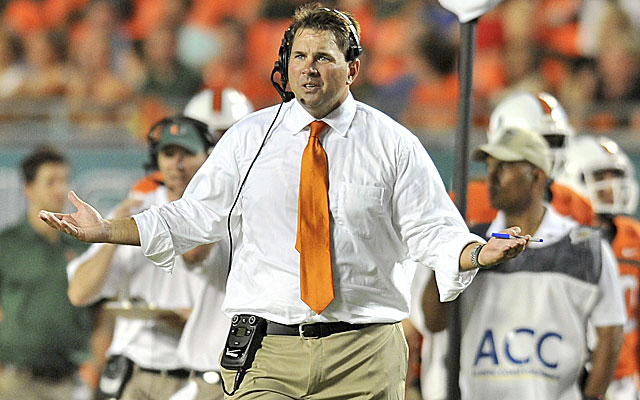 "It's difficult. It's been difficult. There's a bunch of kids from all over the country, not just Florida, that are 2015s that are committing, that are making decisions where to go," Golden said. "We're not really part of that. That's a terrible sanction. As soon as we get this cleared up and get some closure we can move forward. But the direct result now is on four recruiting classes and obviously the residual of that is even further along than that."
Sounds bad, except that Miami has finished no lower than 14th in the 247Sports national recruiting rankings since the investigation began. The 2014 class would be the third such class affected. It is currently ranked fifth nationally by 247Sports. The '14 list includes at least 10 four-star prospects.
Of course, no coach is ever totally satisfied with recruiting. If there were some sort of lifetime achievement award for dealing with such things, Golden should get it. During his three seasons, Miami's reputation has been burned to the ground, while two bowls were forfeited. Now there is at least a feeling that the program is digging out.
Stephen Morris is part of the ACC's rich collection of quarterbacks. Duke Johnson leads the country in rushing after Week 1 and looks like an All-American. If the Canes can penetrate the Gators' stout defense, it might help the faithful forget there was an investigation at all.
Well, almost.
Miami shouldn't be painted as an innocent, but the NCAA has had a hand in making the school look like a sympathetic figure. Golden wasn't named in the allegations. President Donna Shalala has been strident in her defense since NCAA president Mark Emmert outed the enforcement department in January.
At stake, is another promising Miami season. The Florida game has a do-or-die sense to it in Week 2. The schools won't meet for the foreseeable future after Saturday. A win over an SEC power would go miles toward restoring Miami's football credibility. The Canes are 1-10 against teams ranked in the Top 12 since late 2005. Morris, the quarterback, is 0-4 against ranked teams in his career.
"It's therapy now that we're in the season," Golden said following an opening win over Florida Atlantic. "I don't think that's going to creep in, the NCAA thing."
Here are the conclusions, then, of those experts. While no one would offer an estimate on how long Miami has to wait, these are factors that Golden and other Canes might want to consider.
Similar cases lasted much longer
In 2010, USC waited four months from the end of its infractions hearing to the infamous date (June 10, 2010) when the penalties were announced.
Speaking of infamous, it took the NCAA five months to rule on Indiana and Kelvin Sampson back in 2008. Ohio State had to wait more than four months in the Buckeye Five case. All three of those cases were -- not unlike Miami's -- contentious and complicated.
According to that database research regarding BCS schools, only Oregon (two months, six days) and Tennessee (one month, three days) were resolved in less that than 2½ months since 2010. The Oregon case regarding Willie Lyles originally was headed for summary disposition months earlier but the NCAA deemed it should be heard by the committee.
The Tennessee sanctions in November overlapped with a previous case that had to do with the violations of a former assistant under Lane Kiffin.
The five schools since 2010 that have had to wait at least four months to hear their verdicts: Connecticut, Arizona, USC, Ohio State and North Carolina.
Procedural concerns
This case has had plenty of them, from the NCAA using a third-party attorney to a court procedure attempted by the attorney of former Miami coach Frank Haith (now at Missouri). 

The committee has to balance Miami's guilt with the fact some conclusions the enforcement staff reached are tainted. (See below.)
Sensitivity
Shalala has intimated she is not going to stand still if the NCAA goes very far past the school's self-imposed penalties to date. Just a guess, but expect some sort of court action from the Miami president if the infractions committee applies a third consecutive bowl ban.

Folks' careers are at stake. In this case, the committee's decisions may decide whether coaches work again at this level. In April, Miami and four former assistant coaches lobbied the NCAA for dismissal of the case. They were denied.
This case held the NCAA enforcement staff up for scrutiny. The penalties are going to be viewed through an altogether different filter. It started to fall apart when the NCAA screwed up by using that third-party attorney.  The NCAA eventually removed 20 percent of the evidence gathered as of January.

But the way Golden sees it, when those recruits show this weekend, recruiting already has been impacted. Ultimately, it will be about who the Canes don't get.

"That penalty," he said, "is already factored in."
The Alabama QB has a new look after the Tide claimed another national title

Young was injured during Miami's Orange Bowl loss to Wisconsin

The movie will zero in on former Penn State coach Joe Paterno during the Jerry Sandusky sc...
Bidding for Salaam's trophy, which the auction house says was obtained legally, ends Satur...

Locksley has been the offensive coordinator at Illinois and Maryland during his coaching c...

Many NFL-eligible juniors ignore advice provided by the league and risk going undrafted each...