This just in: Sometimes passionate coaches like Bo Pelini swear
So Nebraska's hard-nosed coach Bo Pelini pops off and curses. Is this really a big deal? It's only 'news' because the Huskers aren't getting it done on the field.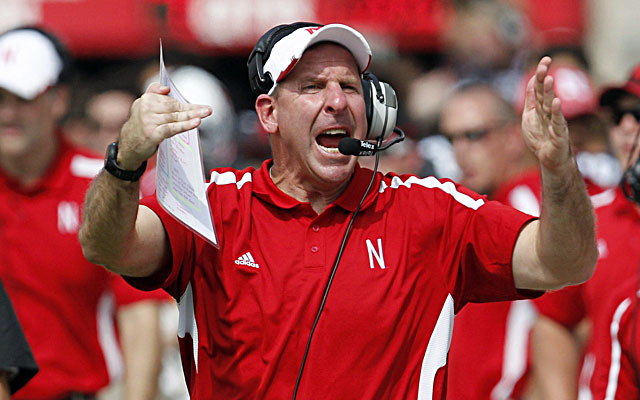 Breaking news: Bo Pelini is intense and cusses. Wow, earmuffs kids. Hide the chronically prude.
It doesn't really matter what was reported as a two-year old profanity-laced recording from the Nebraska coach came from Deadspin. You can listen to it here. (Warning: NSFW language).
If it wasn't them, it would be someone else trolling. The world is trending more and more toward TMZ anyway. I blame us. We, as a people, love prurient anyway.
It's nothing Pelini's players -- or relatives -- haven't heard.
For the love of Ed Bassmaster, gimme some real news. Get me some tape of Beyonce MFing that fan who attacked her.
This Pelini thing? Meh. What I don't understand is that anyone is surprised. When it comes to coaching passion, Bo Pelini is Bob Stoops is Mark Mangino. That doesn't make them the best black-tie dinner guests, it does make them hard-nosed guys out of Youngstown, Ohio, who don't take any BS.
If anyone knows Pelini, yeah, he's likely to pop off every now and then. He got himself flagged for freaking out on the sidelines at Texas A&M a few years ago. It happens. Pelini happens to be (somewhat) news in this instance because the Huskers are struggling. You might even say the defense -- Pelini's specialty -- is melting down.
So he ripped the fans. Do you know how many coaches have said the same thing in guarded moments? Yes, Nebraska has loyal fans. They've sold out Memorial Stadium since cavemen rode the dinosaurs -- or something like that. They're also the ones who wanted him, bad, when Bill Callahan was run out of town.
Real news, fans: If you sell out for this guy, you don't get some of the Pelini. You get the Full Pelini.
So he rips the local columnist. Said columnist has a tough hide. Most of us do. We're here to be ripped. If we're fair, it shouldn't bother us. I don't have much sympathy for major-college coaches playing the woe-is-me media card. Somehow I think a $3-million-a-year coach can take the sticks and stones.
Pelini may have to issue an apology to the fans. The fans should accept it. They also should fairly criticize a coach whose specialty is not looking so special.
But just remember this is only news because that defense sucks right now. It paints a picture of a coach out of control. Who knows, Pelini may be OOC but not based on the small sample size of a struggling defense and a couple of F-bombs.
Florida State and Alabama will face off in a highly touted game in Atlanta in Week 1

Five NC State freshman were punished team rules and code of conduct violations

Browne was benched in favor of Darnold early into last season
There are new names to learn every season, and here are 14 to keep an eye on from the SEC

Taking a close, detailed and opinionated look at the SEC a week before the start of the 2017...

Rosier will start for the Hurricanes in their opener against Bethune-Cookman