Tide CB Geno Smith suspended for opener after DUI charge
Alabama will have to face Virginia Tech without sophomore cornerback Geno Smith after Nick Saban handed him a one-game suspension.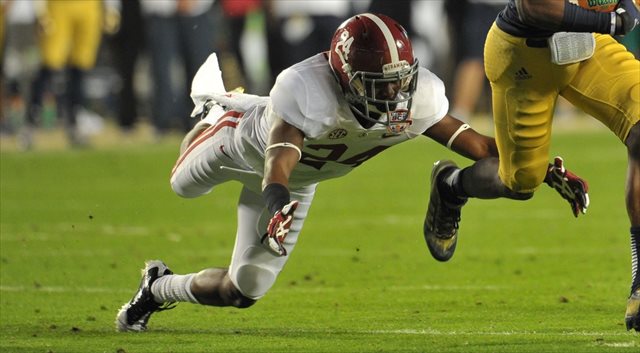 It's fair to say that Virginia Tech's passing offense -- the one that ranked 102nd in efficiency in 2012 -- needs all the help it can get against Alabama . But at least it got some measure of that help Tuesday.
Nick Saban told reporters after practice that sophomore cornerback Geno Smith has been suspended for the Tide's season opener, set for Aug. 31 against the Hokies in the annual Chick-Fil-A Kickoff Classic. Smith was arrested Sunday on a DUI charge. 
"Some of these guys don't have enough foresight to understand cause and effect, but Geno has been a really good person in the program and just made a choice, bad decision," Saban said, per al.com. "Made several of them, so now he's got consequences for it."
Saban also said Smith has other "in house" hurdles to clear before seeing the field.
Smith entered the offseason having played in 13 of the Tide's 14 2012 games during his freshman 2012 season, making nine tackles, and was expected to battle for a starting job in 2013. After a productive spring camp, he was projected as the team's "Star" cornerback in nickel packages. 
Since this is Alabama we're talking about, the loss of a single non-AJ McCarron-player for a single game won't hurt the Tide too badly, particularly when that player is a corner and the game comes against a Hokie team likely to rely heavily on its running game. But the secondary was the weakest link in the Tide's defensive armor in 2012, and losing Smith won't do it any favors.
The Tide's weakest point might have just gotten weaker; can Logan Smith and Co. take advantage or not?
Bookmaker.eu has odds on quarterback battles, and we have thoughts on the best bets

Michigan has few returning starters and even fewer wins over its rivals under Harbaugh entering...

Carrington was the Ducks' leading wideout in 2016 but was dismissed from the team this off...
Michigan coach Jim Harbaugh always makes things interesting at media days

The Sooners and Longhorns have top-10 classes with Texas landing four top in-state players

These three Big Ten teams could surprise in 2017