Tide's Lacy, Milliner, Fluker officially declare for NFL Draft
Two of the stars of Alabama's 2012 title run are on their way to the Draft, as expected.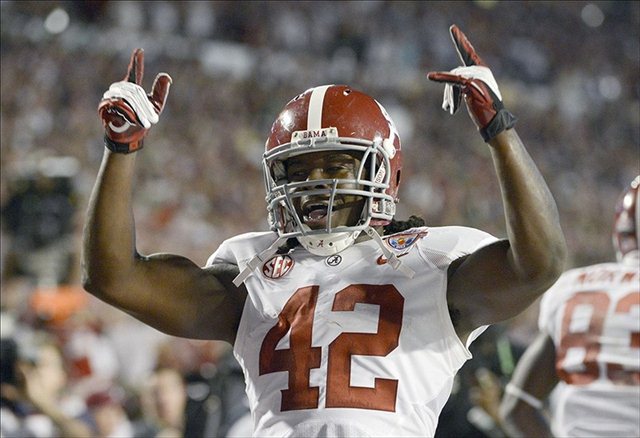 Eddie Lacy is taking his patented spin move to the NFL a year early. (US Presswire)
For Alabama fans, Friday's player announcements concerning the NFL Draft must have been like pulling off a Band-Aid; even if they knew what was coming, it doesn't mean it doesn't hurt.
As expected, junior corner Dee Milliner and junior running back Eddie Lacy both officially declared for the draft at a Friday press conference, with Nick Saban also confirming that absent junior right tackle D.J. Fluker would be entering the draft as well. Sources had indicated to CBSSports.com's Jeremy Fowler that Lacy and Milliner would be leaving, and the Tuscaloosa News had previously reported that Fluker had already decided on an early departure as well.
None of those decisions come as anything close to a surprise. A first-team All-SEC corner, Milliner is widely projected as a first-round draft choice and could easily land in the top 10. CBSSports.com's draft experts have Fluker as the No. 4 tackle in the draft and a potential first-round pick, with Lacy now projected as the top tailback of the draft. (In a sign of how devalued the position has become on draft day, however, Lacy still projects to land outside the first round.)
Of the three, it was Lacy who was the most visible star in the Crimson Tide's 2012 title run -- after pulverizing Notre Dame for 140 yards at 7 yards a carry, he's landed on the cover of this week's Sports Illustrated -- but Milliner's lockdown efforts might be missed the most. Milliner was a clear No. 1 in the Tide cornerback pecking order, with Deion Belue productive but occasionally falling to victim to opponent's targeting on the opposite side of the field, and backups Geno Smith and John Fulton not close to Milliner's caliber.
Meanwhile, the Tide has never been shy of top-level replacements when it comes to the offensive line (though Fluker's backup, redshirt sophomore Austin Shepherd was only -- gasp! -- a three-star recruit). At tailback, 1,000-yard rising sophomore T.J. Yeldon (and possibly incoming five-star recruit Derrick Henry) should take over the majority of Lacy's carries without missing a beat.
None of the departures will do anything to move the Tide from its likely perch atop the preseason No. 1 rankings come fall 2013, not with the likes of AJ McCarron, Amari Cooper, C.J. Mosley, Ha Ha Clinton-Dix, Adrian Hubbard and more returning. But if any of the three Friday early-declarers is missed as Alabama is knocked from that perch midseason, it's most likely to be Milliner.
The movie will zero in on former Penn State coach Joe Paterno during the Jerry Sandusky sc...

Bidding for Salaam's trophy, which the auction house says was obtained legally, ends Satur...

Locksley has been the offensive coordinator at Illinois and Maryland during his coaching c...
Many NFL-eligible juniors ignore advice provided by the league and risk going undrafted each...

Snyder died in Manhattan, Kansas, on Wednesday

Locksley joined Alabama's staff in 2016