Tired of hearing about destiny and SEC, Noles eager to play for title
Auburn is a team of destiny? Don't mention that to Florida State coach Jimbo Fisher or his players because they only believe in one thing: themselves.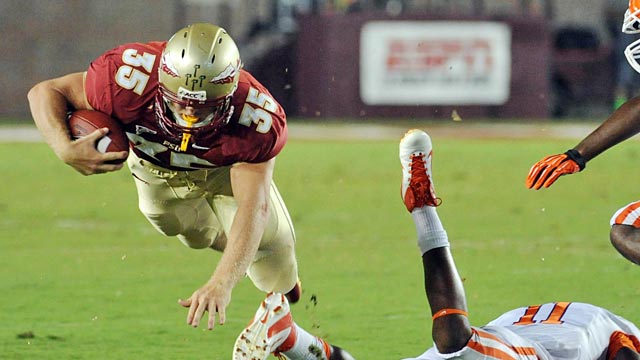 NEWPORT BEACH, Calif. -- Nick O'Leary has heard.
• About Auburn and its destiny.
• About seven straight BCS titles by the SEC.
• About why Alabama isn't here.
• About how you wish you were (the weather).
• About miracles and prayers and Jordan Hares.
What the Florida State tight end has hasn't heard enough about is his team. The nation's No. 1 team is the fourth- or fifth-best storyline on the eve of the 16th and final BCS title game.
And a scruffy-bearded grandson of Jack Nicklaus has heard enough.
"I think people just underestimate us," O'Leary said. "Just because we come from the ACC, [the perception is] we didn't have as tough a schedule as Auburn. I think they're underestimating us way too much."
The best team has been overtaken by the best story (or stories). Well, here is the story: The nation's only undefeated team wears Garnet and Gold. Only two opponents have been within four touchdowns of FSU all season. Twenty-eight more points and the Noles will establish the modern season record for scoring in a season. The defense has given up the fewest average points nationally.
And that's without mentioning a certain Heisman Trophy winner. Florida State is Blowouts R Us. Somehow the fact that has been accomplished in the Not SEC -- aka the ACC -- has overlooked the obvious:
Isn't this what we traditionally expect of FSU?
"[They're] thinking they're going to run the ball down our defense's throat," O'Leary said of Auburn. "There's no way they're going to do it to our defense.
"Our offense has been unstoppable all year. ... I don't know if they'll be able to stop our offense. You can't compare anything when we're beating people like that."
If O'Leary's teammates get on a similar roll, one of Jameis Winston's favorite targets will be prophetic. The magic has been lining up so nicely behind Auburn, we've been distracted. The breakdown suggests Monday's contest shouldn't be close.
Auburn did need that tipped pass against Georgia and a last-second kick return against Alabama. Statistically, this Tigers defense isn't even as good as the average unit (57th nationally) that rose up and stifled Oregon three years ago.
Realistically, there is no Nick Fairley here. Coordinator Ellis Johnson's defense (88th nationally) gave up at least 23 points seven times. It had to outscore Ole Miss, Texas A&M, Georgia, Alabama, Missouri and ... Washington State.
But teams change a lot from the beginning of the season to the end. In that opener against Washington State, Nick Marshall was an unknown. Tre Mason, a future Heisman Trophy finalist, wore the scarlet letter just like 80-odd of his teammates from last season's horrible 3-9 team.
Trust this eyewitness: Auburn flat-out quit against Alabama in 2012.
That's the great thing about college sports. Prospects can change in a heartbeat. Auburn is the sentimental favorite Monday night because of the way it was won.
Close. Late. Fun.
"I don't believe in destiny," Florida State coach Jimbo Fisher said. "You change your destiny with every decision you make each day. I don't believe God put us on here and said, 'This is your destiny.' I believe God gives you opportunities. ... That is your destiny."
But the American psyche wants close in these championship contests. Six of the past seven BCS title games have been decided by at least 10 points. The past two have been switch-it-to-Big-Bang-Theory affairs -- decided by a combined 49 points (LSU-Alabama, Alabama-Notre Dame).
A little like the Super Bowl, the big game has become almost anti-climactic.
Almost.
This is the final year of the BCS and perhaps first year of the new Florida State. And perhaps the end of an era if FSU can stop the SEC's death-grip on the game.
Fisher won't admit it but his is as close to an SEC program as there is outside of the Strength Everywhere Conference. It is rock solid on both lines. It has speed. It dominates recruiting. It has that difference-making quarterback in the tradition of Cam, AJ, Timmy T.
"We don't model ourselves after nobody," Fisher said. "Teams come and go, programs withstand the test of time."
In his fourth year as head coach since replacing Bobby Bowden, Fisher almost has to remind folks his team has won consecutive ACC titles, accomplishing that feat after losing 11 draft picks in 2013.
"It's right on schedule to where I wanted it to be," he said.
The best compliment might be these Seminoles don't need Bowden's blessing. It is a new era with new players -- and the same old FSU swag.
The starting defense hasn't given up a rushing touchdown, something to watch against the FBS's best rushing attack in 13 years.
"I'm not saying I don't want to win but I don't know if the outcome of that game on Monday is going to determine what goes on in our organization ...," Fisher said. "The sky's the limit from here on out."
It's too early to discuss a dynasty, but this is the program that finished in the top four for 14 consecutive seasons. Winston returns next season along with a possible 15 other starters.
The biggest win might be Fisher heading straight for his office once he gets home. Up until Texas hired Charlie Strong that wasn't a certainty.
"I tried not to," listen to Texas speculation that had had him as a top candidate, Fisher said Sunday. "I tried to coach."
Now it looks like there is some permanence in Tallahassee. Fisher seems like a long-timer with a contract that runs through 2018. That means more charismatic teenage quarterbacks may be flocking to Tally.
"I'm glad everyone says Auburn is a team of destiny," said Winston, who turns 20 on Monday, "because at Florida State we control our own destiny."
Good for those true believers. Up until the Sugar Bowl, this national championship was seemingly between three teams -- FSU, Auburn and the specter of Alabama. The perception that it wasn't really a championship game without Bama was hard to shake.
"The Harvey Updykes of the world will be rooting for FSU," Auburn center Reese Dismukes said last week.
Then Alabama lost to Oklahoma, removing itself from a conversation it never should have been in.
And that's the way it should be. It's a new age after Monday. A playoff is coming. The new trends, teams and controversies are right around the corner.
Just pay attention to the obvious as we head to kickoff. O'Leary won't be the only one with an attitude for the Seminoles, merely one of the spokesmen.
"I think you always play for respect," Fisher said. "If you quit playing for respect, to me, you quit playing."
Freeman will not play in the New Mexico Bowl on Saturday

SportsLine simulated every bowl game 10,000 times for pick'em leagues and confidence pools

Grier will return to West Virginia for the 2018 season instead of entering the NFL Draft
The Chick-fil-A Peach Bowl just got spicy

Anderson had been under investigation for an incident at a bar in Cleveland County, Oklaho...

Between Arizona State and Tennessee, no one would have guessed how this coaching cycle turned...