Todd Grantham evasive about Georgia future after Saints report
Asked by fans about future, Grantham dodges question.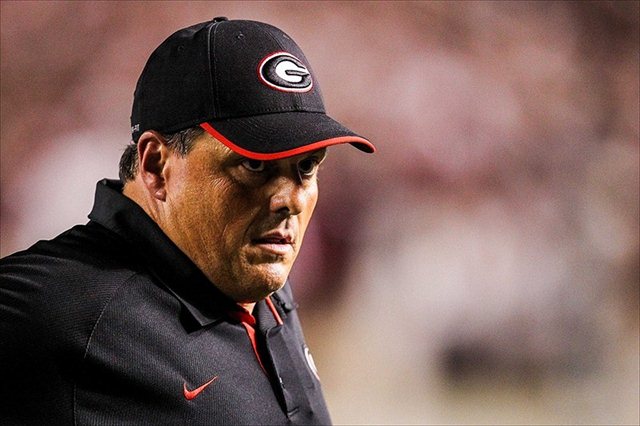 Todd Grantham hasn't committed to a future at Georgia. (US Presswire)
Questions have swirled for weeks about Georgia defensive coordinator Todd Grantham's potential interest in an NFL job -- questions that may have something to do with Georgia's low-impact National Signing Day -- and the last 24 hours won't do a thing to quiet them.
First, the New Orleans Times-Picayune reported late Tuesday that Grantham would be one of two candidates interviewed this week for the vacant New Orleans Saints defensive coordinator's position, with Grantham speaking to Saints head coach Sean Payton on Thursday and former Dallas Cowboys coordinator Rob Ryan interviewing on Friday.
Not surprisingly, Grantham's Signing Day Q-and-A with Georgia fans included a Q on his future, one Grantham emphatically dodged. From the Atlanta Journal-Constitution:
"You know what? I can tell you this, that my family loves it here; I like it here a lot; and this is a very special place and I think today needs to be focused on the players we've got here right now and trying to get back to Atlanta," Grantham said.
Via the Macon Telegraph, video of Grantham's comments:
In other words: Grantham might be at Georgia in the future, but there is unquestionably a nonzero chance -- and maybe a much better chance than merely "nonzero" -- that he won't be. (The mother of new Georgia defensive end signee Davin Bellamy did tell the AJC that she had been assured by Georgia coaches there was "no truth" to the Times-Picayune report.)
Grantham's departure would be a substantial blow for a Georgia defense that struggled for years under predecessor Willie Martinez before improving in 2010 and becoming one of the nation's best units in 2011. Though the Bulldogs took a step back in 2012 despite a large number of returning starters -- they finished 80th in the FBS in rush defense  -- they also rose the occasion with a huge performance in the East-winning victory over Florida.
Further complicating matters is that replacing Grantham at this late stage of the college football coaching carousel would be a major hassle for Richt. But that's a possiblity he and the Bulldogs look more likely than ever to face.
The Chick-fil-A Peach Bowl just got spicy

Anderson had been under investigation for an incident at a bar in Cleveland County, Oklaho...

Between Arizona State and Tennessee, no one would have guessed how this coaching cycle turned...
The Ducks and Broncos tee it up at 3:30 p.m. ET

SportsLine's top college football experts pick a 5-team parlay that pays 20/1

Nobis won a national title as a linebacker at Texas in 1963