Toledo's Candle emerges as one of America's top young coaches
The MAC has produced some of college football's best head coaches and Jason Candle is in position to be next.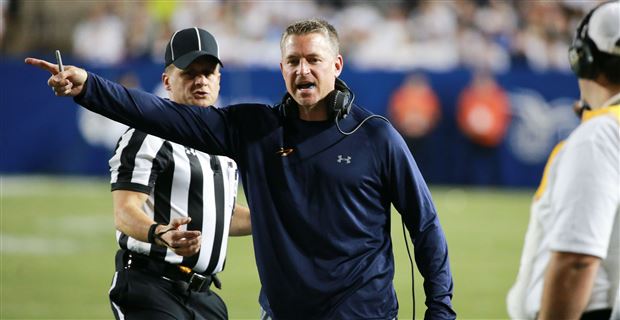 TOLEDO — A week after signing a contract extension following his first season as head coach at Toledo, Jason Candle settled into a booth at the restaurant J Alexander's and blended in during lunch. 
The fanfare will eventually come for the 37-year old Candle, who is one of the brightest young minds and recruiters in college football.
Candle and the Rockets were 9-4 a year ago and in contention for the MAC championship, and fresh off signing the top-ranked recruiting class in the conference this past February, expect Toledo to be there in the end again this coming fall.
A Salem, Ohio native, Candle is optimistic following spring camp that his team can win its first conference championship since 2004.
"We're a program that is on solid ground and built for the future and our expectations here are very high," Candle said. "We're not going to hide from those. This city deserves a championship and that's what we're chasing."
Heading into his ninth season overall at Toledo, Candle is getting tired of chasing.
He's ready to win it.
Candle has his quarterback back in Logan Woodside who led the nation a year ago with 45 touchdown passes, while ranking seventh in passing yards with 4,129 yards. Naturally with a prolific quarterback you have receivers filling up the stat sheet and Woodside will have two of his favorite targets back in Cody Thompson and Jon'Vea Johnson. The defense will count on seasoned-guys like defensive tackle Marquise Moore and linebacker Ja'Wuan Woodley.
"We have a lot of veteran guys that have spent a lot of time in this program that have played a lot of football for us," Candle said. "Lots of reasons to be optimistic."
The last time the Rockets won a championship former NFL quarterback Bruce Gradkowski was under center running the offense and not another restaurant in town the Toledo staff likes to frequent. This program is one where local fans and the school were accustomed to winning. Back in the late 1990s and at the turn of the century, Gary Pinkel (who took over Nick Saban, to give you an ideal of where Toledo can springboard a coach) had the Rockets regularly in the discussion to win the MAC. Tom Amstutz inherited Pinkel's program when he left for Missouri and reeled off five-straight winning seasons. Gradkowski graduated and three losing campaigns saw Toledo fall into unchartered territory.
Candle was part of the group that got it back on track.
The Mount Union graduate only knows winning.
Hired by Tim Beckman to coach receivers in 2009 after serving as the offensive coordinator and receivers coach at his alma mater in the Division III national powerhouse (where he helped develop Pierre Garcon and Cecil Shorts), Candle helped infuse new energy into the Rockets program. Scout.com named him Conference Recruiter of the Year in 2010 and 2011 and they started to evolve into a contender again.
Somewhat soft-spoken, make no mistake Candle is as competitive as they come. If somebody is keeping score, he wants to win. That obviously goes for games on Saturday, to signing the best recruiting class all the way down to winning the Tuesday, Thursday noon basketball games on campus with his staff. And asking around the facility, Candle is the best player in those games, a versatile scorer that gets buckets in a variety of ways.
Candle rarely raises his voice, and when he does it's usually for something like an untidy locker room.
When Beckman left for Illinois in 2012, Candle's college teammate Matt Campbell was named head coach and pegged Candle his offensive coordinator. The Rockets kept trending up and come 2015 they won 10 games for the first time since 2001, the final one a bowl win over Temple, which happened to be Candle's first game as head coach after Campbell left for the same position at Iowa State.
"About 72 hours of mental frustration and grief and emotional turns for myself and wife," Candle said of the process that led to him becoming head coach. After getting passed over as the interim coach, Candle was off to Ames to be the offensive coordinator for the Cyclones and was even there for 24 hours sitting in meetings donning the Cyclones school logo before he got the call from Toledo athletic director Mike O'Brien to come back and talk about the position. O'Brien and Candle didn't need to talk long and later that early December day Candle was named head coach.
"That was a crazy three weeks," Candle said.
"You go from being an assistant coach, you have a great season, head coach takes another opportunity and there is a lot of question marks in every office in this building when that happens. But when this opportunity presented itself to be the head coach at a university I have so much respect for and certainly a chance to lead your own program at a place that has such strong tradition and history, and a team I believe has the pieces to do what we set out to do and win championships, was something I couldn't pass up."
Waiting for the newly-hired Candle was a Temple team and their hot young coach in Matt Rhule that was 10-3 and ranked No. 24 in the country. During a rain-soaked day unforgettable day, Candle called plays from the press box as he was accustomed to, and the Rockets came together in less than three weeks to knock off the Owls 32-17.
The game ball sits proudly behind Candle's desk in his office.
"We had to reset and a lot of young coaches had to step up and help through the transition of things and some of our grad-assistants did an awesome job of managing position rooms and some of the coaches that stayed around I certainly owe them a lot for doing that," Candle said.
When asked what he learned in his first full season as head coach, Candle said "where do I begin?"
Trust his gut for one.
His mentor in legendary Mount Union coach Larry Kehres, who Candle was part of two National Championships as the team's leading receiver and then two more working as an assistant coach, laughed when Candle talked about passing on the play-calling to one of his assistants.
"He was like okay we'll see how that goes," Candle said.
Candle didn't know until right before kickoff of the season opener this year that he'd continue calling plays. It felt right, he made the decision to keep doing it and one of the top offenses in the MAC kept churning out yards and points last season.
Strong instincts and a high football IQ, while taking some things he's learned from Kehres, and Beckman and Campbell sees Candles quickly evolving into one of the game's best.
On the recruiting trail is where Candle continues to separate himself. He's looking for "like-minded" people to keep his program rolling. Guys like senior running back Terry Swanson who to this day has a screen shot of where he was ranked by 247Sports (No. 116 in the Composite Rankings) coming out of Aliquippa (Pa.) High as motivation. Look for Swanson to explode in 2016 after he emerged last year in rushing for 923 yards in splitting carries with NFL bound Kareem Hunt.
"I have no issue with our guys having that chip on the shoulder," Candle said. "I kind of promote it. Thats been a rally cry around here for a few years now and we certainly embrace it."
Candle embraces every part of recruiting. His day starts each morning before 6 a.m. with him sending messages to top targets. Those recruits wake up with a note from the top of the food chain and know they're a priority for the Rockets.
"You're so accessible in today's world with your cell phone and kids can get at you any time of the day," Candle said. In the background you can see the software showing on his computer monitor is setup to watch more film of another potential prospect. "I think any time that you have a free moment you're recruiting throughout the course of the day. I think that is one thing we take a lot of pride in. We don't want to be outworked when it comes to that.
"We spend a lot of time on scheme, don't get it wrong, but the recruiting aspect of things, we definitely know that's the lifeblood of your program and you have no shot if you don't have good players."
Like they did under Campbell, the four-hour radius is really big on the trail for the current Toledo staff. Pittsburgh, Chicago, Detroit, Indianapolis and of course the state of Ohio are combed over. Certainly they'll go down to Florida and now they're branching out into New Jersey. Candle is in the middle of it because identifying the top guys through evaluation is only half the battle. Then you have to close them or the rest was just essentially wasted time.
Often times college programs use their head coach as the closer. Candle is just as much a presence in the early innings.
"It has to start with you from a getting to know the prospect and I think a lot of times the process can start with the assistant coaches and some of the off-the-field people and the evaluation phase of it, but I think the actual recruitment, I think the head coach's role is huge in developing the relationship piece of it. Obviously you have the final call of all the evaluation pieces and who you're really going to commit to and extend a scholarship offer to. I think it kind of works up the chain in the evaluation stage but I think as the head coach you must do a good job of maintaining that relationship with the guys you plan on going after and attacking."
That continues for Candle once they get on campus. His office door is always open and he makes it one players actually want to walk through.
Candle loving life right now. The night before this interview he was out trying to help raise money for the Toledo football program. On this day he's excited about the potential opportunity to throw passes to Hunt who is working out for an NFL team as NCAA rules say no quarterback on campus with eligibility can throw for him. There's a buzz in the hallway outside his office as his assistant coaches appear to be having fun as they bounce from meeting to meeting. Candle's first child is due in May and the second-highest paid coach in the MAC (Tim Lester at Western Michigan) now has job security through 2021.
"I don't think (being head coach) changes the fabric of who I am really at all to be honest with you," Candle said. "It's all about relationships and about the substance of what's in your program."
CBS Sports HQ Daily Newsletter
Get the best highlights and stories - yeah, just the good stuff handpicked by our team to start your day.
Please check the opt-in box to acknowledge that you would like to subscribe.
Thanks for signing up!
Keep an eye on your inbox for the latest sports news.
Sorry!
There was an error processing your subscription.
Martin led Tennessee to a national championship in 1998

Moglia helped transition the program from the FCS to the FBS

There aren't many draft picks to go around for these players, though
Taking a look at 10 of the best players available and where they might be heading in Febru...

Hammock played and worked as an assistant for the Huskies

Enos was hired as the Hurricanes offensive coordinator earlier this month