Tommie Frazier tweets it's 'time for change' at Nebraska
A Nebraska legend isn't shy about expressing his frustration with the Huskers' ongoing struggles under Bo Pelini.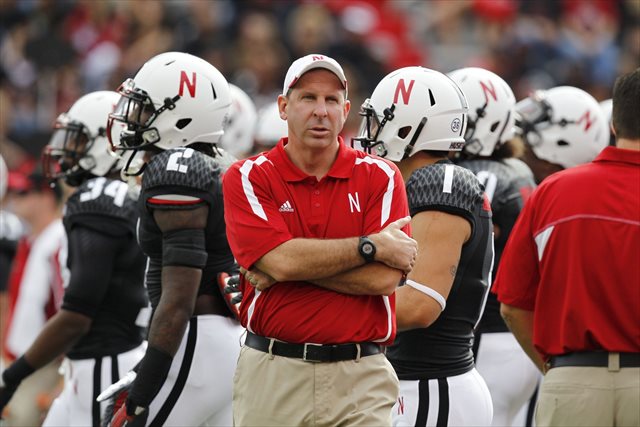 After his Huskers' 41-21 loss to UCLA Saturday -- the fourth time in Nebraska's past five games his defense has given up 500 yards or more -- it's no surprise that Bo Pelini is under fire. But there's "under fire," and then there's whatever "program legend publicly calls for the dismissal of the entire defensive staff" is.
Tommie Frazier might be a kind of walking college football folk tale (they're even letting him into the College Football Hall of Fame now! How nice!), but he still has the requisite Twitter account, and he used that account Saturday to blast the Huskers defensive coaching performance and say it was "time for change" in Lincoln.
The complete, verbatim text of the extended-length tweet:
After letting it sink in for about 4 hours I still struggling. It's time to get rid of the defensive play caller, the Dc, lb dl and db coaches. I hate saying this but this crap is getting old. How in the hell do you not make adjustments or put your players in the position to compete? If this is what is going to happen for the remainder of the season, count me out. I don't care if we lose a game but the way we are losing is just not what #Nebraska fans deserve. I have fought, bled, and cried over this program. I didn't do all that for the program to become what it has today. Time for change! I will comment about the offense this week on Tommie's X's and O's. Trust me you don't want to miss it. #Huskers
In a word: ouch. And it became clear how much Frazier's words stung when Pelini was asked about Frazier's comments during his Monday press conference. Via the Lincoln Journal-Star:
"If he feels that way, so be it. We don't need him." -- Bo Pelini on weekend tweet by Tommie Frazier.

— Brian Rosenthal (@HuskerExtraBR) September 16, 2013
With the Husker faithful already baying for blood, it may not be the wisest move on Pelini's part to pick a public spat with who might be the most popular player in school history. It may, in fact, be the complete opposite.
But it's also hard to blame Pelini for having his feathers ruffled, so to speak. Those are his coaching colleagues Frazier is suggesting be unemployed, and it's worth noting that Saturday wasn't actually the worst defensive showing in the Huskers' recent struggles. Forget the ballpark: at 504 yards and 6.5 yards per-play allowed to an offense with the likes of Brett Hundley and Shaquelle Evans, Saturday wasn't even in the same zip code as allowing 602 yards on 8.1 yards per play to Wyoming or 640 and 10.5 (10.5 yards per play!) to Wisconsin in the 2012 Big Ten title game. It also didn't help defensive matters, obviously, that after scoring to put the Huskers up 21-3, the Nebraska offense picked up a grand total of four first downs over its next six possessions -- one of those via penalty, and three of them on the same drive.
Viewed through that lens, Saturday's defensive performance actually represented improvement for the Huskers, particularly given that it came against an opponent of UCLA's caliber. That's cause for hope, and that the Big Ten Legends division still looks entirely winnable -- hi, death-defying Michigan escape over Akron -- is more cause yet.
But hope is one thing, and reality is another. And the reality is that improvement or not, it remains extremely difficult to visualize a defense as porous as the Huskers' getting anywhere near a league championship. Frazier's call for midseason wholesale coaching changes is -- it almost goes without saying -- premature and over-the-top. But that doesn't mean his intense frustration, and the frustration shared by so many in Lincoln, isn't entirely understandable. If it's hard to blame Pelini for getting defensive, it's also not hard to suggest that acknowledging that frustration might have been the more politically savvy move.
HT: Journal-Star
Cristobal's first game at Oregon ended the same way Chip Kelly's did

Conner Manning and the Panthers dominated the Hilltoppers in the Cure Bowl

You can only go to the well so often before it dries up
The Trojans beat LSU earlier in the year and now have their first 11-win season as a FBS t...

Saban has never been a fan of the early signing period and made it clear that hasn't chang...

Paul Tyson is a three-star quarterback prospect for the 2019 recruiting class