Tommy Tuberville to be new Cincinnati head coach
Former Auburn head coach makes the unusual move from the Big 12 to the Big East.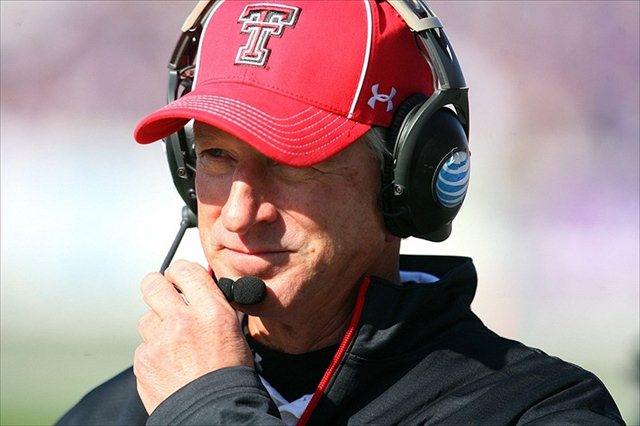 Tommy Tuberville is on his way to Cincinnati. (US Presswire)
How many coaches in recent college football history have voluntarily left the Big 12 for the Big East? Until Saturday, the answer might have been zero -- but Tommy Tuberville has made that number at least one.
Per the school's official athletics Twitter feed, Cincinnati has hired Tuberville away from Texas Tech to replace Butch Jones, who took the Tennessee job on Friday. Tuberville leaves Tech after three seasons and with a 20-17 overall record but only a 9-17 mark in Big 12 play. 
Tuberville will be formally introduced at Fifth Third Arena at 6:30 p.m. ET on Saturday.
The Red Raiders went 7-5 under Tuberville in 2012 and will play -- likely under an interim coach -- in the Dec. 28 Meineke Car Care Bowl in Houston. Cincinnati went 9-3 and earned a share of the Big East title in Jones' final season.
Tuberville was viewed as a top-notch replacement in 2010 after Mike Leach's controversial departure from Lubbock. He arrived after his own controversial departure from Auburn with a 110-60 lifetime record, undefeated 2004 season and reputation for defensive acumen going back to his days as a defensive coordinator at Miami.
But Tuberville's Lubbock tenure never seemed to gain much traction, starting with an 8-5 mark in 2010 buoyed by a 4-0 mark against lower-rung nonconference competition. His Red Raiders seemed to be turning the corner with huge upsets of top-five Oklahoma in 2011 and top-five West Virginia in 2012, but in the end were never able to do more than play spoiler in the Big 12.
Tuberville will seek to uphold the Bearcats' recent tradition of successful head coaching hires. Each of Cincinnati's past three head coaches -- Mark Dantonio, Brian Kelly and Jones -- have each gone on to major BCS programs. That fact that might explain Tuberville's willingness to make what on the surface seems like a lateral move at best.
Stanford produces apps and Super Bowl participants

The Alabama QB has a new look after the Tide claimed another national title

Young was injured during Miami's Orange Bowl loss to Wisconsin
The movie will zero in on former Penn State coach Joe Paterno during the Jerry Sandusky sc...

Bidding for Salaam's trophy, which the auction house says was obtained legally, ends Satur...

Locksley has been the offensive coordinator at Illinois and Maryland during his coaching c...