Tomorrow's AP Top 25 Today, Week 9
Our weekly projection of what you'll see from the AP Top 25 when it's released on Sunday.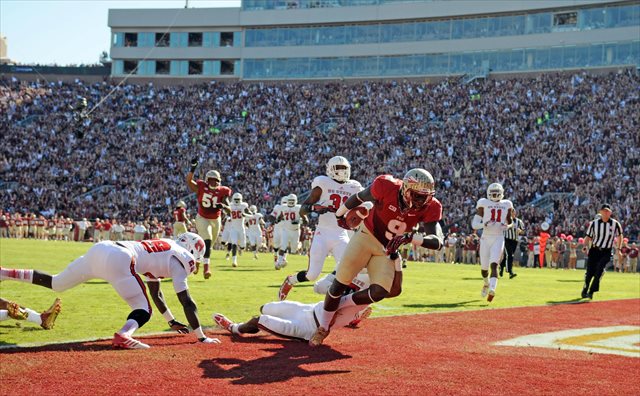 Each Saturday night, the Eye on College Football takes its best guess at what we'll see on Sunday morning from the AP Top 25. Here's where the poll stood entering this week, and here's our Week 9 projection, which will be updated as results are finalized late Saturday (last week's ranking in parentheses):
1. Alabama (1): Between the Tide's comprehensive domination of Tennessee and LSU's sleepwalk past Furman, an undefeated regular season seems more likely than ever.
2. Oregon (2): The Ducks had by far their slowest start of the season, sitting tied with UCLA at 14 at the half. But a 28-0 run after the break fueled Mark Helfrich's team to another huge win, and a win over ranked competition at that. Florida State trailed the Ducks by only 32 points in the balloting last week, and though that's not as close a margin as it might appear at a glance, it's close enough that the 'Noles 35-0 lead on N.C. State after one quarter might propel them to No. 2. But in the end, the Bruins are too much better a team than the Wolfpack to expect enough voters to make the switch.
3. Florida State (3): Then again, the AP hasn't been afraid to shake things up based on week-to-week performance; see the 'Noles jumping Ohio State last week. After another crushing defeat of an ACC rival, Florida State leapfrogging the Ducks wouldn't be a total shock.
4. Ohio State (4): The Buckeyes finally dominated a lesser Big Ten opponent the way they've been expected to dominate them all season. But even after a 49-point win, the way the 'Noles and Ducks are playing, the Buckeyes still simply have to hope one of the three teams ahead of them loses a game if they want to make any progress in the polls.
5. Baylor (6): Another week, another complete demolition of an overmatched opponent. (The Bears had outgained the Jayhawks 505-91 at halftime.) Amazingly, with a Week 10 bye, the Bears still have yet another week to go before playing their first truly interesting game vs. Oklahoma in Week 11.
6. Stanford  (8): Cardinal should leapfrog the sloppy Hurricanes by virtue of winning their late-night trip to Oregon State, but it wasn't a thing of beauty; the Beavers held Kevin Hogan to all of 88 passing yards and finished with just three fewer yards overall. It looked more of a piece with the Cardinal's escape vs. Washington and loss to Utah than the home thumpings of Arizona State and UCLA.
7. Miami (7): Miami may have made a big jump up the polls last week after the carnage in the bottom half of the top 10, but it should have been an even bigger jump; they were jumped themselves by both Missouri and Baylor. After needing a second last-minute touchdown in as many weeks to escape an ACC also-ran -- this time at home -- they look poised to be jumped again.
8. Clemson (9): Given the terrible injury state of the Terps, needing a 21-point fourth-quarter just to secure a 13-point win isn't one Dabo Swinney's going to post into his scrapbook.
9. Auburn (11): Blew out FAU in a manner befitting a top-10 team.
10. Missouri (5): The Tigers were up 17-0 and had the ball with less than 2 minutes remaining in the third quarter, in a game where victory meant only a miracle run from Tennessee -- last seen losing by 35 at Alabama -- could keep them from winning the SEC East. And from that point, they gained one first down and allowed 17 points to send the game into overtime, where they allowed a fourth-down touchdown and missed a 26-yard field goal. Losses do not come more brutal. (They'll still be ranked ahead of LSU and Texas A&M, though.)
11. LSU (12): Did not blow out Furman in a manner befitting a team ranked anywhere in the top 25, going into halftime up just 20-16. But results around them and general respect for the SEC probably won't see them any lower than No. 12 at the minimum.
12. Texas A&M (13): Given that 1. both the Aggies' losses come to teams in the top 10, while LSU's both came to teams outside the polls 2. A&M looked vastly more impressive in disposing of Vandy Saturday, they should likely move past the Tigers. But they likely won't.
13. Oklahoma (17): Sooners will argue that after adding the previously undefeated Red Raiders to a resume that already included a road win at Notre Dame, they deserve to leap past Fresno. It won't be a total surprise if the voters agree.
14. Texas Tech (10): It was a spirited performance in Norman, but with no true quality wins yet for the Red Raiders and the same record as the Sooners, there's no way theyshould rank ahead of the team that beat them Saturday.
15. Fresno State  (15): After needing a last-play field goal block and a stop in overtime to escape 3-3 San Diego State, the Bulldogs -- who flirted mightily with danger against Rutgers, Boise State and Hawaii, none of which appear to be juggernauts -- look every bit the part of a future overmatched BCS blowout. 
16. Oklahoma State (19): A storming second-half performance should see the Cowboys bounce past a Louisville team the voters clearly don't respect after its freefall last week.
17. South Carolina (20): The Gamecocks will spend the rest of the season as the zombie Rasputin of the SEC East race, having seemingly been dead and buried multiple times at Missouri. But here they are, now needing just one Tiger slip-up -- either at Ole Miss or vs. Texas A&M in the season finale -- to hurl themselves directly into the mix.
18. UCLA (12): Back-to-back non-competitive losses for a team not from the SEC would usually see a bigger drop than this, but those losses did come at Stanford and Oregon.
19. Louisville (18): Returned to health against USF, as much a team as flawed as the Bulls can be a measure of anything.
20. UCF (21): If enough voters happen to have the Cardinals and the Knights side-by-side on their ballot, UCF's head-to-head win could (and should) propel them above the preseason AAC favorites. But there was still a reasonable enough gap between the teams last week to think Louisville will get the edge again this week, even after UCF's bludgeoning of UConn. 
21. Wisconsin (22): Badgers had a bye week. 
22. Northern Illinois (23): The Huskies pummeled Eastern Michigan at home, for whatever pummeling Eastern Michigan at home is worth.
23. Michigan (24): Wolverines had a bye week, during which they escaped with an unimpressive 7-point non-win.
24. Notre Dame (NR): The Irish haven't always been perfect this season ... but they looked good against Air Force, and they happen to have beaten the very next two teams on this list.
25. Arizona State (NR): Sun Devils had the week off, but last week's domination of Washington should still edge them into the last spot on the ballot ... assuming voters aren't too enamored with Michigan State's blowout of illinois.
Also under consideration: Michigan State, Virginia Tech, BYU, Houston, Texas
Dropped out of projected rankings: Nebraska, Virginia Tech
Teams marked with an asterisk have games ongoing as of this update. Projection assumes Vegas favorites win.
Schiano would have made $4.4 million in Year 1 with annual raises as part of a six-year de...

Dykes spent this season as an offensive analyst at TCU

The "Wyoming Wild Man" notched six tackles for loss as a junior in 2017
Zaycoven Henderson was charged with aggravated assault with a deadly weapon

Patterson is a former No. 1 recruit in the country

Baker Mayfield and two Sooner teammates made the first team