Tomorrow's (or Tuesday's) Top 25 Today: Week 1
Our weekly projection of what you'll see from the AP Top 25 when it's released on Sunday, or in this particular case, Tuesday.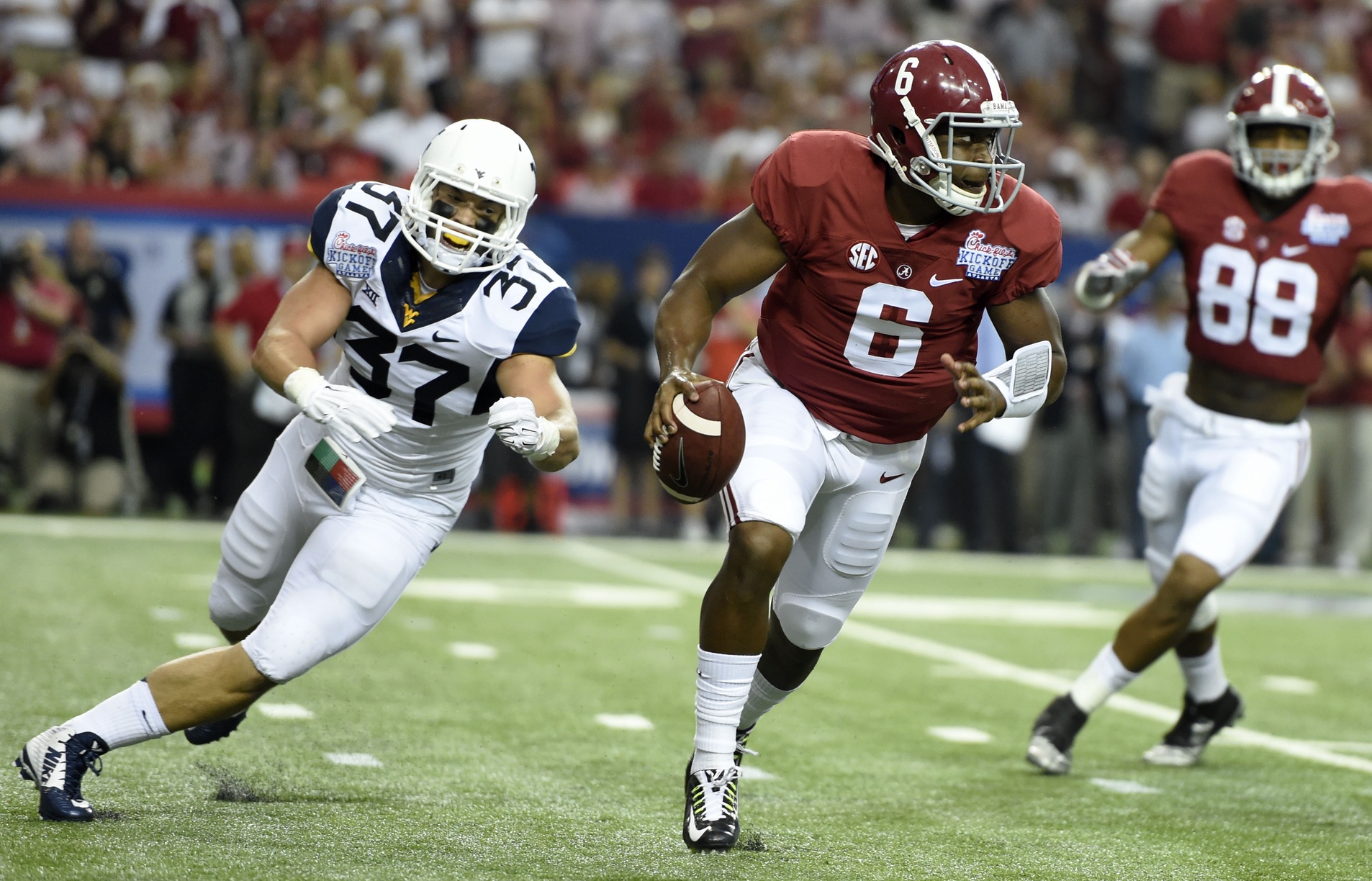 Each Saturday night, the Eye on College Football takes its best guess at what we'll see on Sunday morning -- or in this first week, Tuesday around noon -- from the AP Top 25. Here's where the poll stood entering this week, and here's our Week 1 projection.
Teams marked with an asterisk have yet to play or have a game in progress. Projection assumes all Vegas favorites playing or yet to play go on to win. Preseason ranking in parentheses:
1. Florida State  (1). The Seminoles got all they would want and far, far more from Oklahoma State, but held on for a 37-31 victory. Unless the Cowboys are much better than expected, the 'Noles may not find their path to the College Football Playoff as easy as expected.
2. Alabama (2). Blake Sims put up solid numbers, Alabama dominated from a statistical perspective, despite all of West Virginia's brilliance on offense the Tide still won by 10 ... so why did it feel like the Tide really struggled Saturday? (The 'Eers loss to Kansas last year, probably.)
3. Oregon (3). Ducks did what they were supposed to do vs. FCS South Dakota, winning 62-13. Marcus Mariota: 14-of-20, 267 yards, 3 touchdowns passing, 43 yards, 1 touchdown rushing.
4. Oklahoma  (4). The Sooners had no problems with Louisiana Tech, up 21-0 at the end of the first quarter and rolling to a 48-16 victory.
5. Auburn (6). After some first-half defensive hiccups, the Tigers stiffened on D, brought Nick Marshall on at quarterback, and ran away from an Arkansas team that just doesn't have the needed offensive firepower yet. 
6. Ohio State (5). The Buckeyes might hold on to their top-5 ranking, and should, given that 17-point wins over a Navy team that might win 9 games is nothing to sneeze at. But the preseason voting was done before Braxton Miller's injury, and the Buckeyes were still only 9 points ahead of Auburn.
7. UCLA (7). It wouldn't be a shock to see the Bruins slip behind Michigan State after wheezing past Virginia on the strength of three first-half defensive touchdowns ... and just one touchdown from its offense.
8. Michigan State (8). Jacksonville State is a good FCS program that many thought could hang around for at least a half. Nope.
9. Baylor * (10). Assuming Bears take care of business vs. SMU in McLane Stadium's debut, they should occupy South Carolina's departed spot.
10. Stanford (11). They let UC-Davis across midfield! But not until the final play of the game.
11. Georgia (12). Welcome to SEC East favoritehood, Bulldogs, after South Carolina's pratfall and Todd Gurley reminding the nation that yes, he is the biggest weapon at tailback in the country.
12. LSU  (13). This might have been the quintessential Les Miles game: down 24-7, nothing happening offensively, defensive line lost vs. the Badger running attack, Miles calls for a fake punt ... and the Tigers rip off the game's final 21 points to rack up a huge nonconference win. The quarterback situation is a sore point, but will it matter?  
13. USC (15). Trojans picked right where they left off in their bowl game when it comes to thumping Fresno State, leading 31-7 at the half and cruising to an impressive 39-point win. 
14. Notre Dame (17). What off-field issues? The Irish pounded Rice 48-17 as Everett Golson returned to the field in style.
15. Texas A&M (21). How high can the Aggies rise? After the most impressive performance of Week 1 by some margin, the guess here is that they'll win a head-to-head comparison with their SEC West brethren from Oxford and land here.
16. Ole Miss (18). On offense the Rebels were sloppy and Bo Wallace was pick-prone, but on defense the Rebels were violent tacklers and Robert Nkemdiche a monster. We'll see how Jekyll-and-Hyde works out vs. teams with a little more talent than the Broncos.
17. Arizona State (19). Sun Devils got a nice Thursday night workout in against Weber State.
18. South Carolina (9). The good news: one win over Georgia in two weeks and the Gamecocks are right back in the thick of the SEC East race. The bad news: a loss all but eliminates them, and there was little evidence in either their loss to the Aggies or Georgia's win over Clemson to think they can manage it.
19. Kansas State  (20). Bill Snyder's Wildcats crushed a decent FCS team in Stephen F. Austin, 55-16. It's a fine start. 
20. Nebraska (22). Huskers 55, FAU 7. Just going to leave this here: 
CARL HAS BEEN AVENGED

— Fake Bo Pelini (@FauxPelini) August 30, 2014
21. Wisconsin (14). Badgers came agonizingly close to a big win in SEC country that would have placed them squarely in the college football playoff conversation, given their manageable schedule. But when your starting quarterback goes 8-for-24 for 50 yards with 2 interceptions, you can't have too many complaints.
22. North Carolina  (23). Slow start for the Tar Heels vs. Liberty, but a second-half offensive explosion made things relatively easy in the end. 
23. Missouri (24). Tigers only led FCS South Dakota St. 21-18 in the third quarter before Marcus Murphy's 100-yard kick return for a score changed the game. 
24. Washington (25). The Huskies made hard, hard work of their trip to Hawaii, getting outgained 421-336 and needing both a late clinching stop and icing drive to escape the 17-point underdog Rainbow Warriors. Can Cyler Miles rescue that offense?
25. Clemson (16). For a half, the Tigers looked how they wanted to look: crisp offense, playmaking defense. They did not look much like that at all in the second half. It's possible they (or Washington) slip out of the top 25, but few of the teams outside of the preseason rankings made any real statements. Louisville vs. Miami on Monday night, maybe? 
Dropped from projected rankings: None
Also under consideration: Texas, Louisville
From Chip Kelly to Billy Napier, did these schools and coaches make the right calls this silly...

SportsLine's computer model simulated every college bowl game 10,000 times, with surprising...

Everything you need to know to watch and pick the Boca Raton Bowl on Tuesday
College football recruiting begins earlier than normal with a National Signing Day in Dece...

Getting Leavitt back was obviously high on Cristobal's list of priorities

Cristobal's first game at Oregon ended the same way Chip Kelly's did