Tomorrow's Top 25 Today: Week 10
Our weekly projection of what you'll see from the AP Top 25 when it's released on Sunday.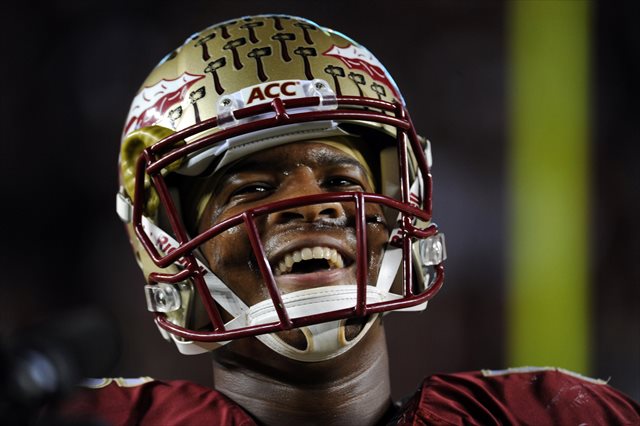 Each Saturday night, the Eye on College Football takes its best guess at what we'll see on Sunday morning from the AP Top 25. Here's where the poll stood entering this week, and here's our Week 10 projection, which will be updated as results are finalized late Saturday (last week's ranking in parentheses):
1. Alabama Crimson Tide (1): Tide had a bye week. Just to warn you: fully half of the top 12 listed below had the weekend off, thanks to the three blockbuster matchups between those six teams -- two of them on Thursday night -- slated for next week.
2. Oregon Ducks (2): Ducks' margin over Florida State in last week's poll was large enough that even the Seminoles' battering of Miami shouldn't be enough to force a switch between the two teams.
3. Florida State Seminoles  (3): Slow start, half-paced middle, dominating finish. If the Ducks had shown any real vulnerability over the past several weeks, this would be the nation's No. 2 team. As is, it looks like the status quo -- no amount of domination will help if the Tide and Ducks run their respective tables.
4. Ohio State Buckeyes (4): Can't ask for anything more from the Buckeyes than back-to-back Big Ten wins by a combined score of 119-14. But it's still not going to matter a lick after the Hurricanes went down in Tallahassee.
5. Baylor Bears (5): Off in preparation for their showdown with the Sooners in Waco this Thursday.
6. Stanford Cardinal (6): And hey, speaking of Thursday showdowns, the Cardinal were off as they wait for the Ducks' arrival.
7. Auburn Tigers (8): It's become clear that if you want to beat Auburn, you're going to have to at least slow down their rushing attack. Letting Tre Mason go for 168 yards and the Tigers go for 233 in total on 5.1 yards an attempt does not qualify.
8. Clemson Tigers (9): Oh hey, dominant Clemson that destroys weaker ACC competition, welcome back. We missed you.
9. Missouri Tigers  (10): The Tigers were in trouble in the SEC East after last week's meltdown, right? It never looked that way against Tennessee, with the Missouri defense keeping the Vols out of the end zone for all four quarters and Maty Mauk enjoying his best game as a starter.
10. LSU Tigers (11): Off as they get ready for their trip to Tuscaloosa.
11. Texas A&M Aggies  (12): Lackluster first quarter for the Aggies against UTEP, but 48-0 runs tend to obscure that sort of thing.
12. Oklahoma Sooners (13): Had a bye. Win over Notre Dame continues to appreciate in value. Jury still out on value of loss to Texas.
13. South Carolina Gamecocks (14): Gamecocks kept pace with Missouri, pulling away from Mississippi State at home. But after Tennessee's last two weeks, still have to kick themselves that they need any help at all after losing in Knoxville.
14. Oklahoma State Cowboys  (18): Cowboys got a huge win in Lubbock and rejoin Oklahoma and Baylor on the shortlist of Big 12 contenders. Oh, and Texas, I guess, when Texas plays an actual team again.
15.  Miami (Fla.) Hurricanes   (7): Hurricanes played just well enough against the Seminoles not to suffer a massive drop ... but not quite well enough to expect to rank much higher than this. After this final score, voters may remember the close calls against UNC and wake Forest, too.
16. Fresno State Bulldogs  (16): Same ol', same ol': Derek Carr throws for a giant pile of yards (487 in this case), the defense gives up enough plays to keep the opponent hanging around, the Bulldogs pull it out in the end. It might not be pretty, but it still has Fresno on target for a BCS berth.
17. Michigan State Spartans (24): All of a sudden, the Spartans look like the clearcut biggest remaining hurdle for Ohio State if they can win the Legends division. After blistering Michigan Saturday to move to an impressive 8-1, will anyone bet against them?
18. UCLA Bruins  (17): Bruins took a little longer than expected to get going against Colorado, but ended up cruising to a 22-point win.
19. UCF Knights (19): Knights had a bye to happily soak in their favorite status in the AAC.
20. Louisville Cardinals (20): Cards had a bye to unhappily soak in their former-favorite status in the AAC.
21. Northern Illinois Huskies (21): The Huskies have largely looked the part of a BCS-busting candidate on the road and did again Saturday, crushing UMass. But any real polling traction will have to start with a win over fellow league heavyweight Ball State in midweek #MACtion a week from Wednesday.
22. Wisconsin Badgers (22): The Badgers won by three scores at Iowa, reconfirming that they might be the most underrated team in the poll. 
23. Arizona State Sun Devils (25): And speaking of underrated, as the loss to Notre Dame continues to look more explicable, the Sun Devils' pounding of Washington State in Pullman suggests they're also members of the "most underrated" club.
24. Texas Tech Red Raiders  (15): Road loss in Norman is one thing. Home loss to a team that lost in Morgantown is another, particularly when the Red Raiders' list of victims is so thin.
25. Notre Dame Fighting Irish (NR): The Irish got all they wanted and then some from Navy, but given their lead on the rest of the "Also Receiving Votes" crowd last week, they should take the No. 25 spot all the same.
Dropped out of projected rankings: Michigan
Also under consideration: Texas 
Teams marked with an asterisk have games ongoing as of this update. Projection assumes Vegas favorites -- including Oklahoma State -- win.
These three Pac-12 teams could surprise in 2017

Maybe this wasn't the use of social media considering the circumstances

Saban has thoughts on conference schedules, changing bowl requirements and expanding the p...
Chip and Barton pick win totals for Ohio State, Penn State, Michigan and more

These three teams could surprise quite a few people in 2017

With the Chargers moving to Los Angeles, the Aztecs now need to find a new home -- fast