Tomorrow's Top 25 Today: Week 11
Our weekly projection of what you'll see from the AP Top 25 when it's released on Sunday.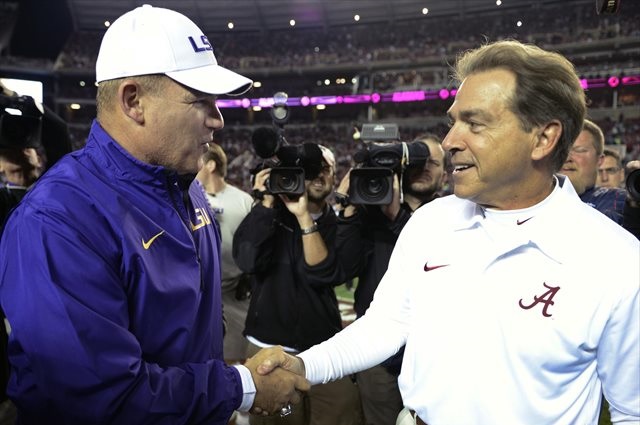 Each Saturday night, the Eye on College Football takes its best guess at what we'll see on Sunday morning from the AP Top 25. Here's where the poll stood entering this week, and here's our Week 11 projection, which will be updated as results are finalized late Saturday (last week's ranking in parentheses):
1. Alabama Crimson Tide  (1): The Tide not only ended up beating LSU after an up-and-down first half, they ended up beating them by 21. If there was any doubt as to the nation's No. 1 team before Saturday, there's not now.
2. Florida State Seminoles (3): Between the Seminoles' freight-training of Wake Forest and Florida's continued offensive feebleness, the chances of FSU being challenged before the ACC title game look to be right about nil.
3. Ohio State Buckeyes (4): The Buckeyes had a bye week ... and thanks to Oregon's loss, still enjoyed arguably their biggest weekend of the season.
4. Baylor Bears (5): Bigger tests than playing Oklahoma at home are still to come for the Bears, but any doubts as to whether their defense is legitimately improved have been conclusively dispelled.
5. Stanford Cardinal (6): Cardinal will argue the win over Oregon should give them a bigger bump, and with the margin between Stanford and Baylor at only 20 points in last week's poll, it won't be a shock if they get it. But the Bears' dominance of Oklahoma and Ohio State's name-brand recognition should keep the Cardinal at No. 5.
6. Auburn Tigers (7): From national champions in 2010, to winless in the SEC and a fired head coach in 2012, right back after thumping Tennessee to a 9-1 record and a likely No. 6 AP ranking in November in 2013. Has any FBS program been on a bigger roller coaster this decade than the Tigers?
7. Clemson Tigers (8): These Tigers had the week off, and could pay for it with a slip down the rankings if the voters were impressed by Missouri's win at Kentucky. But there was a large gap in last week's poll between Clemson and Gary Pinkel's team.
8. Missouri Tigers (9): These Tigers -- yes, that's three of them in a row -- dismissed the Wildcats with all requisite ease. But their lead over South Carolina in the SEC East still looks tenuous, since if Mizzou can't sweep Ole Miss and Texas A&M, they'd need either Georgia win at Auburn or a Gamecock loss to Florida -- and both of those results looked far less likely after this week.
9. Oregon Ducks (2): The Ducks might not slip to the bottom of the top-10 one-loss pecking order. But if the voters watched them do little-to-nothing for three quarters in Palo Alto, they will.
10. Texas A&M Aggies (11): The Aggies haven't always been perfect, even in victory; Manziel has tossed picks, the defense has yielded points early and late, and leads that should have been safe have been cut into not-safe territory. (All of this happened, not for the first time, against Mississippi State Saturday.) But the bottom line is that only two teams have beaten the Aggies -- and those two rank No. 1 and No. 6 in this projection and have a combined record of 17-1.
11. South Carolina Gamecocks (13): Gamecocks had the week off to prepare for Florida, not that it appears they'll have needed it.
12. Oklahoma State Cowboys (15): Cowboys dismantled Kansas as expected. Things get serious again the next two weeks, though, as they go to Texas and host Baylor.
13. UCLA Bruins (16): Bruins held off Arizona in a tough Pac-12 road game. Jim Mora's team is 7-2, with their only losses at Stanford and at Oregon ... so if the Pac-12 schedule-maker doesn't get a Christmas Card from Westwood, you know why.
14. Fresno State Bulldogs   (17): The Bulldogs kept their BCS-busting run intact on the road at Wyoming, and looked as impressive in doing so as they have in weeks, posting easily their biggest margin-of-victory in Mountain West play to date.
15. Michigan State Spartans (18): Spartans had a week of rest to enjoy the Michigan win ... and get ready for a date with Nebraska that could decide the Legends Division.
16. UCF Knights (19): The Knights' remaining schedule after surviving Houston Saturday: at Temple, vs. Rutgers, vs. South Florida, at SMU. That's not to say an upset is impossible -- the Knights did need a late escape at Memphis, a team at least as poor as any of those just listed -- but a UCF BCS berth now looks exceedingly likely.
17. LSU Tigers  (10): The Tigers, as expected, were game at Alabama. But their two first-quarter fumbles -- one on the Tide goal-line, one that handed Alabama a field goal -- essentially put Les Miles' team in a 10-point hole. And they never really quite dug out.
18. Louisville Cardinals (20): The Cardinals coasted past UConn in sleepy Storrs Friday night, but still suffered a huge loss when Houston couldn't win at UCF -- a result that would have propelled the Cards back into a three-way tie atop the AAC. Now, the Cards are left hoping for some help from, well, Temple, Rutgers, South Florida, or SMU.
19. Wisconsin Badgers (21): Another week, another comfortable Badger victory, this time over a solid BYU team. Badgers still arguably the most underrated team in the poll.
20. Northern Illinois Huskies (22): No game this weekend for the Huskies as they prepare to face 9-1 Ball State in a critical Wednesday-night #MACtion showdown. 
21. Oklahoma Sooners (12): Yes, Baylor's defense isn't the Swiss cheese unit it used to be. Yes, it's even better at home. Scoring 12 points on it is still a stunning failure for a team with the Sooners' offensive pedigree.
22. Arizona State Sun Devils (23): The Sun Devils needed a furious rally to beat Utah in Salt Lake City, but at least they made that rally -- which is more than Stanford can say, remember.
23. Miami (Fla.) Hurricanes (14): Going from the top-10 to No. 23 is a steep drop this late in the year, but 'Canes haven't looked like a top-10-quality team for a while now, have they?
24. Texas Longhorns (NR): More than one Texas supporter has questioned why the Longhorns hadn't been able to reenter the poll despite only having two losses (both of them coming in decisive fashion to teams outside of the polls, but nevermind that). After escaping Morgantown with a 47-40 overtime win, they'll get their wish -- just in time to face a hot Oklahoma State team.
25. Minnesota Golden Gophers (NR): One of the best stories in college football, the Gophers' losses (less-than-competitive outings against Iowa and Michigan) don't scream "top 25." But the 8-2 record and four-game winning streak vs. Northwestern, Nebraska, Indiana and now Penn State will likely speak loudly enough that it won't matter.  
Also under consideration: Georgia, Ole Miss
Dropped out of projected rankings: Texas Tech, Notre Dame
Teams marked with an asterisk have games ongoing as of this update. Projection assumes Vegas favorites win.
LSU at Florida has been picked as the SEC on CBS Game of the Week

The Michigan coach had quite a few things to say on Monday after their visit to West Lafay...

Injuries are ravaging an LSU team that is searching for an identity
Jones started answering an injury question and then went off about 'fake news'

The full ranking of all 130 college football teams includes TCU up and a major drop for Florida...

The charges all stem from an investigation into improper debit card charges