Tomorrow's Top 25 Today: Week 12
Our weekly projection of what you'll see from the AP Top 25 when it's released on Sunday.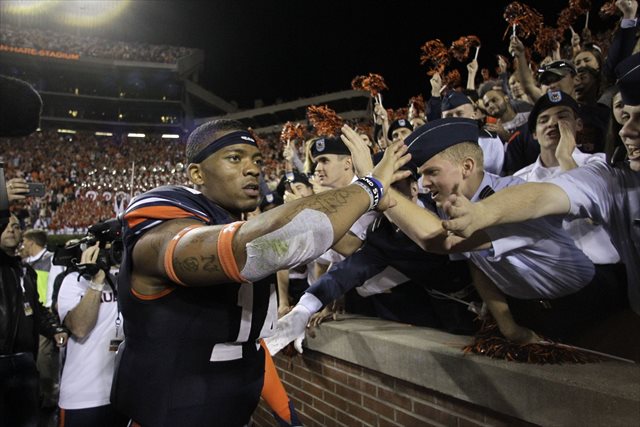 Each Saturday night, the Eye on College Football takes its best guess at what we'll see on Sunday morning from the AP Top 25. Here's where the poll stood entering this week, and here's our Week 12 projection, which will be updated as results are finalized late Saturday (last week's ranking in parentheses):
1. Alabama Crimson Tide  (1): If the Tide and Ohio State switched situations, you'd probably hear more about the four Alabama turnovers and the 13-point win at a Mississippi State team whose last two home games ended in wins over Bowling Green and Kentucky by a combined 7 points. But they're Alabama, and it's just one week, so you won't.
2. Fresno State Bulldogs (2): Another week, another total obliteration of an overmatched foe. Nitpick the 'Noles schedule all you want, but it's simply not possible to ask Jimbo Fisher's team to do more on the field than they've done.
3. Ohio State Buckeyes (3): For instance, the Buckeyes needed a couple of late scores to put away an Illinois team coming in on the wrong end of a two-year Big Ten losing streak. A 25-point road win should be a cause for congratulations rather than disappointment, but the impossible standard being set by the 'Noles means it won't be.
4. Baylor Bears  (4): In fact, Baylor was just 7 points behind the Buckeyes in last week's poll, and the Bears' big second half against Texas Tech could equal a changing of the guard at No. 3 ... but the guess here is that more of Stanford's votes will migrate to the Buckeyes than the Bears.
5. Oregon Ducks (6): An outstanding showing from Marcus Mariota helped paper over another slow start for the Ducks, but 44-21 over the same team that beat the Cardinal can't be called a poor performance. And ohheywould you look at that, thanks to their old foes at USC they're right back on top of the Pac-12 North and in line for the Rose Bowl again.
6. Auburn Tigers (7): The Tigers needed the break to end all breaks to maintain their SEC West hopes and dark horse run at a national title. But they got it, and in the end that's all that matters -- both in the win column, where Gus Malzahn already has seven more wins than in 2012, and likely in the polls. 
7. Clemson Tigers (8): Tajh Boyd and Co. administered the kind of whipping on Georgia Tech that reminded us, oh yeah, those guys were No. 3 not too long ago. But it still likely won't be enough to get them past Auburn.  
8. Missouri Tigers (9): Tigers had a bye as they get ready for Ole Miss and Texas A&M -- and their final charge at Atlanta.
9.  Stanford Cardinal   (5): Want to beat Stanford? Bring a big, physical defensive line. Oregon didn't have one, but Utah did, and USC did, too -- and the end result is that the Cardinal are on the outside looking in both in the Pac-12 North, and possibly the BCS.
10. Texas A&M Aggies (10): Aggies had a bye, too. Rivalry game vs. LSU (on CBS!) next week.
11. South Carolina Gamecocks (11): It wasn't pretty -- in fact, with all of one touchdown, it was just this side of hideous -- but the Gamecocks survived the visit from the Gators, and now need just one Missouri loss to win the SEC East. Not bad for a team that lost to Georgia and Tennessee.
12. Oklahoma State Cowboys (12): Texas or TCU (vs. Baylor) or Oklahoma (vs. the Cowboys) could still throw a wrench into things. But it's hard to think that after OSU's pounding of Texas in Austin Saturday, next week's battle between the Bears and Pokes will decide the Big 12 title.
13. UCLA Bruins (13): The Bruins keep plugging away, outlasting Washington on Friday night. The Pac-12 South title could very well come down to next week's visit from Arizona State.
14. Michigan State Spartans (14): The Spartans pulled away from Nebraska in Lincoln and look more likely than ever to give Ohio State their toughest test of the season in the Big Ten title game.
15. UCF Knights (15): The Knights pulled out the wildest win this side of Auburn's, scoring 10 points in the final 66 seconds to beat 1-8 Temple. A team with wins over Memphis and Temple by a combined 10 points maybe shouldn't be on its way to the BCS, but, hey, it's the BCS.
16. Fresno State Bulldogs (16): The Bulldogs potentially could have used UCF's difficulties to take a small jump up the ballot, but they had the week off.
17. Wisconsin Badgers (17): Let's be honest: it's a little ridiculous that a team that destroyed Indiana Saturday and whose losses are Wisconsin's losses is ranked No. 17 behind the likes of UCF. But the Badgers were a clearcut No. 17 last week, so don't expect a change. 
18. Northern Illinois Huskies (20): Huskies got their biggest win of the season Wednesday night vs. Ball State, potentially the best team NIU will see before their bowl. Guess here is that the #MACtion spotlight will be enough to give them a bit of a bump.
19. LSU Tigers (18): Tigers had a bye.
20. Louisville Cardinals (19): Cards trailed at halftime at home to Houston, Teddy Bridgewater never threw a touchdown pass, and they wound up winning a ho-hum game by the ho-hum score of 20-13. Louisville's defense is legitimate -- holding that Houstion offense to 13 points is excellent -- but it doesn't seem like there's much excitement left surrounding this season, is there?
21. Arizona State Sun Devils   (21): Sun Devils polished off Oregon State with a minimum of fuss, leading 20-3 at the half and winning 30-17.
22. Oklahoma Sooners (22): Sooners got a boost from Trevor Knight after falling in an early hole vs. Iowa State. Will that boost continue through the end of the season?
23. Duke Blue Devils (NR): Welp, folks, Duke is 8-2 and wins over Wake Forest and UNC (on the road, admittedly) from playing for an ACC title. Earth had a good run, we'd say. Enjoy the apocalypse.
24. Southern California Trojans (NR): Apparently the Trojans should have promoted Ed Orgeron before they ever tangled with Washington State or Arizona State. As is, it still happened soon enough for USC to take down the Cardinal and force themselves into the Pac-12 South discussion -- and this week's top 25.
25. Ole Miss Rebels (NR): While the Coaches opted for Minnesota at No. 25 last week, AP voters had the Gophers behind both the Rebels and Georgia. With Minnesota off this week and Ole Miss crushing Troy, expect the Rebels to get the nod. 
Also under consideration: Minnesota
Dropped out of projected rankings: Texas, Miami, Georgia
Teams marked with an asterisk have games ongoing.
Kevin Sumlin addressed Texas A&M's decision to cancel a rally scheduled for Sept. 11

Expectations are high for Charlie Strong at South Florida, and Houston looks to take the next...

There are new names to learn every season, and here are five to keep an eye on from the AA...
Taking a close, detailed and opinionated look at the AAC a week before the start of the 2017...

These Jayhawks got a tremendous surprise they weren't expecting

Jovon Durante announced on Twitter he's headed to FAU