Tomorrow's Top 25 Today: Week 13
Our weekly projection of what you'll see from the AP Top 25 when it's released on Sunday.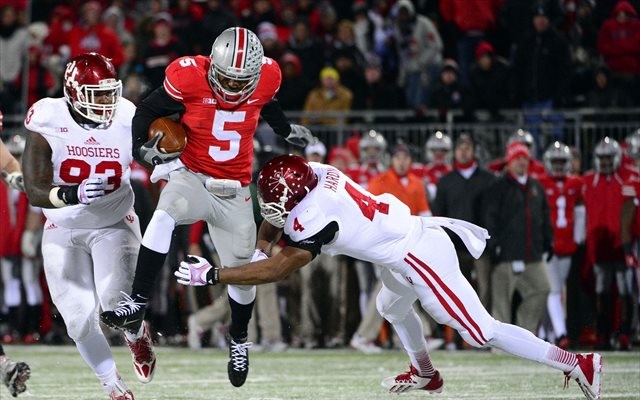 Each Saturday night, the Eye on College Football takes its best guess at what we'll see on Sunday morning from the AP Top 25. Here's where the poll stood entering this week, and here's our Week 13 projection, which will be updated as results are finalized late Saturday.
Teams marked with an asterisk have games ongoing. Projection assumes Vegas favorites -- Baylor still included -- win. (Last week's ranking in parentheses):
1. Alabama (1): The Tide tuned up for next week's Iron Bowl to End All Iron Bowls by mostly not breaking a sweat, and a little by squashing FCS Chattanooga.  
2. Florida State (2): The Seminoles seemed highly distracted by the furor surrounding their Heisman candidate quarterback, only beating Idaho 80-14. (Yes, this is sarcasm.)
3. Ohio State (4): The Buckeyes rolled to their 23rd straight win, leading Indiana 42-0 before a pair of cosmetic late touchdowns. And this week, it'll actually be enough to move them up rather than down in the polls!
4. Auburn (6): Tigers had a bye, but with Oregon losing and Baylor going down, it's been a profitable one all the same.
5. Clemson (7): Tigers long string of "eh, whatever" games are finally behind them after blasting the Citadel. Next week: at South Carolina, Dabo Swinney's personal bogey team.  
6. Missouri (8): Texas A&M needed a fourth-quarter comeback in Oxford. LSU just lost. But Missouri scored on their opening drive and never really looked back, winning 24-10. Yes, they're that good. Beat the Aggies at home next week, and it's off to Atlanta. 
7. Oklahoma State (11): Knocking Baylor from the ranks of the unbeaten in shockingly emphatic fashion is nice; having one Bedlam game between the Cowboys and the Big 12 title (and the Fiesta Bowl) is nicer. If the Cowboys had kicked their old habit of losing inexplicable road games (Iowa State in 2011, West Virginia in 2013), they'd be right in the BCS title mix.
8. Baylor  (3): The Bears picked a bad time for their worst performance of the season, but they can ask last year's Kansas State team about how difficult it is to negotiate every landmine on the Big 12 schedule.
9. Stanford (9): The Game was The Blowout in Cal's ongoing season of misery. But even that was a much smaller headline for the Cardinal than the Ducks going down, handing Stanford the Pac-12 North title on a platter.
10. Michigan State (13): It's not often a Big Ten team leapfrogs a winning SEC team, but the Spartans moved to 10-1 with a comprehensive road win at Northwestern, and that could be enough to move past the two-loss Gamecocks. 
11. South Carolina (12): Gamecocks don't look like they'll get any help from Ole Miss this week. Have to hope for better from Texas A&M next week. Oh, and they pounded Coastal Carolina. 
12. Oregon (5): The Ducks could slip further than this -- losing by 26 at a four-loss opponent kind of argues "should" -- but pollsters have been generous with top-5 losers throughout the season.
13. Fresno State (15): Bulldogs flattened New Mexico as Derek Carr threw seven touchdowns. Mountain West Championship rematch with Boise looms, but San Jose State season finale may still have a say in Bulldogs' BCS hopes. 
14. Wisconsin (16): Nation's most underrated team takes another step towards being less underrated with comfortable win at Minnesota.
15. UCF (17): Seven of Knights' last eight games had been decided by a touchdown or less entering Thursday's game with Rutgers. So that 41-17 win probably felt even better than it looks. 
16. LSU (18): Tigers might have three losses, but Saturday's thumping of A&M was nice reminder that when they're on their game, they're still LSU. (Ask Auburn.)
17. Arizona State (19): Nation's other most underrated team clinched the Pac-12 South on the road at UCLA -- the first team to beat UCLA in L.A. this season, and the first other than Stanford or Oregon to beat them anywhere. Were only 9 points behind LSU last week and could conceivably make bigger jump. 
18. Northern Illinois (20): Can't draw up any tougher MAC tests than vs. Ball State and at Toledo, and NIU passed them both with flying, multi-touchdown-margin-of-victory colors. Now if only Fresno would slip up ...
19. Texas A&M (9): Big slide projected here, but three losses without a win over a ranked team doesn't make for much of a soft landing. (Also, LSU-Arizona State-NIU made up a pretty tight-knit block in the balloting last week.)
20. Louisville (21): The Cards (and their fans) no doubt feel it's not fair they've consistently slid backwards in the poll despite winning every game they've played since falling to UCF. Too bad beating Memphis by a touchdown at home is far, far from a convincing argument for pollsters to vote otherwise.
21. UCLA (14): Bruins' Pac-12 South hopes went up in smoke against Arizona State Saturday, but there's no time for head-hanging with the USC game next Saturday.
22. Oklahoma (22): Sooners' impressive win over Kansas State in Manhattan deserves an upward bump ... but the sizable gap between the Cardinals and Sooners in last week's poll looks like the most likely landing spot for descending UCLA. Still, don't be surprised if the order ends up Sooners-Cards-Bruins instead.
23. USC  (23): No letdown for the Trojans in frigid Boulder after the Stanford upset; USC led Colorado 30-7 early third quarter and won 47-29.
24. Duke (25): Let's just check on the last time Duke won 9 games in the same season Vanderbilt beat Georgia, Florida and Tennessee and nevermind let's not check let's just assume it was never, ever, ever.
25. Notre Dame (NR): Solid win over BYU should nudge the Irish ahead of the Longhorns (who had a bye) for the final spot.
Also under consideration: Texas
Dropped out of projected rankings: Ole Miss
Getting Leavitt back was obviously high on Cristobal's list of priorities

Cristobal's first game at Oregon ended the same way Chip Kelly's did

Conner Manning and the Panthers dominated the Hilltoppers in the Cure Bowl
You can only go to the well so often before it dries up

The Trojans beat LSU earlier in the year and now have their first 11-win season as a FBS t...

Saban has never been a fan of the early signing period and made it clear that hasn't chang...