Tomorrow's Top 25 Today: Week 15
Our weekly projection of what you'll see from the AP Top 25 when it's released on Sunday.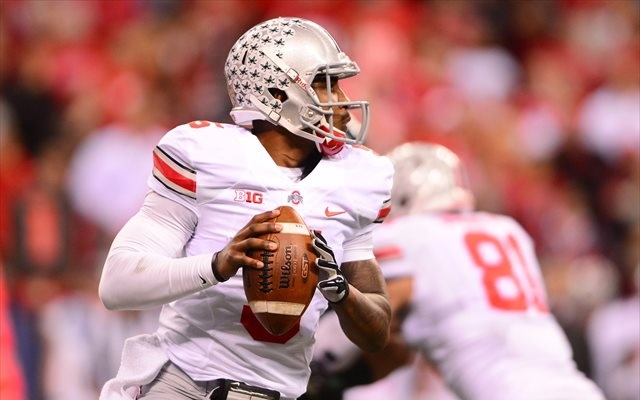 Each Saturday night, the Eye on College Football takes its best guess at what we'll see on Sunday morning from the AP Top 25. Here's where the poll stood entering this week, and here's our Week 15 projection.
Last week's ranking in parentheses:
1. Florida State Seminoles (1): The Seminoles pounded Duke exactly the way they pounded every single team this season that wasn't (weirdly) Boston College. Beat Auburn, and they go down as one of the great teams in college football history.  
2. Auburn Tigers (3): Because scoring 59 points in the SEC Championship Game -- but winning by 17 whole points -- wasn't "team of destiny" enough, Auburn just had to go and somehow mind-force Ohio State to lose to Michigan State. Can't go a week without something face-melting happening.
3. Alabama Crimson Tide (4): Since the Tide needed a Duke upset of Florida State, it was already over. But now Alabama's streak of back-to-back national championships is truly, officially over.
4. Stanford Cardinal (7): Baylor and Michigan State are one-loss teams with league titles and the Cardinal are a two-loss team with a league title. But after blowout of Arizona State, hard to see voters -- who had Bears and Spartans behind South Carolina last week -- leapfrogging those teams past the Cardinal. 
5. Baylor Bears (9): "The Bears thumped Texas by 20 points to clinch an undefeated home season, 11-1 overall record, and Big 12 championship" is not a sentence anyone ever expected to make sense. Except Art Briles, maybe, which is why it does.
6.  Michigan State Spartans (10): It's taken the Spartans a long, long time to earn any real respect in the polls. But after beating Ohio State, they'll finally get it. Or most of it, anyway.
7. Ohio State Buckeyes (2): This would be a much stiffer drop than most top-3, 10-plus-win teams have suffered this season, but the Buckeyes have never been a favorite of voters, and it's only fair they drop behind the Spartans.
8. South Carolina Gamecocks (8): Gamecocks' win over Missouri didn't get the to Atlanta ... but it might help them stay one spot ahead of the Tigers in the final AP poll of the regular season. 
9. Missouri Tigers (5): It's worth repeating: we know it didn't look like it Saturday, what with the 545 yards rushing allowed (545!?!), but that was a solid Tiger run defense Auburn shredded, ranking second in the SEC in yards per-carry allowed entering the game.
10. Oklahoma Sooners (18): A big, big leap for the Sooners, but they have the same record as Oklahoma State and just beat the Cowboys in Stillwater. Is there any way they can be ranked behind them?
11.  Oklahoma State Cowboys (6): Cowboys beat Baylor by 32 points. Bears beat Sooners by 29. So of course Sooners beat Cowboys by 9 at Oklahoma State. Ah, college football.
12. Oregon Ducks (12): For the second straight season, Ducks had the Pac-12 Championship Game week off. 
13. Clemson Tigers (13): It must have pained Clemson fans to root for Florida State, but the Seminoles' win over Duke very likely clinched the Tigers' a trip to the Orange Bowl. 
14. LSU Tigers (14): Tigers really have to wonder how a team that never trailed them by less than 14 points from the 9:56 mark of the first quarter through the end of the game is now off to the national title game.
15.  UCF Knights (16): The Knights beat a team with a losing record by a narrow margin, so no, nothing off the usual script in the season finale.
16. Arizona State Sun Devils : Sun Devils were 7-0 at home in 2013, 11-2 since Todd Graham arrived, and 9-4 in those 13 games against the spread. So no, that 38-14 demolition at Stanford's hands wasn't exactly expected in Tempe.
17. UCLA Bruins (17): Bruins didn't play this week, but keeping Jim Mora counts as a win.
18. Louisville Cardinals (19): in 2012, Kent State was on no one's radar in the preseason, lost convincingly to Kentucky, went 11-1 in the MAC, and came within an overtime MAC championship loss of a BCS berth. In 2013, the Cards start in the top 10 with a Heisman candidate under center, lose their only game to UCF, go 11-1 in the AAC, and become a total BCS afterthought. Go figure.
19. Wisconsin Badgers (21): Home loss to Penn State still just as head-scratching a week later.
20.  Texas A&M Aggies (22): Yes, they lost four games, didn't beat a ranked team, and will likely lose Johnny Manziel. But they can't hear any naysaying over the sound of their recruiting rankings. 
21. Georgia Bulldogs (25): Four-spot jump wouldn't be bad for a team not playing, right? Thanks, Bowling Green, Florida State, Baylor and maybe general voter preference for SEC teams over non-AQ teams! 
22. Fresno State Bulldogs (24): Utah State didn't make it easy, but the Bulldogs won the first Mountain West Championship game. It won't entirely wash out the taste of losing to San Jose State and coughing up a BCS berth, but just ask the next team on this list about how much worse a loss this week would have been instead. 
23.  Northern Illinois Huskies (16): A devastating loss for NIU, which not only cedes the MAC title but goes from the Fiesta Bowl to, most likely, the Famous Idaho Potato Bowl. At the Huskies' level, that's about as painful as it gets. 
24. Duke Blue Devils (20): On the one hand, voters haven't been high on Duke and could punish them further for this. On the other, surely a loss to Florida State was expected, right?
25. Notre Dame Fighting Irish (NR): It's anyone's guess who replaces Texas in the poll -- it could, in fact, be Texas after all -- but the Irish have the only win over Michigan State, beat USC head-to-head, and saw their loss to Oklahoma look more explicable. 
Dropped from projected rankings: Texas
Also under consideration: Miami, USC
The Tide, as usual, are dominating everything already

Jim McElwain won't rule out Luke Del Rio, Feleipe Franks or Malik Zaire as the starter

The three rule changes for 2017 are focused on player safety
There are new names to learn every season, and here are five to keep an eye on from the Big...

Can the Big Ten produce a champion capable of scoring points in the College Football Playoff...

Taking a close, detailed and opinionated look at the Big Ten a week before the start of the...