Tomorrow's Top 25 Today: Week 2
The Eye on College Football's weekly projection for Sunday's AP Top 25.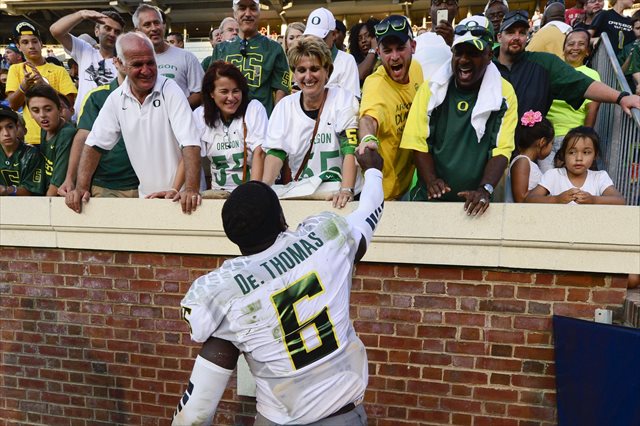 Each Saturday night, the Eye on College Football takes its best guess at what we'll see on Sunday morning from the AP Top 25. Here's the Week 2 projection:
1. Alabama Crimson Tide : Crimson Tide used their bye week to visit vintage amusement parks and binge-watch four seasons' worth of "Everybody Loves Raymond," no doubt. Who's up this week? Oh, right.
2. Oregon Ducks : Voters shouldn't really have elevated Oregon last week for blitzing FCS patsy Nicholls State, but after the Ducks' 59-10 annihilation of Virginia -- in Charlottesville! -- maybe they can receive some credit for merely being a week early.
3. Ohio State Buckeyes : Then again, the Buckeyes looked like a legit preseason No. 2 Saturday, blasting 2012 Mountain West co-champion San Diego State without more than a series of help from Braxton Miller.
4. Clemson Tigers : Win over Georgia doesn't look any less gigantic a week removed, does it?
5. Stanford Cardinal : It took until the final kickoff of Week 2, but the Cardinal finally joined the 2013 season. It was worth the wait, with the defense looking every bit as nasty as advertised vs. San Jose State. 
6. Texas A&M Aggies : After his Barnum and Bailey's Greatest Offseason on Earth, are we wrong in saying Johnny Manziel's 426-yard passing performance against a solid FCS opponent might actually have gone kinda-sorta overlooked?
7. Louisville Cardinals : It's Week 2, and of the 10 remaining opponents on the Cards' schedule, 8 already have at least one loss.
8. LSU Tigers : Zach Mettenberger has looked solid-to-excellent, and Jarvis Landry and Odell Beckham have looked better than that. If LSU has a viable, consistent passing game, is there anything they don't have?
9. Florida State Seminoles : 'Noles had a bye, because playing on Saturday the same week you've played on Monday is a bad idea. (Just ask Virginia Tech.)
10. Georgia Bulldogs : Good as Clemson is, it was still a surprise to see the 0-1 Dawgs ranked ahead of Florida when the Gators had defeated a likely bowl team in Toledo. This week, it won't be nearly so much a shock.
11. Michigan Wolverines : This would represent a six-spot jump for the Wolverines, but hanging 41 points on Notre Dame's defense (in primetime, no less) should pay dividends.
12. Oklahoma State Cowboys : Week 1 conclusion after beating Mississippi State 21-3: they're brand-new Cowboys, with a great defense and work-in-progress offense! Week 2 conclusion after beating UT-San Antonio 56-35: nevermind! They're the same Cowboys they've always been under Mike Gundy!
13. Oklahoma Sooners : Can't say scoring 16 points against West Virginia's defense at home is much of an omen, can you?
14. South Carolina Gamecocks : If Georgia could land at No. 11 last week after their road loss at a top-10 team, the Gamecocks shouldn't slip much further than this, you'd think. (Also: the voting gap last week between No. 16 Oklahoma and No. 18 UCLA was huge.) 
15. UCLA Bruins : Bye week for the Bruins before they go to Lincoln, and Brett Hundley reacquaints himself with the "Blackshirts." We doubt he can wait.
16. Northwestern Wildcats : Wildcats were quietly one of Week 2's most impressive teams, ripping Scott Shafer's Syracuse defense for 581 yards and 34 first-half points. 
17. Miami (Fla.) Hurricanes : This would be a high perch for a team that was outside the top 25 looking in last week. But surely, surely, the AP voters won't be so dense as to rank a 2-0 Hurricanes team over the 1-1 Gator team it beat head-to-head solely because Florida was ranked 12th and Miami was unranked. 
18. Florida Gators : Surely.
19. Washington Huskies : Huskies go to Illinois after a bye week and hey, maybe that won't be the rollover it looked like at this time last week.
20. Wisconsin Badgers : Yes, they've played two truly terrible, terrible teams in UMass (who just lost by 10 at home to Maine) and Tennessee Tech. But they also haven't allowed a point.
21. Nebraska Cornhuskers : Southern Miss: good for what ails ya. 
22. Baylor Bears : Another week, another handful of school offensive records. (Points in a half -- at 56 -- and total yardage -- at 781 -- among them.) Shame that when they're this hot, the Bears play one game the next three weeks, and that one vs. ULM.
23. Notre Dame Fighting Irish : The good news is that the Notre Dame defense looked surprisingly potent against a talented, well-coached Michigan defense. The bad news is that the defense looked even more surprisingly lost vs. the Wolverine offense.
24. TCU Horned Frogs  Southeastern Louisiana lost its two FBS games in 2012 by scores of 62-10 and 52-3, to Missouri and UAB, respectively. That they hung around for nearly three quarters in Fort Worth isn't a positive sign.
25. Ole Miss Rebels : The Rebels are "next in line," to go by last week's "Also Receiving Votes" tally. But don't be surprised if after their routine victory over FCS Southeast Missouri State, Arizona State or Michigan State pip them for the honor.
MetLife Stadium is about 10 miles away from where the World Trade Center buildings once st...

The Terps will wear these against Indiana on Oct. 28.

The coach of the Eagles isn't here for no science talk
These are the teams that are getting too much -- or too little -- love before the season

The Crimson Tide start atop the AP Top 25 poll for the second straight season

Taking a close, detailed and opinionated look at the ACC a week before the start of the 2017...