Tomorrow's Top 25 Today: Week 3
Our weekly projection of what you'll see when the AP Top 25 is released Sunday.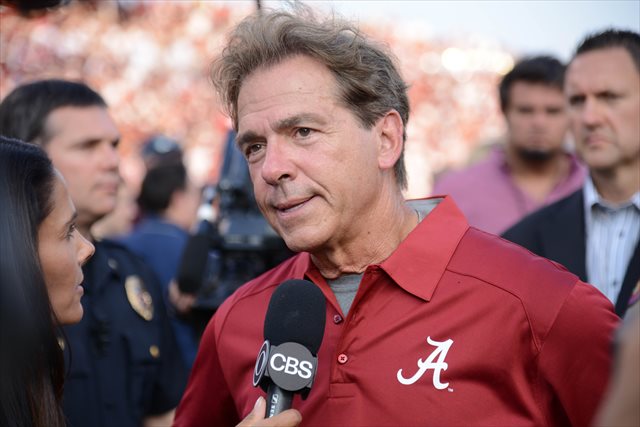 Each Saturday night, the Eye on College Football crew takes its best guess at what we'll see on Sunday morning from the AP Top 25. Here's where the poll stood entering this week, and here's our Week 3 projection, which will be updated as results are finalized late Saturday (last week's ranking in parentheses):
1. Alabama Crimson Tide (1): On offense, is the Tide's glass half-full because of Texas A&M or half-empty because of Virginia Tech? On defense, can you ask the same question? As we've written once already: what happens if they put both half-full sides together? But what if they put both of the half-empty sides?   
2. Oregon Ducks (2): The Ducks are utterly mauling teams, even by their usual maul-worthy standards.
3. Clemson Tigers (3): The Tigers took the week off and could conceivably slip behind Ohio State if voters give the Buckeyes credit for winning -- decisively -- at Cal ... 
4. Ohio State Buckeyes (4): ... but those same voters dropped OSU a spot each of the past two weeks, even after victories. It's not something we're betting on.
5. Stanford Cardinal (5): After two appetizers -- albeit one in Army that didn't go down easy -- the Cardinal's season starts in earnest next week against Arizona State.
6. Louisville Cardinals (6): Not an eye-popping victory at Kentucky, not a huge day for Teddy Bridgewater, and it won't be a major surprise if LSU's name-recognition carries them to No. 6. Then again ... 
7. LSU Tigers (7): ... the Tigers' resume consists of beating TCU and chewing on two cupcakes. After the Frogs' demise in Lubbock, it's not clear if the Tigers have accomplished all that much more than the Cards just yet. 
8. Florida State Seminoles (9): Jameis Winston verifying that his debut vs. Pitt wasn't a fluke could be enough to carry the Noles past a team with a loss already on the resume.
9. Georgia Bulldogs (8): Bulldogs were idle ... but that still a much, much better week than the next team on this list.
10. Michigan Wolverines (11): After the narrowest possible escape vs. Akron -- literally, as the Zips were 1 yard away from victory -- the Wolverines should be thankful if they don't slip. But no one behind them had the chance for a statement win, either.
11. Oklahoma State Cowboys (12): Well, the Cowboys know how to put away their overmatched FCS opponents..
12. South Carolina Gamecocks (13): Gamecocks took foot off the gas after building a 35-10 lead over Vanderbilt, 
13. Texas A&M Aggies (6): Georgia fell to 11th, South Carolina to 13th, and the Sooners were well behind the Gamecocks in the polling last week. So we'll slot the Aggies here. (Florida fell further, but Miami doesn't have quite the "quality loss" cachet of the Tide.) 
14. Oklahoma Sooners (14): If Blake Bell looks half as good going forward as he did Saturday -- a big if, given the generosity of the Golden Hurricane defense -- the Sooners won't stay behind the SEC's one-loss brigade for long.
15. Miami (Fla.) Hurricanes (15): The Hurricanes had the week off.
16. UCLA Bruins (16): A road victory over a ranked team might bump the Bruins up a notch over the idle Hurricanes ... but they also have a sizable gap in the voting to make up.
17. Northwestern Wildcats   (17): Can't imagine the Wildcats will get a whole lot of credit for beating Western Michigan, the team that lost to Nicholls State, which hadn't beaten an NCAA opponent since 2010. (The Colonels had beaten NAIA Evangel for each of their lone wins in 2011 and 2012. True story.) 
18. Washington Huskies (19): After pairing a de facto road win over a Big Ten team with their opening-week bludgeoning of Boise State, Huskies should be poised to skip the one-loss Gators. 
19. Florida Gators (18): Off week won't do much to dull memory of Gators' offensive ineptitude.  
20. Notre Dame Fighting Irish  (21): Irish gave up 24 points to a Purdue team that needed a trick kickoff return to reach 20 againsy Indiana State. But teams that went 12-0 a season ago tend to get the benefit of the polling doubt.
21. Baylor Bears (22): [Your joke re: Bears scoring 45 points on their bye week goes here.]
22. Ole Miss Rebels (25): Rebels won't be a one-week wonder in the poll, not after dismantling Texas in the second half.
23. Arizona State Sun Devils (n/a): Every win counts. Yes, even that one. Yes, we promise. Yes, we said. 
24. Michigan State Spartans (NR): Spartans scored 55 points against Youngstown State. The Penguins are FCS competition, but still ... what in the world? 
25. Fresno State Bulldogs (NR): Bulldogs' date at Colorado was canceled by flooding, but they still appear to be next in line after their wild opening-night win over Rutgers.
Also under consideration: Georgia Tech, UCF, Northern Illinois, Texas Tech.
Projected to fall out of rankings: Nebraska, TCU, Wisconsin
*Indicates team's Week 3 outcome is still within (reasonable) doubt as of this writing. Projection assumes Wisconsin defeats Arizona State; the Sun Devils will move into the top 25 with a win over the Badgers. 
Occidental College was reportedly down to 35 healthy players for the 2017 season

Midway through the season, we make some (more educated) predictions for the rest of the ye...

Babe Ruth supporting the Fighting Irish is one of the best photos of the week
Could two teams from the same conference make it into the College Football Playoff?

Given the schedule and recent performance, can anyone in the SEC stop Alabama?

SportsLine's Barrett Sallee has gone 29-14 against the spread the last two weeks and loves...