Tomorrow's Top 25 Today: Week 4
Our weekly projection of what you'll see from the AP Top 25 when it's released on Sunday.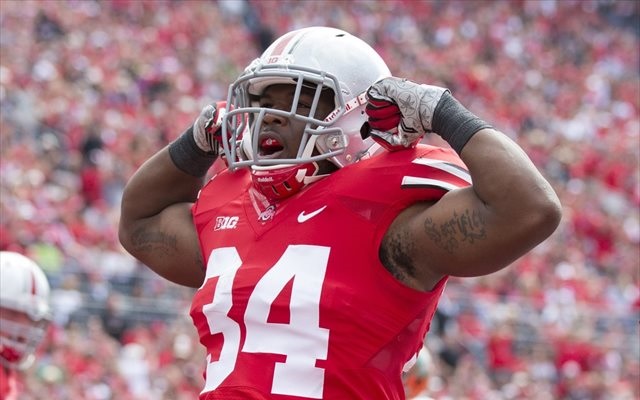 Each Saturday night, the Eye on College Football crew takes its best guess at what we'll see on Sunday morning from the AP Top 25. Here's where the poll stood entering this week, and here's our Week 3 projection, which will be updated as results are finalized late Saturday (last week's ranking in parentheses):
1. Alabama Crimson Tide (1): Tide frankly did not look like the No. 1 team in the country, at one point early in the fourth quarter punting back to Colorado State while "clinging" to a 17-6 lead. Two late touchdowns made the score a little more aesthetically pleasing, but Nick Saban won't be happy with anything but the check in the win column.
2. Oregon Ducks (2): Ducks took the week off, and after previous two weeks seem more likely to move up than down. (They won't move up.) 
3. Clemson Tigers (3): The Tigers maybe didn't do what a No. 3 team would have done on the road at NC State, winning by less than two touchdowns. But in winning a game when their offense wasn't clicking on all cylinders, they also did something many previous Clemson teams wouldn't have done on the road at NC State. 
4. Ohio State Buckeyes (4): Buckeyes obliterated Florida A&M 76-0. Voters might move them up after Clemson's performance, and they might move them down after Stanford's strong outing. We'll split the difference and keep them at No. 4.
5. Stanford Cardinal  (5): For three quarters, chewed up Arizona State and spit them out. For one quarter, took their foot off the pedal. Will it cost them a shot at moving up to No. 4?
6. LSU Tigers  (6): Speaking of the chewing up/spitting out/foot off the pedal thing, the Tigers opened up a 21-0 lead on Auburn before the other Tigers fought back and came within 5 yards of making it a one-score game. Nonetheless: win at Georgia next week, and the top 5 beckons. 
7. Louisville Cardinals (7): FIU qualifies as "FBS competition" in only the very, very loosest sense of the term.
8. Florida State Seminoles (8): Winstonwatch: 10/19, 148 yards, 2 touchdowns. Doubled his incompletions for the season. Still with an 8-to-1 TD-to-INT ratio, though.
9. Georgia Bulldogs (9): Score was less flattering to Bulldogs than the box score, where they outgained North Texas -- not a bad team -- by 400 yards. Special teams is a major issue, though.
10. Texas A&M Aggies (10): Aggies took out frustrations on overmatched SMU.
11. Oklahoma State Cowboys (11): The Cowboys had the week off.
12. South Carolina Gamecocks (12): And hey, so did the Gamecocks. Thrilling week we've had in college football. 
13. UCLA Bruins  (13): On it goes, since playing New Mexico State is the closest thing to a bye week this side of FIU. Bruins were up 31-0 at halftime.
14. Oklahoma Sooners (14): Yet another bye week. Hurry up, Week 5.
15. Miami (Fla.) Hurricanes (16): Bludgeoned poor, poor Savannah State. 
16. Washington Huskies (17): Bludgeoned slightly less-poor Idaho State. 
17.  Michigan Wolverines  (15): Wolverines came back from 14-point second-half deficit to beat UConn, but after already dinging Michigan for narrowest of escapes vs. Akron, voters may punish Brady Hoke and Co. again. Three teams have gone to Storrs -- FCS Towson, Maryland, and now the Wolverines -- and Michigan was easily the least impressive of the three. 
18. Baylor Bears (20): Ho-hum, another 63-point win, this time against a decent ULM team that won at Wake Forest in Week 3. Is there a more intriguing team in the country? After facing Wofford, Buffalo and the Warhawks, is there one any more unproven?
19. Northwestern Wildcats (18): Didn't bludgeon Maine, but still, that's another FCS patsy. Of the top 18 teams in last week's AP poll, 10 either had a bye week, faced an FCS team or FIU. 
20. Florida Gators (19): Gators ended up beating Tennessee fairly comfortably and don't look to have a steep drop-off with Tyler Murphy at the controls, but they also got a metric ton of first-half help from the Vols.
21. Ole Miss Rebels (21): Oh, hey, the Rebels had the week off.
22. Notre Dame Fighting Irish (22): Brian Kelly has now won 10 of his past 11 games decided by 7 points or less. You might almost call it the luck of the something or other.  
23. Wisconsin Badgers (24): Looked every bit the Big Ten contender in smashing Purdue. The Badgers' visit to Columbus looks like maybe the game of the Big Ten's season.  
24. Texas Tech Red Raiders (25): Red Raiders took their time about putting Texas State away, but they got there.
25. Fresno State Bulldogs (NR): Flip a coin between the Bulldogs or the Yellow Jackets, but Fresno had edge in voting last week and beat a Boise team that still carries some name recognition.
Also under consideration: Georgia Tech.
Projected to fall out of rankings: Arizona State. 
Post will update throughout Saturday evening. Teams marked with an asterisk have games ongoing still within a reasonable doubt. Projection assumes Stanford holds on to defeat Arizona State.
A magic trick turned into a scholarship surprise for this Texas lineman

Michigan's notorious secrecy is getting called out again

Key was named a 2017 CBS Sports Preseason All-America selection this week
Our bowls expert looks at the toughest -- and weakest -- nonconference schedules in the na...

The new uniforms will be worn on Oct. 28 at Kyle Field vs. the Bulldogs

Kiffin's Owls have added myriad troubled players since he took over in Boca Raton