Tomorrow's Top 25 today: Week 5
Our weekly projection of what you'll see from the AP Top 25 when it's released on Sunday.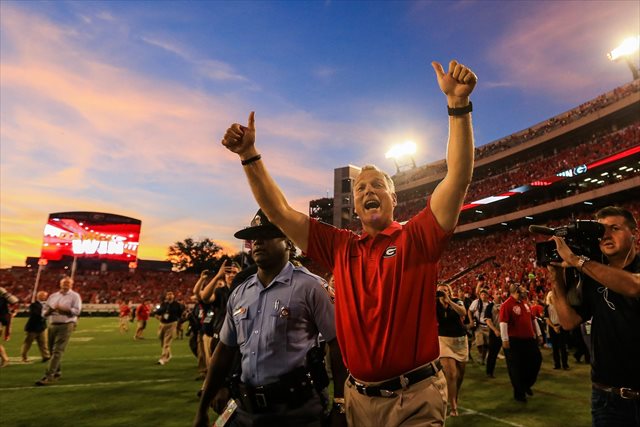 Each Saturday night, the Eye on College Football crew takes its best guess at what we'll see on Sunday morning from the AP Top 25. Here's where the poll stood entering this week, and here's our Week 5 projection, which will be updated as results are finalized late Saturday (last week's ranking in parentheses):
1. Alabama Crimson Tide (1): So much for any talk about the Tide being vulnerable, huh? (Or, you know, any talk at all from Bo Wallace.)
2. Oregon Ducks  (2): Because the Ducks needed a torrential downpour and a flurry of Cal turnovers to turn the Bears into paste, you know. (They didn't. But it helped).
3. Clemson Tigers (3): Blew apart a Wake Forest team that looks more hapless than it has in years. As with the Tide, so-so Week 4 performance seems a much more distant memory. 
4. Ohio State Buckeyes  (4): Buckeyes held on for a massive Big Ten win over the Badgers. Get past Northwestern next Saturday, and it looks like smooth sailing all the way to the Big House.
5. Stanford Cardinal  (5): Think the Cardinal took a single-digit spread against a team that went 3-9 last year a little personally?
6. Fresno State Bulldogs (8): The AP hasn't been afraid to shake things up in the top 10, or drop Louisville for more brand-name programs (and, it must be said, their tougher schedules). So how will they handle Georgia, the Cards, and the 'Noles this week? The guess here is that Georgia's rewarded for their massive win with a bit of a bump ... but that FSU's perfect record and name recognition will keep them just ahead of the Dawgs despite an iffy defensive showing at Boston College.
7. Georgia Bulldogs (9): With South Carolina and LSU now behind them, two of the six teams ahead of them here (Stanford and Oregon, Florida State and Clemson) are due to play each other, and with as quality a loss as you'll find, the Dawgs have an excellent chance at setting up a second straight SEC title game where a BCS championship berth is on the line. 
8. Louisville Cardinals (6): Poor Louisville couldn't play much better against a schedule created mostly outside of their control ... but with games like LSU-Georgia being played before national audiences the same week the Cards have a bye, it's just hard to remain at the center of the national conversation. 
9. Texas A&M Aggies (10): Same story for the Aggies, who methodically put up another 45 points on offense (on the road, in the rain) and methodically allowed enough points on defense that the game remains in doubt into the fourth quarter.
10. LSU Tigers (6): Given that the Tigers played Georgia just a shade tougher than the Gamecocks did, hard to see them dropping behind South Carolina.
11. South Carolina Gamecocks (11): Gamecocks can't complain about their ranking, but in the long-term, they probably won't get the credit deserved for winning at a solid UCF team in a game that wasn't quite as close as the final score.
12. UCLA Bruins (13): Bruins had a bye. Visit dangerous Utah next week.
13. Oklahoma Sooners (14): Winning at Notre Dame is a major scalp for the wall, even if the Irish aren't what they were a year ago. With Oklahoma State's demise in Morgantown, Sooners are the de facto Big 12 favorite.
14. Miami (Fla.) Hurricanes (15): Hurricanes demolished USF, but USF and their addiction to self-inflicted wounds may have had more to do with that than Miami did.
15. Washington Huskies (16): Huskies handled their business at home vs. Arizona in decisive fashion. Between the Ducks, Cardinal, Bruins and Steve Sarkisian's team, the PAc-12 has some true heavyweight bouts coming this season.
16. Northwestern Wildcats (17): Wildcats had a bye a week after facing FCS Maine, a week after facing dreadful Western Michigan. Come back to us, halfway-interesting Northwestern games! (Oh, they host Ohio State next week. That'll work.) 
17. Michigan Wolverines (18): Wolverines also had a bye before starting their Big Ten schedule vs. Minnesota next week. That escape at UConn does not look any better after the Huskies got crushed at Buffalo.
18. Baylor Bears (19): Bears had a week off before their season finally, honestly starts against West Virginia at home next week.
19. Florida Gators (20): It was just Kentucky, but Tyler Murphy looks like the sort of quarterback the Gators can win big games with. After LSU's performance Saturday, it's hard to argue Will Muschamp doesn't have the SEC's best defense at his disposal.
20. Oklahoma State Cowboys (11): No, that performance from J.W. Walsh is not going to quiet the whispers that he's not a strong enough a passer to make this Cowboy offense hum the way we're used to it humming under Mike Gundy.
21. Texas Tech Red Raiders (24): Red Raiders got a week off, head to Kansas for Week 6. With a home date a week after that, a 6-0 start beckons.
22. Fresno State Bulldogs  (25): Not much of a letdown after the big win over Boise State on the islands, with the Bulldogs bursting out to a 21-3 halftime lead. 
23. Maryland Terrapins (NR): The Terps had the weekend off, but that shutout thumping of West Virginia suddenly looks much, much more respectable.
24. Arizona State Sun Devils  (NR): Sun Devils drilled USC for a big Pac-12 South victory -- and even if it's the league's other Los Angeles team that's ASU's biggest divisional competition, hanging 60-plus on the Trojans must have felt sweet, sweet, sweet.
25. Virginia Tech Hokies (NR): Big primetime victory at previously undefeated Georgia Tech -- and the fact that the Hokies' only loss came to the team at the very top of this list -- should propel Tech back into the poll.
Also under consideration: Northern Illinois, Nebraska, Missouri
Projected to fall from rankings: Wisconsin, Notre Dame, Ole Miss
Post will update throughout Saturday evening. Teams marked with an asterisk have games ongoing still within a reasonable doubt. Projection assumes Arizona State defeats USC, and other favorites win.
Kevin Sumlin addressed Texas A&M's decision to cancel a rally scheduled for Sept. 11

Expectations are high for Charlie Strong at South Florida, and Houston looks to take the next...

There are new names to learn every season, and here are five to keep an eye on from the AA...
Taking a close, detailed and opinionated look at the AAC a week before the start of the 2017...

These Jayhawks got a tremendous surprise they weren't expecting

Jovon Durante announced on Twitter he's headed to FAU