Tomorrow's Top 25 Today: Week 6
Our weekly projection of what you'll see from the AP Top 25 when it's released on Sunday.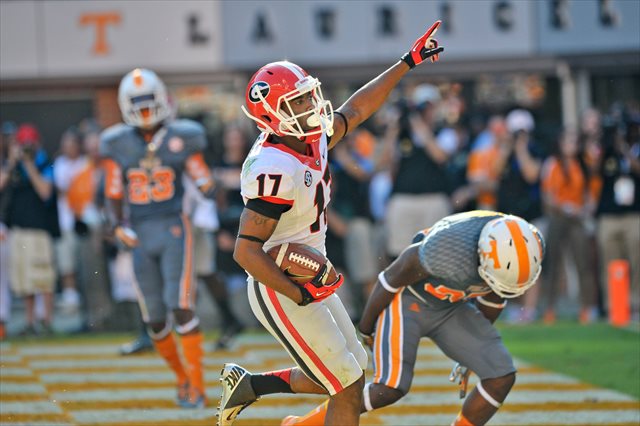 Each Saturday night, the Eye on College Football takes its best guess at what we'll see on Sunday morning from the AP Top 25.Here's where the poll stood entering this week, and here's our Week 6 projection, which will be updated as results are finalized late Saturday (last week's ranking in parentheses):
1. Alabama Crimson Tide (1): Games simply don't get more perfunctory than the No. 1 team in the FBS taking on the worst team in the FBS.
2. Oregon Ducks (2): Turns out the Ducks can cover 5-touchdown spreads on the road, too, and even spotting the opponent a 10-8 first-quarter lead. 
3. Clemson Tigers (3): Tajh Boyd: 20-of-27, 455 yards, 5 touchdowns for the undefeated No. 3 team in the country. So why does it feel like he's on the outside looking in in the Heisman race?
4. Ohio State Buckeyes (4): Buckeyes finally got just enough Carlos Hyde -- and just enough help from both Northwestern (and the officials?) on the Wildcats' controversial failed 4th-and-1 sneak -- to leave Evanston with the win. If Northwestern plays that well for the rest of the season, this will eventually go down as a high-, high-quality win for the Buckeyes.
5. Stanford Cardinal  (5): Cardinal saw off dogged Washington in the biggest game of the Pac-12 season so far, cementing themselves as the Ducks' true challenger in the North division. And speaking of Oregon: now t-minus just four weeks 'til they come to Palo Alto.
6. Florida State Seminoles (8): 'Noles have been hanging out in second tier of undefeated teams since low preseason ranking, but guess is that beating a ranked team by 60-plus will change that.
7. Georgia Bulldogs (6): No one will doubt their resolve, or Aaron Murray's moxie. (Well, no one sane. Not any more.) And Dawgs have looked like one of nation's best teams for most of this season. But they didn't in Knoxville, and that may not be good enough to hold their poll position after what the Seminoles did.
8. Louisville Cardinals (7): Zzzzzzzz...  *snort* I, wait, what? Temple? 30-7? Oh that, that's good. OK. Sure, I ... OK ... ... zzzzzzzzzzzzzz.
9. Texas A&M Aggies (9): Aggies enjoyed an uneventful bye week. And what were the odds on any week of Johnny Manziel's 2013 season seeming uneventful in late summer?
10. LSU Tigers (10): Tigers pulled away from a surprisingly pesky Mississippi State team and wound up winning by a flattering 23 points. 
11. Oklahoma Sooners (11): The Sooners defense bailed out a wince-inducing performance from the Sooner offense, which despite being at home looked little like the unit that pounded Tulsa and put up 35 at Notre Dame. It still probably won't matter vs. the Longhorns.
12. UCLA Bruins (12): Beating Utah on the road this season is no easy feat. Between Ducks, Cardinal, Bruins and Huskies, the Pac-12 will have some legitimate heavyweight bouts between now and season's end. 
13. Miami (Fla.) Hurricanes (14): Hurricanes recovered from rocky start to beat a game Georgia Tech rather convincingly. That Nov. 2 date in Tallahassee is shaping up as the biggest 'Canes-'Noles game in years.
14. Baylor Bears (17): The Bears have gone plaid. There's not much else to say. (Well, other than that their defense should play a little sharper down the stretch. This game wasn't even remotely close as the 31-point margin made it appear to be.)
15. South Carolina Gamecocks (13): Gamecocks had a curious amount of trouble with Kentucky at home, a week after Kentucky came nowhere near beating Florida in Lexington. Steve Spurrier's team just isn't playing like a team that deserves to be ranked ahead of undefeated BCS-level teams right now.
16. Florida Gators (18): If defense really does win championships, the Gators will be right in the hunt. And frankly, the way both South Carolina and Georgia performed Saturday, they may already be there.
17. Michigan Wolverines (19): Yes, the Wolverines have just about the least impressive collection of wins of any undefeated team. (Yes, that was Akron losing 43-3 at home to Ohio Saturday.) But at some point, isn't starting 5-0 -- and with that Notre Dame scalp starting to appreciate in value again -- at least a little impressive in and of itself?
18. Texas Tech Red Raiders (20): The Red Raiders disposed of Kansas in the fashion quality teams should dispose of Kansas.
19.  Washington Huskies  (15): After outgaining Stanford 491-278, Huskies will look back on both their inability to cover Ty Montgomery on kickoffs and the tipped fourth-quarter intercption that ended a 17-play drive without points and kick themselves for ... well, pretty much for forever.
20. Northwestern Wildcats (16): Wildcats looked every bit a top-20 team -- and potential Legends champion -- against the Buckeyes. But road won't get easier with trip to Camp Randall next week.
21. Fresno State Bulldogs (23): Northern Illinois had some major problems on their trip to Idaho's Kibbie Dome. Fresno? Not so much. And believe it or not, that could matter if the two teams end up vying for the same BCS-busting berth.
22. Oklahoma State Cowboys (21): The Cowboys got the win, but their offense looks totally unable to keep them in the Big 12 race in the long run.
23. Missouri Tigers (NR): The Tigers were well off the polling radar last week, but absolutely demolishing Vandy in Nashville should neatly highlight that Missouri is the SEC East's only undefeated team.
24. Northern Illinois Huskies (NR): Huskies took their time in putting away Kent State. After demolition of Purdue -- contrasted with so-so efforts vs. the likes of Idaho and Eastern Illinois -- there's a distinct whiff of last year's mid-major darlings only turning on the offensive juice when necessary. 
25. Virginia Tech Hokies (NR): Hokies once again took care of business against one of the ACC's middle-class teams, and despite several close calls, their only loss is still to the first team on this list.
Also under consideration: Wisconsin, Nebraska, Notre Dame
Dropped out of projected rankings: Arizona State, Ole Miss, Maryland
Teams marked with an asterisk have games ongoing as of this update. Projection assumes favorites win.
Antonio Callaway and Jordan Scarlett are two of the nine players under investigation

The SEC released its 2018 schedule in full Tuesday afternoon, and it's dripping with intri...

The 2021 Chick-fil-A Kickoff Game will feature Louisville and Ole Miss
The Fornelli 50 ranks teams based on nothing but their performance in 2017

Penn State better have its eyes wide open with a trip to Iowa City on deck this weekend

Ohio safety Javon Hagan has a rather unique personal tradition during games