Tomorrow's Top 25 Today: Week 8
Our weekly projection of what you'll see from the AP Top 25 when it's released on Sunday.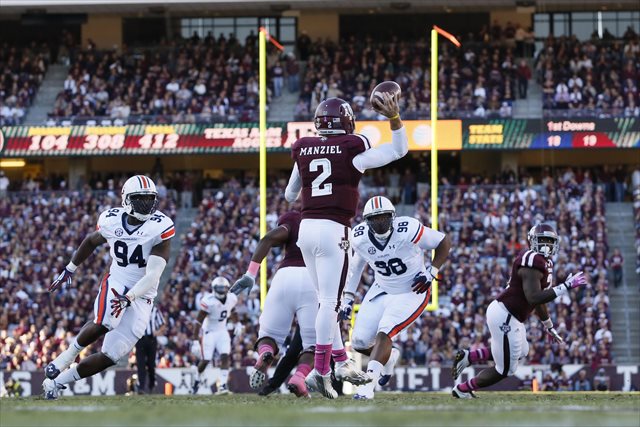 Each Saturday night, the Eye on College Football takes its best guess at what we'll see on Sunday morning from the AP Top 25. Here's where the poll stood entering this week, and here's our Week 8 projection, which will be updated as results are finalized late Saturday (last week's ranking in parentheses):
1. Alabama (1): The Tide's little midseason swoon appears to be over, as they annihilated Arkansas. Of course, annihilating Arkansas last week didn't mean a lot for South Carolina this week.
2. Oregon (2): The Ducks turned the ball over three times in the first half and failed to cover the spread for the first time all season, giving up two late, meaningless touchdowns to only beat Wazzu 62-38. You shouldn't care, much. 
3. Florida State (5): Seminoles blew Clemson clean out of Death Valley. With Ohio State looking merely OK against Iowa, the No. 3 spot in the poll seems highly likely to be theirs. And with Florida looking so feeble, Miami seems to be the only thing standing between Jameis Winston and heading to the ACC Championship Game at 12-0.
4. Ohio State (4): The voters established early this season that the Buckeyes aren't going to get the benefit of the doubt, and it's particularly hard to see it being extended after being tied at 24 in the second half with the Hawkeyes. 
5. Miami (10): The Hurricanes hardly looked the part of the No. 5 team in the country against North Carolina Thursday night, but after the carnage in the bottom half of the top 10, they're likely to hold a perch this lofty all the same.  
6. Baylor (12): Just as we all expected in the preseason, after eight weeks of action Baylor is your undefeated Big 12 favorite and will be ranked in the top 10. 
7. Missouri (14): Just as we all expected in the preseason, after eight weeks of action Missouri is your undefeated SEC East favorite and will be ranked in the top 10. 
8. Stanford (13): Cardinal couldn't have bounced back from the Utah defeat any better, comfortably seeing off undefeated UCLA. Thanks to the SEC's Saturday tribute to the gods of chaos, this is likely your highest-ranked team with a loss.
9. Clemson (3): With Georgia's demise, Tigers' overall resume doesn't look quite as nice with a loss as Stanford's, which features W's over Washington, Arizona State and now the Bruins. Getting absolutely crushed at home doesn't help matters, either.
10. Texas Tech (16): Winning 37-27 at West Virginia is probably the Red Raiders' best win of the season, which tells you how "challenging" the schedule has been to date. That changes next week with a trip to Oklahoma, at least.
11. UCLA (9): No shame in losing at Stanford, even if the Cardinal hadn't looked as good as the Bruins made them look in weeks. And now the Bruins can rebound next week on their ... uh ... their trip to Oregon. Quite the schedule you've got here, UCLA.
12. Auburn (24): Like the SEC East version of the "Tigers" last week, a big win and a head-to-head nod over their highly ranked victim should see Auburn make the week's biggest move in the polls. 
13. LSU (6): Losing as a 10-point favorite to a division rival is never a positive, but losing to one that seemed determined to give the game away with special teams mistakes and turnovers in the second half -- and has suffered a wave of defensive injuries worthy of rivaling Georgia's on offense -- is even worse. 
14. Texas A&M (7): Aggies might fall further than this, but voters have provided soft landings for a lot of losing SEC teams this season (see the team immediately above), and Fresno was far, far behind No. 16 Texas Tech last week.
15. Fresno State (17): Bulldogs handled surprising UNLV without any problems and still shape up as the most likely last-ever BCS buster.
16. Virginia Tech (19): The Hokies still have just the one loss to the No. 1 team in the country, and a defense building recognition as one of the nation's best. But it's hard to see a bigger move after a bye week.  
17. Oklahoma (18): Sooners beating Kansas 34-19 after falling behind 13-0 isn't going to impress anyone after Texas Tech fell behind the Jayhawks 10-0 and still won 54-16.
18. Oklahoma State (21): The Cowboys are probably a better team than the Sooners, judging by their two-touchdown win over TCU -- a team Oklahoma beat by 3 -- but their loss (to West Virginia) is worse and there's no win over Notre Dame on the resume.
19. Louisville (8): A huge fall for the Cardinals, but in dropping them behind one-loss teams in the top 10 before this week, the voters have already weighed in on what they think of the Cards' schedule -- and losing to UCF at home won't help them earn an iota of respect.
20. Wisconsin (25): The Badgers continue to crush lesser teams beneath their boot heels, and their two losses are 1. the officiating debacle at a good Arizona State team 2. by 7 points at Ohio State. Guess here is that enough voters realize that to push them ahead of the next two-loss team on this list. 
21. South Carolina (11): Losing to (full-strength) Georgia on the road is one thing. Losing to Tennessee on the road is another.  
22. Northern Illinois (23): The Huskies were well behind No. 22 last week, and even a decisive win over Central Michigan isn't going to move the needle much.
23. UCF (NR): With the same single loss, a head-to-head win over the Cardinals in Louisville, and a road win over Penn State to match Louisville's home W over Rutgers, the Knights should really be ranked ahead of the AAC favorites. But with UCF unranked and Louisville No. 8 entering this week, it would be a surprise.
24. Michigan (NR): The Wolverines continue to ride the highest high-wire in the country, but team "No. 26" in last week's poll should sneak into this week's version. 
25. Oregon State (NR): As usual, take your pick as to who gets the final slot in the poll. But the guess here is after the 6-1 Beavers took care of business vs. Cal, the memory of the opening-week loss to Eastern Washington will have receded enough to let them snag the No. 25 spot.
Also under consideration: Arizona State, Nebraska, Notre Dame, Michigan State, Utah, Texas
Dropped out of projected rankings: Georgia, Washington, Florida
Teams marked with an asterisk have games ongoing as of this update. Projection assumes Vegas favorites win.
Olson has a lot of the tools offensive coordinators want in a quarterback

The Tigers have a wealth of talent at their biggest position

Pineiro received the award for stopping an attack the morning of Oct. 15, 2017
The first opening weekend lines for college football in 2018 have been posted

A year-end wrap-up of college football statistics you need to know from 2017

Stanford produces apps and Super Bowl participants