Tony's Top 10: Bama and South Carolina better be on upset alert
Can Ole Miss pull off a shocker in Tuscaloosa? Will UCF ambush South Carolina? Can Wisconsin run past Ohio State? We'll find out in a Week 5 brimming with big games.
We didn't get a whole lot of questions answered last week because the games were so crummy. But I promise we'll make it up to you on Saturday. Here are just 10 questions we're pondering as September draws to a close:
Is Mettenberger ready to win game of his life?
Zach Mettenberger grew up in Watkinsville, Ga., a bedroom community just outside Athens, home of the University of Georgia. Like a lot of young boys in that part of the world, Mettenberger grew up dreaming about playing between Georgia's famed Hedges at Sanford Stadium. As a senior at Oconee County High School Mettenberger was tall (6-5) and had a cannon for a right arm. He signed with the Bulldogs along with another highly recruited quarterback, Aaron Murray of Tampa.
Both redshirted in 2009 and competed for the job in 2010. Murray won and is now on the verge of becoming the SEC's all-time leading passer. Mettenberger ran into some trouble off the field and was asked to leave Georgia that spring. He played a year of junior college ball and then landed at LSU.
On Saturday, with his mom and dad in the stands, Mettenberger will return to Sanford Stadium as LSU's starting quarterback for a game with huge national championship implications. Oh by the way: Tammy Mettenberger, his mother, still works in the football office at Georgia. Head coach Mark Richt gave her the week off.
"My life has ended up here at LSU and I couldn't be happier," Mettenberger told reporters this week. "I'm proud to wear the purple and yellow, proud to call myself a Tiger."
It is the biggest football game of Mettenberger's life and he won't receive a warm welcome home.
Is Ole Miss ready to win at a place like Alabama?
Ole Miss should enter Saturday's game against No. 1 Alabama with a little bit of confidence. The Rebels went on the road on Sept. 14 and handled Texas. Alabama (3-0) is looking vulnerable in the secondary to some things Ole Miss does particularly well with Bo Wallace. The Alabama running game, averaging only 132 yards per outing, is dead last in the SEC.
It's funny how expectations change perceptions. Ole Miss is 3-0 and thrilled. Alabama is 3-0 with a huge road win at Texas A&M and a pair of 25-point wins over Virginia Tech and Colorado State. But Crimson Tide fans, at least the ones I hear from, are in a tither about what this team CAN'T do.
Here is your stat of the week: Since 2008, Nick Saban's second year at Alabama, the Crimson Tide is 52-0 when rushing for 140 yards or more. In the seven losses Alabama has endured in that span, the Crimson has averaged 84.5 rushing.
Prediction: Alabama goes north of 180 yards rushing against the Rebels.
Should South Carolina be on upset alert at UCF?
Two weeks ago I warned you that Penn State should be wary of UCF and their quarterback, Blake Bortles. The Knights went to Happy Valley and won 34-31.
On Saturday the Fighting George O'Learys host South Carolina in the biggest home game since UCF opened Bright House Stadium with Texas in 2007.
"I've heard that some people think this is the biggest game in the history of the school," Gamecocks coach Steve Spurrier said. "It's a big game for both of us."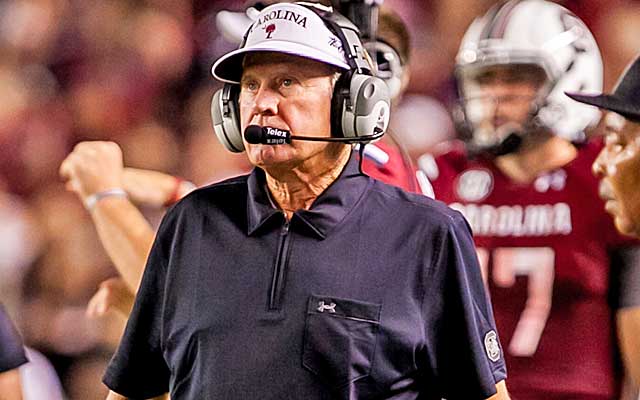 Is this going to be a hard-luck season for Florida?
First the starting quarterback, Jeff Driskel, has an emergency appendectomy in July. Then Matt Jones, the featured running back, suffers a viral infection that still has him a little low. Then Driskel suffers a broken bone in his leg in the first half against Tennessee last Saturday and is lost for the season. And now senior defensive tackle Dominique Easley suffers a torn ACL in practice on Tuesday and now he's lost for the season. Needless to say it's going to be a pretty distracted Florida team that goes to Kentucky on Saturday. Florida still has trips to LSU and South Carolina plus Georgia on the schedule.
Can Ohio State's D contain Thunder and Lightning?
While the focus of Saturday's Big Ten opener for Ohio State focuses on the return of QB Braxton Miller and his stellar backup, Kenny Guiton, I wonder if the Ohio State run defense is ready for Melvin Gordon and James White.
Wisconsin has had a lot of great running backs, including Ron Dayne, the 1999 Heisman Trophy winner. But Melvin Gordon may be the best of the bunch. Gordon leads the nation in rushing (156 avg.) despite getting only 13 carries per game, which gives him an average of 11.8 yards per carry. He has a career average of 9.95 yards per rush, which is tops among active players. He leads the FBS with six explosive plays of 30 yards or more this season.
His backup, James White, is averaging a mere 6.2 yards per carry. Ohio State's defense is ranked No. 9 nationally, allowing 79.8 yards per game and 2.61 yards per rush.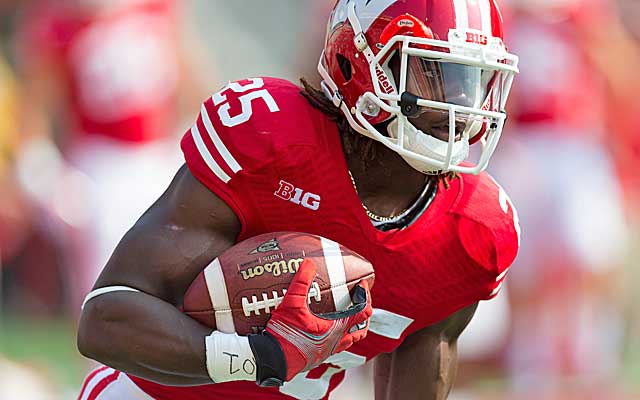 Will Tommy Rees step up and deliver against Oklahoma?
Tommy Rees is an interesting player. The image of the Notre Dame quarterback that is baked into our brains is that of him throwing it to the wrong guy, making the wrong read, and head coach Brian Kelly screaming at him with a red face.
After losing the job to Everett Golson last season, Rees is back as the starter as Oklahoma comes to South Bend on Saturday. Despite what can only be called an up-and-down career, he is 17-5 as the starting quarterback for Notre Dame.
Needless to say that a win over the Sooners (3-0) would do a lot to polish his legacy. But Rees has to give the Irish more. He was a pedestrian 14-of-34 (41.1 percent) in last week's ugly win (17-13) over Michigan State.
What is the over/under in yardage, plays in Cal-Oregon?
Fair warning here: If you're watching California and Oregon at home, only go to the fridge or the bathroom during commercial breaks. You'll certainly miss something if you don't.
Few teams move faster than Oregon, which is No. 3 in the nation by running a play every 18.6 seconds. Oregon only runs 73.5 plays per game because the Ducks break so many long touchdowns.
California is leaving us all breathless in the first year under Sonny Dykes. The Bears are second only to BYU, running an incredible 98.0 plays per game. California freshman Jared Goff leads the nation in passing (433.7 ypg).
"That kid is going to be an NFL quarterback," Oregon secondary coach John Neal told The Oregonian newspaper. "He's going to be special and set some records. I hope his arm gets tired against us."
Why is USC so bad on offense?
USC has its ups and downs like any program but I never thought I would see the Trojans struggle this much just to move the ball. On Sept. 7 they lost to Washington State with only 54 yards passing. Last week the Trojans' defense played well, holding Utah State to only 285 yards in a 17-14 win. USC had only 282 yards.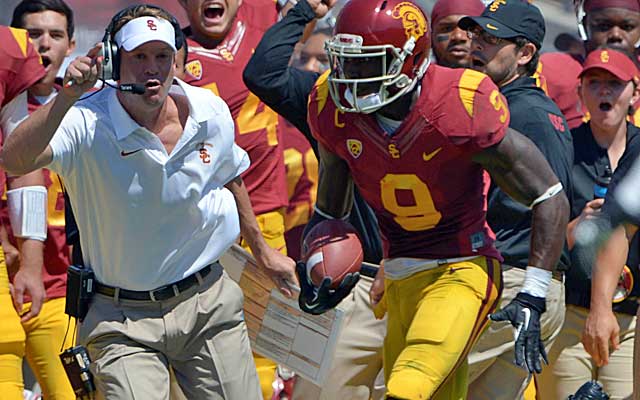 I don't know if that is going to cut it as the Trojans go to <span data-shortcode= State" data-canon="Arizona Wildcats" data-type="SPORTS_OBJECT_TEAM" id="shortcode0">, a team that is running 88.5 plays per game. The Sun Devils fell behind Stanford 29-0 before making a little comeback (the final was 42-28).
USC has not allowed more than 14 points in a game. Arizona State has yet to score less than 28 in a game. It should be interesting.
What is the second-best running back matchup of the weekend?
Georgia's Todd Gurley (125 ypg) vs. LSU's Jeremy Hill (117 ypg) is the best running back showdown on Saturday. But the second-best has to be Arizona's Ka'Deem Carey vs. Washington's Bishop Sankey in Seattle. Carey led the nation in rushing last season. He has 299 yards this season despite missing the first game on suspension. He has rushed for over 100 yards in six straight appearances going back to last season. Sankey is currently No. 2 in the country (148 ypg) behind Wisconsin's Melvin Gordon.
Washington is going for its first 4-0 start since 2001.
Can Cowboys get a road win at West Virginia?
Oklahoma State has lost three straight Big 12 road openers. Does that streak end Saturday at West Virginia?
Oh yeah. Big time. And it could get real ugly for the Mountaineers (2-2), who basically didn't show up last week in losing to Maryland 37-0 in Baltimore. It was the Mountaineers' worst shutout loss in 38 seasons. Oklahoma State (3-0) has looked impressive enough in beating Mississippi State (21-3), Texas-San Antonio (56-35) and Lamar (59-3). Now the Cowboys go on the road to open the conference season against a West Virginia team that is merely a shell of its former self.
Look for Oklahoma State to go 4-0 and for the heat to be turned up further on Dana Holgorsen, the head coach at West Virginia.
Saban isn't going to win Alabama's special election, but the Crimson Tide coach got some l...

The Sooners' quarterback and Badgers' rusher stood out among their peers this season

Clark led UAB to an 8-4 overall record, 6-2 in conference this season
SportsLine simulated every bowl game 10,000 times for pick'em leagues and confidence pools

The Tigers are going worldwide for their next punter

Led by Heisman Trophy winner Baker Mayfield, the Big 12 finished with seven first-team sel...