Tony's Top 10: Biggest ACC game ever? You better believe it
Just another ACC game? Please. While Jimbo and Dabo are trying to bill Saturday's FSU-Clemson game as such, it may be the biggest ACC game ever.
This will be the eighth Saturday of the college football season but trust me, fellow travelers, when I tell you that the season is just beginning. Here's why:
The first BCS Standings will be released on Sunday, and so Saturday is the last chance to impress the voters before the numbers really start getting crunched. Here are our ten burning questions we hope to get answered before then:
Is FSU-Clemson the biggest ACC game ever?
No. 3 vs. No. 5 is pretty big, and you can certainly make that case considering what is at stake Saturday night in Death Valley.
Because both teams are in the Atlantic Division, the winner basically has a game-and-a-half lead over the loser. And while the coaches, Dabo Swinney and Jimbo Fisher, are trying to bill it as just one game, the fact is that the winner will be in the national championship discussion on Sunday night and the loser will be playing catch-up and hoping for some luck the rest of the season.
The closest ACC game on the excitement meter to this one, at least in my memory, came on Nov. 8, 1997, when No. 3 <span data-shortcode= State" data-canon="Florida Gators" data-type="SPORTS_OBJECT_TEAM" id="shortcode0"> (8-0) went to No. 5 North Carolina (8-0). For 10 years North Carolina coach Mack Brown had been building the program hoping to get in this type of game. Florida State won 20-3 but the game was really not that close. The next year Brown was the head coach at Texas.
I will say this: The quarterback battle between Clemson's Tajh Boyd and Florida State's Jameis Winston could be the best the conference has ever seen.
Can Johnny Football keep up this pace?
Texas A&M has won 10 straight games on the road because No. 2 will not let them lose. The Aggies were certainly set up to lose at Ole Miss last Saturday, down 38-31 with about six minutes left. Manziel put together a touchdown drive, which he finished by running the final 6 yards, and then drove his team into position to kick the winning field goal on the last play of the game.
He passed for more than 300 yards and ran for more than 100 yards. On the season he's completing 73.2 percent of his passes. If I had to pick a player of the year right now it would be Manziel. He's that good.
He is the fastest player to ever get to 7,000 yards of total offense as he hit the mark in just 19 games. He's been doing this all season, and with Texas A&M's struggling defense, he'll have to do it again Saturday against Auburn, in what is going to be a breathless, up-tempo game.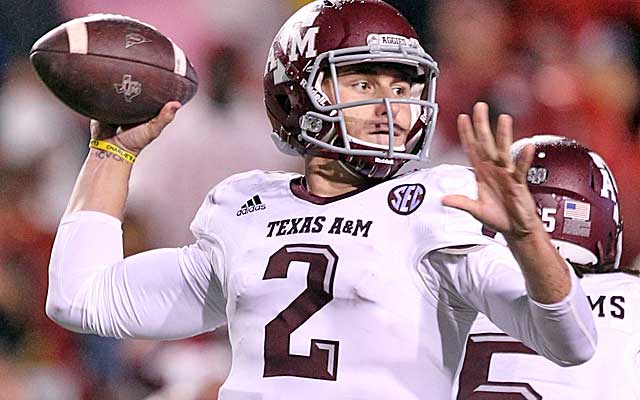 Auburn has a shot in this game because its defense gives up a lot of yards (No. 10 in the SEC in total defense at 399.2 ypg) but finds a way to get stops (No.3 in scoring defense, 18.8 ppg).
Can Missouri keep its run going?
Missouri (6-0, 2-0 SEC) posted one of the biggest road wins in its history last week at Georgia (41-26). Missouri sits alone atop the SEC East Standings but logic says the Tigers are not going to stay there.
The schedule gets very real with No. 22 Florida (4-2) and No. 11 South Carolina (5-1) visiting the next two weeks. Missouri still has to go to Ole Miss (Nov. 23) and hosts No. 7 Texas A&M (5-1) on Nov. 30. And they have to do it all without quarterback James Franklin, who is out for at least three weeks, maybe more, with a shoulder injury. So Maty Mauk will have to steer the ship against Florida, which has the nation's No. 3 defense (235.3 ypg).
Will LSU slow it down or speed it up vs. Ole Miss?
Last week LSU coach Les Miles decided the best way to beat Florida was to pound the football with Jeremy Hill. He might take a different approach at Ole Miss (3-3, 1-3 SEC), which has lost three straight. How explosive is the Tigers' offense this season? Consider that LSU has: •126 plays of 10 yards or more. •50 plays of 20 yards or more. •39 passing plays of 20 yards or more.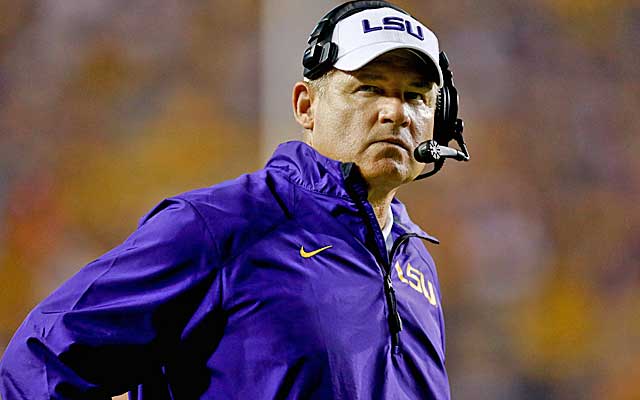 LSU (6-1, 3-1) should be the highest ranked of the one-loss teams when the BCS Standings come out. The Tigers are just trying to hold the rope and get to November and the big matchups at Alabama (Nov. 9) and Texas A&M (Nov. 23 at home.)
Who starts at quarterback for Texas Tech?
Does it matter? Talk about plug and play! Baker Mayfield, Texas Tech's freshman quarterback, couldn't go last week against Iowa State. In steps another true freshman, Davis Webb, who throws for 415 yards in a 42-35 win. So the bottom line is that it doesn't matter who starts the game as the Red Raiders (6-0, 3-0 Big 12), already bowl eligible in Kliff Kingsbury's first season as head coach, head to struggling West Virginia (3-3, 1-2).
Mayfield's knee is still sore after dinging it against Kansas so he may not be available. But Kingsbury has depth at the position in sophomore Michael Brewer, who was supposed to be the starter this season.
The Red Raiders under Kingsbury are just relentless, running 93.4 plays per game (No. 4 nationally) while averaging 41.4 points.
West Virginia fooled us on Sept. 28 when the Mountaineers knocked off Oklahoma State (30-21) in Morgantown. Could Dana Holgorsen's bunch do it again?
Is Iowa State ever going to catch a break?
The Cyclones (1-4, 0-2 Big 12) have lost four games by an average of 5.5 points. You saw what happened against Texas (a 31-30 loss) and last week against Texas Tech, as mentioned above, they got lit up by freshman QB making his first start. Don't expect things to go much better on Saturday as Iowa State goes to No. 12 Baylor (5-0, 2-0).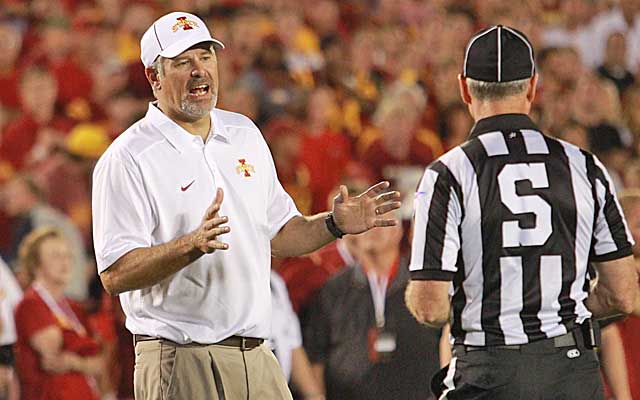 The Bears, enjoying their highest national ranking in 23 years, almost looked human last week in a 35-25 win over Kansas State. Even though Baylor was held to "only" 451 yards by the Wildcats, they still lead the nation in total offense (714.4 ypg) and scoring offense (63.4 ppg).
Will Utah have a Stanford hangover?
Some things are debatable. This is not: Utah won its biggest game as a member of the Pac-12 last week when the Utes knocked off Stanford 27-21 in Salt Lake City. After close losses to Oregon State (51-48 OT) and UCLA (34-27) to open the conference schedule, the Utes finally put it together against the Cardinal.
"Our players have fought and competed all season long," coach Kyle Whittingham told reporters this week. "We were due to come out on the right end of one of those close ones."
Now, inquiring minds want to know, can they build on it as they go to Arizona (3-2, 0-2 Pac-12)? Utah (4-2, 1-2) plays four of its final six games on the road.
Is UCLA's Brett Hundley that good?
Yes, I do believe he is but we're getting ready to find out. While we are talking about all these great quarterbacks in the Pac-12 you better not forget about Hundley, the redshirt sophomore. In just five games this season Hundley has 1,469 yards passing and another 260 yards rushing. Last week against California he completed 31 of 41 passes for a career-high 410 yards in a 37-10 win over the Bears.
If Hundley is really ready for prime time we're going to find out in the next two weeks. On Saturday the Bruins (5-0, 2-0 Pac-12) go to Stanford (5-1, 3-1) which is still smarting from an upset loss to Utah. Then UCLA goes to No. 2 Oregon .
9. Can Washington stop the bleeding at Arizona State?
Washington got off to a 4-0 start which had Huskies fans thinking of the glory days of Don James and possibly getting back to the Rose Bowl. But then the Huskies dropped a 31-28 heartbreaker at Stanford and then wilted in the fourth quarter under the relentless pressure of Oregon's offense, losing 45-24.
Washington (4-2, 1-2 Pac-12) needs to get that momentum back and avoid a three-game losing streak for the fifth straight year under Steve Sarkisian. The problem is the Huskies have to go back on the road to face another explosive team in Arizona State (4-2, 2-1). Arizona State quarterback Taylor Kelly is seventh in the nation in total offense (355 ypg) and running back Marion Grice is tied for the lead nationally in touchdowns with 10.
Is Marqise Lee going to get back on the field for USC?
The Trojans (4-2, 1-2) beat Arizona 38-31 last week in Ed Orgeron's debut as interim head coach. But USC won the game without wide receiver Marqise Lee, who has been out since suffering a sprained knee returning a punt at Arizona State on Sept. 28. The Trojans would really like to get Lee, who owns or shares 24 records at USC, back on the field when they travel to Notre Dame (4-2).
Early in the week USC listed Lee as questionable. He then had a good practice on Tuesday and told the Los Angeles Times that "By Saturday, I think I'll be 100 percent."
I think they are going to need Lee to win in South Bend.
Many NFL-eligible juniors ignore advice provided by the league and risk going undrafted each...

Snyder died in Manhattan, Kansas, on Wednesday

Locksley joined Alabama's staff in 2016
Saban reportedly wants to hire Freeze, but there may be things keeping that from happening

Florida State-Miami will be on Oct. 6, and the Seminoles will play Clemson on Oct. 27

Weis Jr. was an offensive assistant for the Atlanta Falcons in 2017