Tony's Top 10: Biggest Iron Bowl ever? That's debatable
No doubt the Iron Bowl is big -- winner goes to Atlanta, maybe even Pasadena -- but is it the biggest Bama-Auburn matchup ever? Maybe not.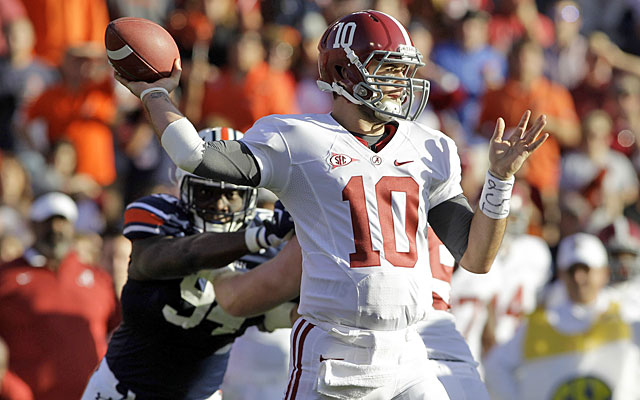 Given the stakes, which are enormous, the argument can be made that Saturday's 78th meeting between No. 1 Alabama (11-0, 7-0 SEC) and No. 4 Auburn (10-1, 6-1) is going to be the most important game these bitter state rivals have ever played.
It is a fact that the combined ranking of five is the highest ever for the Iron Bowl.
It is a fact that for the first time since divisional play began in 1992, the two teams meet with the SEC West title on the line.
And it is a fact that if Auburn wins, not only will it advance to the SEC Championship Game in Atlanta, it will, in all likelihood, knock the Crimson Tide out of a chance to win an unprecedented third straight BCS championship. If you're an Auburn fan, it is the ultimate daily double on the college football passion scale.
But just for fun, let me offer up two Iron Bowls that I believe matched this one on the intensity meter. Feel free to disagree:
Nov. 27, 1971: Both teams were 10-0. For the first time ever both were in the top five when they met as Alabama was No. 3 and Auburn was No. 5. The SEC championship and a possible national championship hung in the balance. Auburn had Heisman Trophy quarterback Pat Sullivan and Hall of Fame receiver Terry Beasley. Alabama had rolled over just about everyone with its newly installed wishbone offense. It was never a contest as Alabama won 31-7 in Birmingham. The Crimson Tide thought they were headed to a national championship. But that was reserved for No. 1 Nebraska, which beat Alabama in the Orange Bowl 38-6.
Dec. 2, 1989: The most emotional day I can remember in 30 years of covering college football. Alabama was undefeated and ranked No. 2. All the Crimson Tide (10-0) needed was a win over Auburn to get a shot at the national championship. The problem was that Alabama would try to get that win in its first trip ever to Auburn's Jordan-Hare Stadium. The game had been played annually in Birmingham since 1948 and Bear Bryant said the Crimson Tide would never play at Auburn as long as he was alive. Six years after Bryant's, death it happened.
Over 30,000 Auburn fans lined the famed "Tiger Walk" to the stadium. I saw grown men crying because they were so caught up in the moment. Auburn won 30-20.
So is Saturday's game the biggest Iron Bowl ever? I'll let you be the judge come Saturday night.
Here are nine other burning questions for rivalry Saturday:
2. Is Missouri (vs. Texas A&M) playing its biggest home game ever? That's an emphatic yes. Because if the Tigers (10-1, 6-1 SEC) can dispatch the Aggies and Johnny Football, they would go to the SEC Championship Game in only their second year in the conference. I've said it all week and let me emphasize it here again: Missouri is a very good team. The offense is dynamic with James Franklin back at quarterback. The Tigers lead the SEC in quarterback sacks (35). DT Michael Sam is unblockable. Missouri leads the SEC in turnover margin (plus-14). If the Tigers had not let a 17-0 lead slip away against South Carolina, they would be in the BCS championship discussion.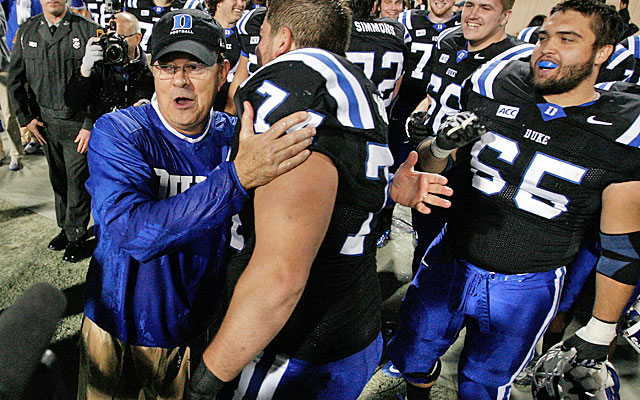 3. Can Duke close the deal in Chapel Hill? Duke (9-2, 5-2 ACC) has a rich football history, but most of it happened before World War II. The Blue Devils rallied to beat Wake Forest last week to post their first nine-win season since 1941. If David Cutcliffe's team, which has now won seven straight, can find a way to win at North Carolina (6-5, 4-3), it would be the first time Duke has ever won 10 games in a season. Duke would also win its first ACC Coastal Division title and earn a spot opposite No. 2 Florida State in the ACC Championship Game in Charlotte, NC, on Dec. 7. "We've told our guys that with each win the stakes get bigger," Cutcliffe said. "We've had a good season. Now we have a chance to make it a special season."
Statistical note: In this seven-game winning streak, the Duke defense has given up only 10 points in the fourth quarter.
4. How ugly is it going to be in The Swamp? Gator Nation is not happy. It shouldn't be. It's bad enough that Florida (4-7, 3-5 SEC) has lost six straight and is headed to its first losing season since 1979. It's even worse that the latest loss was to Georgia Southern of the FCS. And now Florida must host No. 2 Florida State (11-0), which has already scored a school-record 607 points. All indications are that Florida coach Will Muschamp will be back next season. But there will be no warm holiday feelings at Ben Hill Griffin Stadium. There will also be a lot of empty seats. After the Seminoles scored 80 on helpless Idaho last week, the Gators should not expect any mercy in what is a huge recruiting game.
5. Is the Head Ball Coach going to be doing some scoreboard watching? South Carolina (9-2, 6-2 SEC) has a chance to post its fifth straight win over Clemson (10-1) as the No. 6 Tigers come to Williams-Brice Stadium. This is a big game for Steve Spurrier because it would give the Gamecocks double-digit wins for the third consecutive year. This game starts at 7 p.m. ET. Just 45 minutes later Missouri hosts Texas A&M and if the Aggies pull off the upset, South Carolina wins the SEC East and goes to Atlanta.
6. Can Georgia beat Georgia Tech without Aaron Murray? For the first time since Dec. 28, 2009, somebody other than Aaron Murray will start at quarterback for Georgia. Last week, in his 52nd consecutive start, Murray was knocked out of the game with a knee injury against Kentucky. Junior Hutson Mason, who has been playing behind Murray for three years waiting on his chance, will get his first career start against Georgia Tech (7-4). Georgia has won 10 of its past 11 games against Georgia Tech.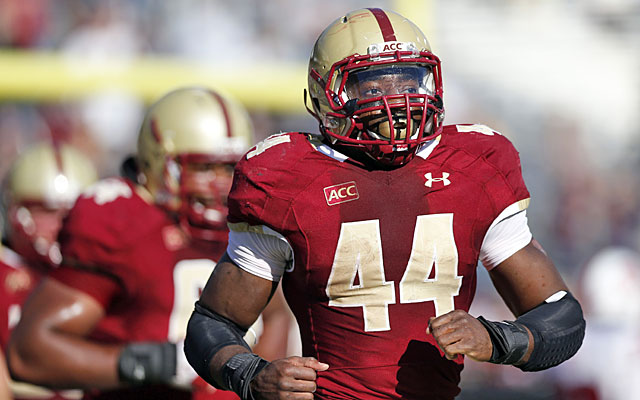 7. Can Andre Williams break the Carrier Dome jinx? Here is one of the best stats of the week. Syracuse (5-6, 3-4 ACC) has had a difficult first year in the ACC. But for some reason the Orange are tough against the run in the Carrier Dome. In six games at home this season opponents have gained an average of only 75.2 yards rushing per game. Now here comes Andre Williams of Boston College (7-4, 4-3), leading the nation in total rushing (2,073 yards) and yards per game (188.5). He has carried the ball a whopping 137 times in his past four games, all BC victories.
8. Can Coach O beat UCLA and NOT get the USC job? Ever since Ed Orgeron took over for Lane Kiffin on Sept. 29, I've been saying that when all is said and done he will not get the full-time gig at Southern California. But I could be wrong about that. If the Trojans (9-3, 6-2) beat cross-town rival UCLA (8-3, 5-3), which is coming off a tough loss to Arizona State, then Orgeron will be 7-1 as the interim head coach. The only loss was on the road at Notre Dame (14-10). The Trojans are playing with great energy and enthusiasm. If USC gets to 10-3, Pat Haden has a very tough decision to make.
9. Despite the stakes, will Arizona State have a letdown against Arizona? The Sun Devils (9-2, 7-1 Pac-12) clinched the South Division and a spot in the Pac-12 Championship Game by beating UCLA last Saturday. If Todd Graham's team wants to host the conference title game against Stanford, it must beat Rich Rod's Wildcats (7-4, 4-4), who are coming off an inexplicable 42-16 domination of Oregon. Arizona State might be without running back Marion Grice, who left the field on crutches last Saturday.
10. Has there ever been less buzz for an Ohio State-Michigan game? In 1969 Michigan pulled off one of the biggest upsets in college football history when the Wolverines, 17-point underdogs at home, beat No. 1 Ohio State 24-12, snapping the Buckeyes' 22-game winning streak. It was Bo Schembechler's first year at Michigan and started what became known as the "Ten Year War" between Bo and Woody Hayes. So anything is possible. Michigan is a 16-point underdog in the Big House on Saturday against an Ohio State team that has won 23 straight and is still in the BCS championship discussion. Given the nature of this rivalry I don't want to say that Michigan has no shot. I don't want to say it but I will: Michigan has no shot. The Wolverines just aren't very good.
CBS Sports HQ Daily Newsletter
Get the best highlights and stories - yeah, just the good stuff handpicked by our team to start your day.
Please check the opt-in box to acknowledge that you would like to subscribe.
Thanks for signing up!
Keep an eye on your inbox for the latest sports news.
Sorry!
There was an error processing your subscription.
Nix beat out redshirt freshman Gatewood for the top spot on the depth chart

A look at what Darrell K Royal-Texas Memorial Stadium has to offer when the Longhorns are...

Meanwhile, fellow transfer quarterback Jarret Doege received immediate eligibility from the...
The two schools that have met four times in the College Football Playoff lead the way once...

Anderson is taking time away from football to be with his family during this difficult tim...

How an unplanned meeting with a Hurricanes coaching legend helped Miami's staff prepare for...