Tony's Top 10: Biggest storylines heading into BCS title game
It's Auburn and Florida State for the 16th and final BCS title. From coaching moves, position changes to the Tigers' and Seminoles' kickers, here are the top storylines.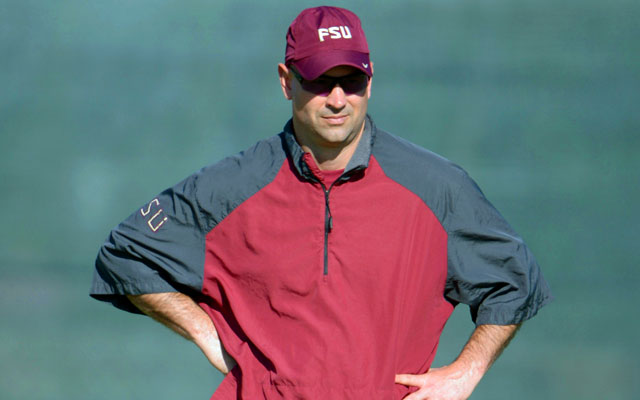 NEWPORT BEACH, Calif. -- We're finally closing in on Monday night's BCS title game between Florida State and Auburn. There are so many angles to this game, so many possible ways it could turn out. This is, by no means, a definitive list, but here are Tony's Top 10 storylines on the eve of the 16th and final BCS championship game:
1: Auburn's one-year turnaround from 0-8 in the SEC in 2012, to conference champions in 2013 is the biggest single one-year improvement in the history of the league. But it wasn't easy, said head coach Gus Malzahn.
"Auburn is a great program so we knew we could bring it back," said Malzahn. "But we didn't know how long it would take. The initial returns were troubling."
"It was mixed bag," Ellis Johnson, the defensive coordinator, said of his early meetings with the Auburn players. "There was a lack of confidence. There was frustration. There was anger."
Ellis said that Malzahn made it clear to the Auburn players that changes were going to be made. And those not willing to change would be asked to move on.
"We turned up the pressure on them in the offseason workouts," said Malzahn. "We tested them. No doubt about it."
"Some guys didn't want to change. Some didn't buy in," said Johnson. "And they moved on."
2: Earlier this year I had a chance to meet golfing great Jack Nicklaus, whose grandson, Nick O'Leary, plays tight end for Florida State. Nicklaus, an Ohio State alum, is a huge college football fan and never misses one of Nick's games. He will be in the Rose Bowl on Monday night.
When I asked Nicklaus what he thought of Jimbo Fisher and the Florida State program, he said: "I like Jimbo a lot. I just wish he used the tight end more."
Well, Nicklaus got his wish in 2013 as O'Leary posted a career-high 33 catches for 557 yards and 11 touchdowns, which is a school record for a tight end.
If Ohio State had not lost in the Big Ten title game, O'Leary would be playing against his grandfather's alma mater Monday night. Somebody asked O'Leary if he was sure his grandfather would have pulled for Florida State.
"I'm sure," he said.
3: Jay Jacobs, the director of athletics from Auburn, has had to learn how to say no at lot since Dec. 7.
Jacobs said his office quickly sold its allotment of 17,500 tickets to Monday's game, which were distributed through the points system that awards season tickets. He asked for and received 2,500 more.
"We sold 20,000 tickets and could have easily sold 80,000," said Jacobs. "Now the problem is with people who finally got tickets finding a way to get here."
Jacobs said he talked to one couple who just got tickets on Friday and couldn't find an affordable flight. So they hopped in their car and drove from Auburn to Los Angeles. It took them 36 hours.
"The game doesn't start until Monday at 5:20 [Pacific time]," said Jacobs. "The Auburn folks with tickets will find a way to get here."
4: When Mark Stoops left Florida State last year to become the head coach at Kentucky, head coach Jimbo Fisher wanted a change in philosophy on that side of the ball.
Florida State was No. 2 in total defense behind Alabama last season, but was No. 93 in turnover margin (27 lost, 21 gained). Fisher hired Jeremy Pruitt, an assistant at Alabama, in order to bring a more aggressive style to the defense. Fisher also hired former Alabama assistant Sal Sunseri, who was DC at Tennessee when Derek Dooley was fired.
The change has been dramatic. This season Florida State was No. 2 in turnover margin at plus 17 (34 gained, 17 lost). And that's after having six defensive players drafted from the 2012 team.
"We show a lot of different looks and have a much more attacking style," said Fisher.
5: Speaking of Pruitt, his preparation for Gus Malzahn's up-tempo offense was only helped by the fact that Auburn played Alabama as recently as Nov. 30.
"I'm very familiar, obviously, with the players at Alabama, the talent level, who they are," said Pruitt. "Schematically, us and Alabama are very similar. So how Coach Malzahn attacked Alabama, you know, is what he had success with and what he didn't have success with."
Pruitt was asked if his friend Kirby Smart, the defensive coordinator at Alabama, was willing to share some tips on how to defend Auburn.
"Kirby kind of took the stance of me and you are friends, but they've still got the old SEC going in them now," said Pruitt. "There is some pride there, so not really."
6: Auburn beat No. 1 Alabama 34-28 on Nov. 30 after the never-to-be-forgotten 109-yard return by Chris Davis of a missed Alabama field goal. That improved Auburn's record against No. 1-ranked teams to 4-8.
No team has ever beaten a No. 1 team twice in a season, which is what Auburn will be trying to do against Florida State on Monday night.
After beating Alabama and then No. 5 Missouri in the SEC title game, this will be the third consecutive game where Auburn has faced a team ranked in the top five.
7: If the BCS title game comes down to a field goal, both teams like their chances.
Florida State's Robert Aguayo won the Groza Award as the nation's top kicker, making 95 percent of his attempts (19 of 20). He made all 90 of his extra point attempts. On the season Aguayo has scored 147 points, which is more than the combined total of Florida State's opponents (139). He is only a freshman.
Auburn's Cody Parkey had a string of 19 straight field goals of 45 yards and in snapped earlier this season. But he is most effective on kickoffs, as he led the nation with 67 touchbacks this season. In his career, 140 of Parkey's 242 kickoffs have gone for touchbacks.
8: When Jay Prosch transferred from Illinois to Auburn in the spring of 2012, he simply wanted to be closer to his mother, who was battling cancer at her home in Mobile. He lost his mother during the 2012 season, when Auburn finished a disappointing 3-9.
Coach Gene Chizik was fired and a new staff came in. Prosch was more than a little uncertain about his football future. He certainly never expected to be starting and playing for the BCS national championship in his final college game.
Prosch is the classic H-back in Gus Malzahn's offense. He is a vicious blocker at 6-0, 258. Malzahn told Prosch that he would be a special player in this offense. What he didn't tell Prosch is that he would not carry the ball -- not once -- this season.
"I wasn't happy about it at the time, but now I love this position," he said. "I'm extremely happy about playing it."
Don't be surprised if Prosch gets the ball at least once in the title game.
9: In addition to winning its third national championship in football (1993, 1999), Florida State could make history for the ACC by beating Auburn and ending the SEC's seven-game winning streak in BCS title games.
It would also put a nice finish to an up-and-down ACC bowl season. The conference sent a record 11 teams to bowls this season but until this week, things have not gone well. The ACC was 3-6 in postseason games until Friday night's Orange Bowl between Clemson and Ohio State, which the Tigers won 40-35.
A win would not only give the ACC its first BCS championship since 1999, it would give the conference two BCS wins in the same season for the first time ever. The ACC had never placed two teams in the BCS until the 2011 season when Virginia Tech lost to Michigan in the Sugar Bowl and Clemson, the conference champion, was hammered by West Virginia in the Orange.
Going into this season the ACC was 3-13 all time in BCS games.
With eight, Florida State ends the BCS era with the third most appearances in BCS bowls behind Ohio State (10) and Oklahoma (9).
10: With only 28 points in Monday's game, Florida State will set the all-time record for points in a season. That record belongs to the 2008 Oklahoma team which scored 716 points over a 14-game season. The Sooners lost to Florida in the BCS title game. Florida State has scored 689 points in 13 games, which is a school and ACC record. The Seminoles also lead the nation in scoring, averaging 53 points per game.
CBS Sports HQ Daily Newsletter
Get the best highlights and stories - yeah, just the good stuff handpicked by our team to start your day.
Please check the opt-in box to acknowledge that you would like to subscribe.
Thanks for signing up!
Keep an eye on your inbox for the latest sports news.
Sorry!
There was an error processing your subscription.

Compete for Prizes & Play Against Friends with College Pick'em
Bryce Thompson was arrested after an incident on Saturday night on campus

SportsLine's advanced computer model simulated every Week 1 college football game 10,000 t...

The Week 0 nightcap had everything, including one of the wildest drive charts you'll ever...
Florida's first win of the season left a lot to be desired for the Gators

In as absurd a fourth quarter as two teams can have, Florida beat Miami for just the second...

The Wildcats and Rainbow Warriors kick off the season in a Week 0 showdown in Honolulu