Tony's Top 10: Rivalries don't get any better than LSU-Alabama
Auburn is starting to dream big, but will it stumble at Tennessee? Also, can Miami bounce back? And who's more desperate: Nebraska or Michigan?
Well, they are all excited Friday in Tallahassee, Fla, Columbus, Ohio, and Waco, Texas.
One big question -- the one about Oregon's invincibility -- got answered Thursday night. Now the Ducks have to win out and hope Stanford loses again just to play in the Rose Bowl. And at Florida State, Ohio State, and Baylor they are going to be scoreboard watching the rest of the month. And right now they want to know:
Will another contender go down between now and close of business on Saturday? Here are our 10 Burning questions as the BCS race really starts to heat up:
Is LSU-Alabama college football's best rivalry?
I've said it before and I'll stick by it: Nick Saban vs. Les Miles is the Woody vs. Bo of our generation. LSU vs. Alabama is our equivalent of Ohio State-Michigan in that glorious Ten Year War.
You want to argue? Fine. But here is my case: I have two basic criteria to define a great college football rivalry:
•The games have to be ultra-competitive and be played at a very high level year-in and year-out.
•Something big needs to be on the line just about every time they play.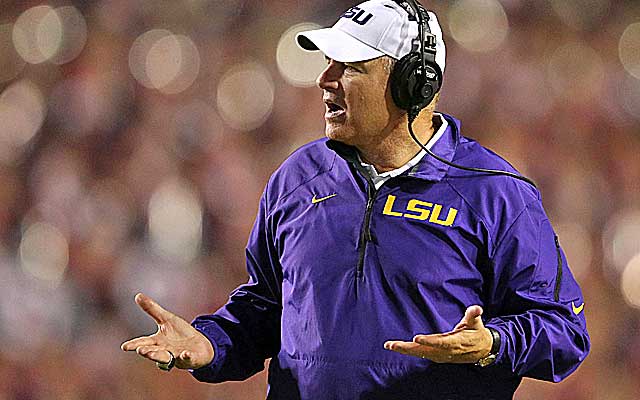 So let's take the last six regular-season games between these two teams since Saban arrived at Alabama (I'm tossing out their meeting in the 2011 BCS Championship game, won 21-0 by Alabama in New Orleans):
• The six games have been decided by a total of 26 points. That's an average of 4.3 points per game.
• Two games (2008, 2011) went to overtime.
• Two games (2007, 2012) were decided with less than 90 seconds left.
• Four of the last six years either Alabama (2009, 2011, 2012) or LSU (2007) has won the BCS national championship. In 2011 Alabama lost the regular-season meeting with LSU in Tuscaloosa (9-6 OT) but went on to beat LSU in a rematch for the national title.
• In Les Miles' eight years at LSU the Tigers have sent 51 players to the NFL Draft, including 12 in the first round. Since 2008, Saban's second season at Alabama, the Crimson Tide has had 33 players taken in the draft -- 14 in the first round.
There's my case. Now the floor is yours.
Is the Houston game George O'Leary's biggest at UCF?
The answer is emphatically yes. In fact, we'll say right now: This is the biggest game UCF has ever played, period, because of what it could lead to. The first-year member of the American Athletic Conference (formerly Big East) can take a major step toward locking up the championship and the automatic BCS bid that comes with it with a win over the Cougars (7-1, 4-0). UCF is also undefeated in the conference and its only loss was to South Carolina. Both UCF (Blake Bortles) and Houston (John O'Korn, 22 TD) have great quarterbacks. But here is the key to the game: Houston leads the nation in turnover margin at a staggering plus-20! The second closest team is Missouri at plus-15.
Should Auburn be on upset alert?
At a surprising 8-1 (4-1 SEC), Auburn is starting to dream a little bigger. The most realistic goal when the season started was just getting to a bowl. Now the goal, even if it isn't publicly stated, is to beat Tennessee (4-5, 1-4, 4-5) on the road on Saturday, defeat a beat-up Georgia team at home on Nov. 16, and be 10-1 on Nov. 30 when the Tigers host No. 1 Alabama. But beware Tiger fans. Butch Jones's young Tennessee team does not play well on the road (note last week's domination at Missouri) but they do play well at home with wins over South Carolina and an overtime loss to Georgia. Just sayin'.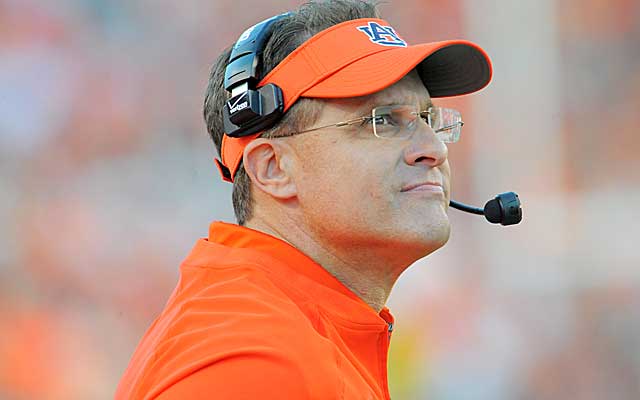 Can Miami recover without Duke Johnson?
Some injuries just make you want to cry. One was Marcus Lattimore of South Carolina last year. We had another one last week when Miami running back Duke Johnson suffered a horrific broken ankle against Florida State. The 41-14 loss to the Seminoles knocks the Hurricanes out of the national championship discussion, but they still lead the ACC Coastal division (7-1, 3-1) and could get a rematch with Florida State in Charlotte. Now the question becomes, can Miami generate enough offense without Johnson to beat a wounded Virginia Tech team that has lost two straight but has the nation's No. 3 defense?
Who's more desperate, Nebraska or Michigan?
Nebraska threw up a prayer and had it answered last week to beat Northwestern on the game's last play. Now the Cornhuskers need a little more divine intervention as they go to the Big House to play a Michigan team that got its collective butts kicked last week by Michigan State. Michigan (6-2, 2-2 Big Ten) and Nebraska (6-2, 3-1) are still mathematically in the race for the Big Ten Legends division. Nebraska gets Michigan State next week and still controls its destiny in the division. But for that game to mean something the Huskers have to beat a team whose pride was wounded by the Spartans.
Is Will Muschamp in trouble at Florida?
If you define trouble as Muschamp is going to lose his job, the answer is no. But clearly the Gator faithful is unhappy about losing and the offensive style in which they are losing as Florida (4-4, 3-3) hosts Vanderbilt (4-4, 1-4) at Homecoming. There are going to be a lot of empty seats for this game and that is never good for the director of athletics to see. Just to show you what kind of year it has been for the Gators, they lost yet another offensive lineman this week when Tyler Moore broke an elbow in a scooter accident.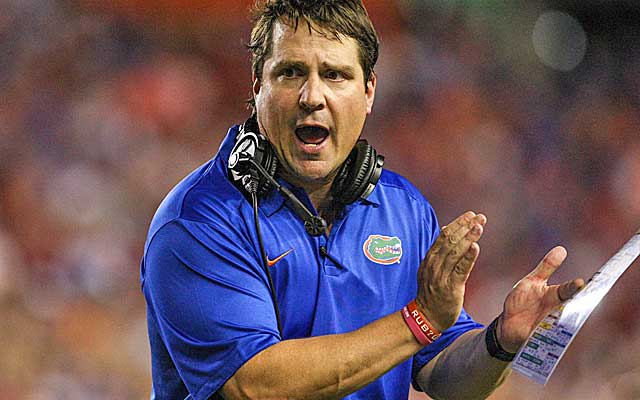 Is there a better style contrast than BYU-Wisconsin?
Contrasting styles make great fights. BYU coach Bronco Mendenhall decided last year that if his team was going to reach the elite of college football, he had to change his attitude about offense. So Mendenhall, a defensive guy, completely reshuffled his offensive staff, bringing Robert Anae back as coordinator, and installing a brand new, up-tempo offense. Behind quarterback Taysom Hill, who earlier this season ran for 259 yards against Texas, it has worked. BYU leads the nation in plays run per game at 92.8. Contrast that style with Wisconsin, which crawls along at 68.1 plays per game because it has the No. 2 and No. 3 runners in the Big Ten in Melvin Gordon and John White. This one is going to be fun.
Can the Gophers keep this up?
In 2008 Minnesota started 7-1. Then the bottom fell out and the Gophers lost their last five to finish 7-6. They are determined that won't happen again and plan to prove it with Saturday's trip to Penn State where, believe it or not, Minnesota is favored to win. The Gophers have won three straight games since falling to Michigan 42-13 on Oct. 5. And they have done it with head coach Jerry Kill watching from the coaches box as he continues to get treatment for his epileptic seizures. Kill could have returned to the sidelines but decided to stick with what is working. In case you're wondering, the last time the Gophers won eight games was 2003 when Glen Mason took them to a 10-3 record.
Is Texas going to stub its toe at West Virginia?
Having weathered the early storm of this season, Texas coach Mack Brown has a chance to write his own script. His Longhorns are 5-0 in the Big 12 with five straight victories and have conference games left at West Virginia, Oklahoma State, Texas Tech, and at Baylor. The script has Texas playing at Baylor on Dec. 7 for the Big 12 championship. But West Virginia has been a strange and pesky team. The Mountaineers (4-5, 2-4) are the only team to beat Oklahoma State this season (30-21 in Morgantown) and last week went on the road and won at TCU (30-27). A year ago these teams played a wild one in Austin as West Virginia held on, 48-45.
Will Missouri's James Franklin play at Kentucky?
Missouri coach Gary Pinkel has an interesting decision to make. Starting quarterback James Franklin is finally ready to go after recovering from shoulder surgery. But backup Maty Mauk has performed well with the Tigers averaging 468.7 yards and 30.3 points in his three starts. But conventional wisdom says Missouri is going to need Franklin if they hope to win at Ole Miss on Nov. 23 and against Texas A&M at home on Nov. 30. Does Pinkel put Franklin in this game, knowing he has next week off?
The statue will go up in 2019 after Illinois completes its new football performance center

The junior injured his finger diving for the pylon late in the first quarter of the loss to...

The new college football rankings for all 130 FBS teams heading into Week 13
A former four-star recruit is seeking immediate eligibility at any school, including the S...

Division, conference and playoff races are on the line over the holiday weekend

A look at the weekend that was in the world of college football