Tony's Top 10: Something's gotta give between LSU and Florida
The Gators are No. 2 in total defense and LSU is averaging 45 points a game. Which trend ends Saturday? Elsewhere, can the banged-up Dawgs limp past Mizzou?
Here are our 10 Burning Questions as we get ready for the second Saturday of October:
Can the LSU offense keep up this pace?
You can tell this is unchartered territory for LSU and its fans. Normally the Tigers win with defense and just hope to generate enough offense to keep it interesting. But this season, behind quarterback Zach Mettenberger, the LSU offense has caught fire.
Through six games LSU is No. 9 in scoring (45.5 ppg). Mettenberger is No. 7 in passing (1,738 yards), Odell Beckham Jr. is No. 13 in receiving yards (114.3 ypg), and Jeremy Hill is No. 11 in rushing yards per game (118.8). The question is whether the Tigers can put up those numbers against what is probably the best defense they will see all season.
Florida, No. 2 in total defense (217.0 ypg) and No. 4 in scoring defense (12.2 ppg), has held 12 straight SEC opponents to 20 or fewer points. The second-longest such streak in the SEC belongs to Alabama at one (a 25-0 shutout vs. Ole Miss).
If Clowney plays, will his heart be in it?
If you know Steve Spurrier, the frustration you heard in his voice last Saturday is familiar. The Gamecocks can still win the SEC East but Jadeveon Clowney, his All-America defensive end, decided minutes before the game at Kentucky that he couldn't go. It was a surprise to everybody. What should have been a relatively easy game against Kentucky turned out to be a 35-28 struggle and Spurrier publicly expressed his frustration with Clowney.
Spurrier did a little damage control on Tuesday by singing Clowney's praises and admitting that "none of us handled it well." Clowney said he would return at some point and then was back at practice on Wednesday. By Thursday evening the school announced that he would start at Arkansas if he was healthy.
Like our Dennis Dodd wrote earlier, Clowney has the right to protect his health and his NFL future, which should include millions in guaranteed money. Still, you can't go out there and play scared or tentative, trying NOT to get hurt. So we will be interested to see if Clowney's heart is really in it. And by the way, this is a dangerous game for South Carolina.
Can Dawgs get past Mizzou?
Does Georgia have enough warm bodies to beat Missouri? After two emotional and physically debilitating wins over LSU (44-41) and Tennessee (34-31 OT), Georgia will be missing a lot of skilled players against Missouri (5-0) on Saturday. The Bulldogs' top two running backs (Todd Gurley, Keith <span data-shortcode=" data-canon="Keith Marshall" data-type="SPORTS_OBJECT_PLAYER" id="shortcode0">) are not available and Marshall is done for the season. Their top three receivers (Malcolm Mitchell, Justin Scott-Wesley, Michael Bennett) won't be available. Mitchell and Scott-Wesley are done for the season but Bennett is expected to return at some point.
"In life, adversity happens," Coach Mark Richt said earlier this week. "You can panic or you can look at what you have and find a way to win."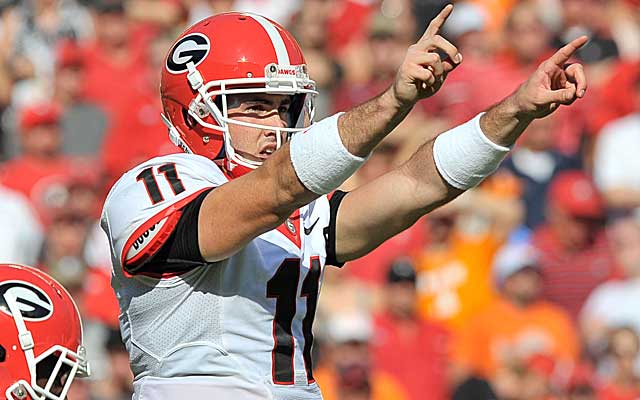 Georgia (4-1, 3-0 SEC) hopes to limp through its next two games with Missouri and at Vanderbilt. Then the Bulldogs get a week off before facing No. 17 Florida in Jacksonville on Nov. 2. By then Gurley (ankle) is expected to be back.
Will struggling defense catch up to Aggies?
Ole Miss (3-2, 1-2 SEC) has lost two straight. But after playing four of its first five games on the road, the Rebels will have six straight home games starting Saturday with Texas A&M (4-1, 1-1). The game will be fast and there will be a lot of points scored. The Aggies have not been able to stop anybody, but other than in the 49-42 loss to Alabama it hasn't mattered. With QB Johnny Manziel leading the way, the Aggies are No. 4 in scoring, averaging 49.2 points per game.
The Texas A&M defense is No. 87 nationally (30.8 ppg) and No. 13 in the SEC. And the Aggies got some bad news this week when it was revealed that DT Kirby Ennis had been lost for the season.
Is this Mack Brown's last stand?
Mack Brown has won a lot of games (153) and made a lot of money for Texas. He is a Hall of Fame coach. But with famous UT alums like Earl Campbell now turning against him, and with staunch ally DeLoss Dodds announcing his retirement as director of athletics, it is pretty safe to say that another blowout loss to Oklahoma in the Red River Rivalry on Saturday in Dallas could seal Brown's fate in Austin.
OU has won the last two games by a combined score of 118-38. Four times the Sooners have scored 55 or more points on Texas in Brown's tenure.
Brown won a BCS national championship in 2005 and played for another one in 2009. But with Texas A&M now thriving in the SEC, the recruiting edge has shifted to the Aggies in the great state of Texas. And if you're a Longhorn, that cannot stand.
Will Clemson be caught looking ahead to FSU?
Dabo Swinney has heard the criticism that Clemson cannot handle success and that sooner or later his team will "pull a Clemson" and lose to an inferior team. Swinney doesn't believe the narrative is accurate or fair. Not even a little bit. "Some people need to get a new story to write," he said after Clemson beat Georgia 38-35 in the opener.
Swinney can back up his point on Saturday when Boston College comes to Death Valley. Next week No. 3 Clemson will host one of the biggest ACC regular-season games in over a decade when No. 6 Florida State comes to town. The Seminoles are off this week and will be watching as Clemson tries to dispatch a Boston College team which jumped out to a 17-3 lead against Florida State two weeks ago in Chestnut Hill.
Can Northwestern slow down Melvin Gordon?
When Gary Andersen became the Wisconsin head coach we wondered if the Badgers would get away from their identity as a run-first, smash-mouth team. Nope.
Wisconsin is one of seven BCS teams averaging over 300 yards rushing per game. The Badgers are led by Melvin Gordon, who sits atop the Big Ten rushing leaders at 139.6 yards per game.
But just because the Badgers still like to run doesn't mean they aren't explosive. Consider that Wisconsin:
• Leads the nation in runs of 20 or more yards per game with 17. • Has six runs from scrimmage of 50 yards or more. • Five of 60 yards or more. • And four of 70 yards or more. Whew!
Can Kansas State keep Baylor under 60?
We simply ask that because nobody else has. Baylor is not only averaging 70.5 points per game, they have averaged right at 30 points in the FIRST QUARTER of their four games. In fact, if the Bears only played one quarter per game, they still would be tied for No. 66 in scoring. This is not a vintage Kansas State defense as the Wildcats rank No. 50, allowing 24.4 points per game.
Can Washington forget about Stanford?
Seems we had a little dust up this week between Stanford coach David Shaw and Washington coach Steve Sarkisian. Sarkisian was unhappy about a couple of things after his Huskies lost to Stanford 34-31.
First, he felt that Stanford's players were faking injuries in order to slow down Washington's up-tempo offense. Shaw took offense and used his time on Tuesday's coaches conference call say so. "We've never done it and if we didn't do it against Oregon why would we do it against Washington?" he said.
Sarkisian was also unhappy that a late pass on Washington's final drive was ruled a catch on the field and then ruled incomplete after replay. Shaw suggested that it was the right call and that Sarkisian needed to quit complaining.
Better circle next year's game between Washington and Stanford.
Does LB Jake Ryan get back on the field for Michigan?
And will it help? MMichigan is a strange 5-0 (1-0 Big Ten) team. The Wolverines did beat Notre Dame back on Sept. 7 but that win has become less impressive as the Fighting Irish have struggled. Michigan was lucky to beat Akron and UConn, but it did. Last week's 42-13 home win against Minnesota still showed some of the flaws. And it was a downer as the Wolverines lost defensive lineman Ondre Pipkins (torn ACL).
Coach Brady Hoke hopes his team gets a lift with the return of linebacker Jake Ryan as the Wolverines go to Penn State (3-2, 0-1), which lost an ugly 44-24 game at Indiana last week. Ryan has not played his season as he continues to recover from knee surgery in the spring.
Saban isn't going to win Alabama's special election, but the Crimson Tide coach got some l...

The Sooners' quarterback and Badgers' rusher stood out among their peers this season

Clark led UAB to an 8-4 overall record, 6-2 in conference this season
SportsLine simulated every bowl game 10,000 times for pick'em leagues and confidence pools

The Tigers are going worldwide for their next punter

Led by Heisman Trophy winner Baker Mayfield, the Big 12 finished with seven first-team sel...