Tony's Top 10: Still plenty of football left for a huge surprise
Don't pencil in those BCS pairings just yet. An intriguing Georgia-Auburn game is just one of the many Week 11 matchups that could shake up conference races.
We have four Saturdays left in the regular season and inquiring minds want to know: Are there any surprises left? Is Alabama-Florida State in Pasadena now a lead-pipe cinch? Is there possibly one more "Ah-Ha!" moment between now and when the BCS pairings are announced on Dec. 8? Stay tuned. Somehow I just think we have one more twist left. Here are our 10 Burning Questions for the third Saturday in November:
How healthy is Georgia's Todd Gurley?
If it's anything close to 100 percent, can the Bulldogs upset No. 7 Auburn?
Gurley had been out since Sept 28 (high ankle sprain vs. LSU) when he returned to action on Nov. 2 against Florida in Jacksonville. He made an immediate impact, taking a short pass over the middle and racing 73 yards for a touchdown. He got gassed easily because he was not in playing shape. But when the game was on the line in the fourth quarter, Gurley touched the ball eight times on a 15-play drive that ran out the last 8:17 on the clock. Georgia hung on to win 23-20. In short, he's a difference maker.
Georgia (6-3, 4-2 SEC) still has an outside shot at the SEC East title if it can beat Auburn and Kentucky, and Missouri loses its last two SEC games to Ole Miss (on the road) and Texas A&M. Lose to Auburn and the Bulldogs are out.
Auburn (9-1, 5-1 SEC) is having a marvelous bounce-back season under Gus Malzahn and wants to win this game to set up a winner-take-all showdown with No. 1 Alabama at Jordan-Hare Stadium on Nov. 30.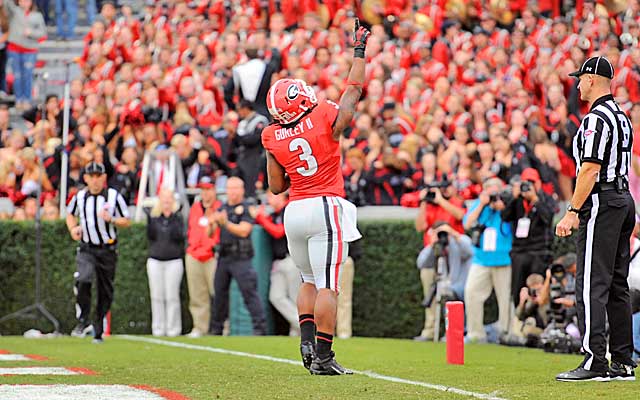 The road team in the Georgia-Auburn series, the oldest continuous rivalry in the South, has had a lot of success over the years. Georgia has won six out of seven against Auburn and has won at Jordan-Hare Stadium in six of its last nine trips.
Could Auburn be guilty of looking ahead? Just asking.
Will The Head Ball Coach take it easy on the Gators?
It has been a pretty ugly week down in Gainesville, Fla., where a loud chunk of the Gator Nation wants head coach Will Muschamp gone -- now. Losing to Vanderbilt at home for the first time in nearly 70 years will do that. It's not going to happen as this week Muschamp got a "vote of confidence" from the athletics director and the president.
Still, it's going to get worse before it gets better. Florida (4-5, 3-4 SEC) is a bad team and it doesn't figure to improve on Saturday at No. 10 South Carolina (7-2, 5-2) or on Nov. 30 against No. 2 Florida State. But South Carolina's Steve Spurrier, who was head coach at Florida for 12 seasons (1990-2001), can't afford to be sympathetic with the plight of his alma mater. Because a win here completes South Carolina's conference schedule at 6-2. And if Missouri (9-1, 5-1), which is off this week, loses one of its last two SEC games at Ole Miss (Nov. 23) or Texas A&M (Nov. 30), and if Georgia loses one of its last two SEC contests, the Gamecocks go to the SEC championship game.
FYI: South Carolina has won 15 straight games at home.
Can Duke REALLY beat Miami?
The first reaction to this question is that Miami and all of those great South Florida athletes will simply be too much for the gritty group of Blue Devils (7-2, 3-2 ACC) that David Cutcliffe has put together. But when you look under the surface you see numbers like these:
2: The number of touchdowns the Duke defense has allowed in the fourth quarter this season.
34: The number of points Duke has allowed in the fourth quarter all season.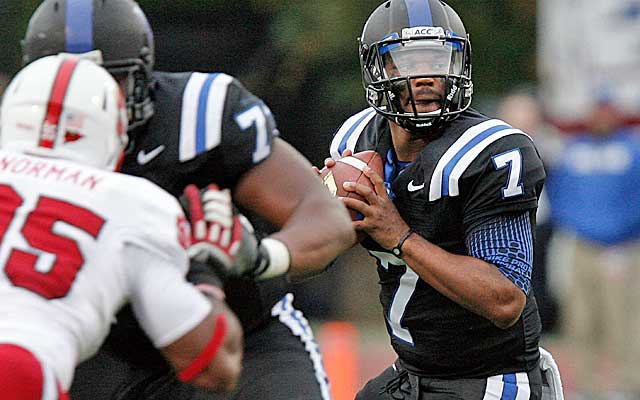 4: The number of interceptions the Duke defense had in their 13-10 win at Virginia Tech. In fact, Duke has forced four turnovers in back-to-back games.
Duke's two losses were in September, 38-14 to Georgia Tech and 58-55 to Pittsburgh. They've won five straight since.
Now Miami is absolutely the best team Duke has played in this stretch.
But I'm wondering if the Miami kids are going to take this game seriously since their national championship hopes were dashed by Florida State on Nov. 2?
Miami should win. But Duke just may surprise them.
Remember the Cincinnati Bearcats?
Yeah, they are still in the hunt for the AAC championship.
With all of the talk about UCF, Houston, and Louisville in the American Athletic Conference, Cincinnati (7-2, 4-1 AAC) has quietly put itself into position to win or share the conference title. The Bearcats, whose only conference loss was to South Florida (26-20) has three games remaining at Rutgers, at Houston, and a Thursday night game at home with Louisville. Cincinnati does not play UCF (7-1, 4-0) this season.
"I like the way this team has come along," said Tommy Tuberville, the first-year head coach who came over from Texas Tech "We're playing pretty well right now."
This didn't seem likely back in September when QB Munchie Legeaux was lost for the season with an injury. But Brendon McKay is now the nation's leader in completion percentage at 74.1 (172 of 232).
No matter how the season ends, things are looking up at Cincinnati. After the final game the school will embark on an $86 million renovation project to historic Nippert Stadium.
Can Huskers beat Spartans without Taylor Martinez?
In a word, no. Nebraska (7-2, 4-1 Big Ten) beat Michigan last week and could still win the Legends Division by beating No. 16 Michigan State(8-1, 5-0) at home. But without Martinez, who has been hobbled by a foot injury all season, it's hard to see how Nebraska is going to handle the nation's No. 1 defense (210 ypg). A Michigan State win gives the Spartans a two-game lead in the division and all but assures them a spot in the Big Ten championship game.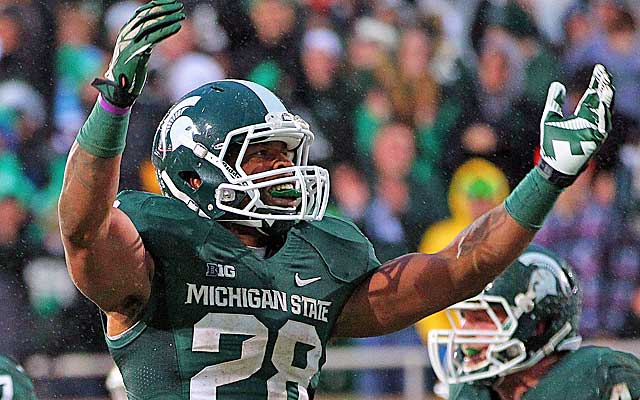 But there is this interesting historical note. The two teams have met seven times. Nebraska has won all seven games. But that was then and this is now. And right now Michigan State is a lot better than Nebraska.
Can Indiana hang with Wisconsin?
Don't look now folks but Kevin Wilson and the Indiana Hoosiers are lighting things up. Indiana (4-5, 2-3 Big Ten) is averaging 43 points and 527 yards per game. That's the good news.
The bad news is that Indiana is probably going to be without running back Tevin Coleman (ankle), the Big Ten's No. 3 rusher, when the Hoosiers go to Wisconsin.
Wisconsin (7-2, 4-1) has only lost one Big Ten game, that by seven points to No. 3 <span data-shortcode= State" data-canon="Ohio Bobcats" data-type="SPORTS_OBJECT_TEAM" id="shortcode0">. The other loss, you'll recall, is when the Badgers got hosed on the road at Arizona State (Look it up. They got hosed).
If not for the questionable loss at Arizona State, Wisconsin would be looking at a BCS at-large berth. Now, with a No. 22 BCS ranking, that is very unlikely even if the Badgers win out. I see Tampa in their future.
Can Longhorns avoid Cowboys' lasso?
Texas keeps finding a way to dodge bullets. Can the Longhorns do it again against Oklahoma State?
Since losing two straight to BYU and Ole Miss, Mack Brown and the Texas Longhorns have lived a pretty charmed existence. They escaped with a 31-30 win at Iowa State. Last week at Morgantown, Texas kicked the tying field goal with 13 seconds left in regulation and then beat West Virginia in overtime, 47-40.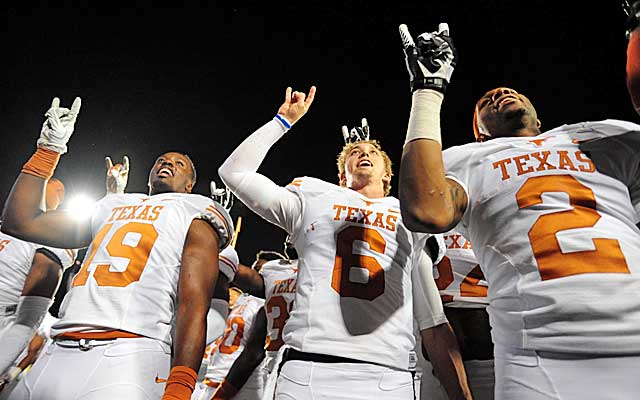 Now Texas (7-2, 6-0 Big 12) hosts Oklahoma State (8-1, 5-1) in a game that both teams pretty much have to win to stay alive in the Big 12 race. But there is bad news for Texas: Running back Johnathon Gray (Achilles' heel) and defensive tackle Chris Whaley (knee) were lost for the season with injuries against West Virginia.
If Texas can beat Oklahoma State and then Texas Tech at home on Thanksgiving night, it would likely set up a mondo-game at No. 5 Baylor on Dec. 7 for the Big 12 championship.
Can Texas Tech stop the slide against Baylor?
Not too long ago Kliff Kingsbury, the young first-year coach at Texas Tech, was on top of the world. His team was 7-0, ranked in the top 10, and his matinee idol looks and fun style of football had the whole country talking about Texas Tech. Reality has returned in three consecutive losses to Oklahoma (38-30), Oklahoma State (52-34) and last week the 34-year-old Kingsbury got a thorough schooling from Kansas State's Bill Snyder, who is more than twice his age, 49-26, in Lubbock. Things don't figure to get a lot better at No. 5 Baylor (8-0, 5-0), even though the Bears are coming off a big win last week against Oklahoma. The Bears are a 27 1/2 point a favorite.
Is Stanford in danger of a post-Oregon hangover?
USC was given up for lost after the dismissal of coach Lane Kiffin back on Sept. 28. Defensive line coach Ed Orgeron took over and has certainly made the case that Pat Haden should look at him as a permanent head coach when this season is over.
The Trojans have regained their enthusiasm for the game and are 4-1 since Orgeron was put in charge. At 4-2 they are still very much in the race in the Pac-12 South. But to stay in the hunt USC will have to play its best game of the season Saturday night as it hosts No. 4 Stanford (8-1, 6-1), which is coming off that impressive win over Oregon. To get ready for the occasion Orgeron sent a hand-written note to every member of the USC band. USC quarterback Cody Kessler has completed 82 percent of his passes the past two games. This one could be really interesting.
Can Miles Jack do it again on offense for UCLA?
Jack was a heavily recruited running back out of Bellevue, Wash. But when he arrived at UCLA he saw Jordan James and figured he'd had a better shot of getting on the field early if he played defense. Last Saturday against Arizona Jack did both. He subbed for James, who had to sit out with an ankle sprain. He had 120 yards on six carries, including a 66-yard touchdown run. On defense at linebacker he had eight tackles, two pass breakups and one fumble recovery. By UCLA's best estimate he was on the field for at least 115 plays.
The Bruins (7-2, 4-2 Pac-12), a game back of Arizona State in the South Division, host Washington on Friday night. Washington, it should be noted, has given up an average of 201 yards rushing in each of its last four games.
Sounds like Mr. Jack, all of 18 years old, is going to be busy Friday night against his hometown team. He grew up just 10 miles from Washington's Husky Stadium. As an interesting aside, UCLA coach Jim Mora, is also from Bellevue.
The movie will zero in on former Penn State coach Joe Paterno during the Jerry Sandusky sc...

Bidding for Salaam's trophy, which the auction house says was obtained legally, ends Satur...

Locksley has been the offensive coordinator at Illinois and Maryland during his coaching c...
Many NFL-eligible juniors ignore advice provided by the league and risk going undrafted each...

Snyder died in Manhattan, Kansas, on Wednesday

Locksley joined Alabama's staff in 2016